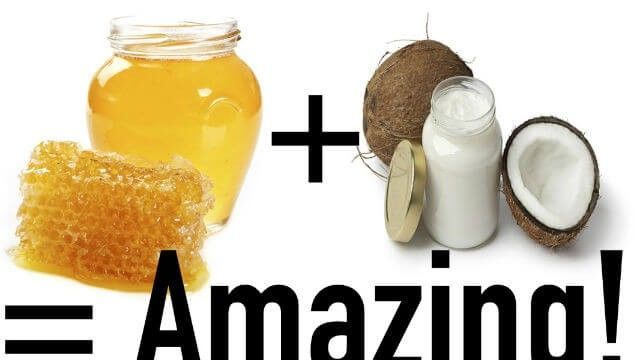 Raw honey and coconut oil are two of the most powerful and popular healing foods around. Both have been used for centuries to treat common ailments, as well to support the health and beauty of one's hair and skin.
When combined, these two superfoods are even more powerful than they are on their own. Add this duo to your health and beauty routine in the following 5 ways:
As a Conditioning Hair Mask
Experiencing damaged or dry hair? Give this super easy, super conditioning hair mask a try to replenish moisture and increase softness and shine.
1

tbsp

unrefined coconut oil

1

tbsp

raw honey
Simply mix the oil and honey together in a small bowl, and then apply to wet or dry hair, focusing on the most damaged, dry areas. Leave it in for up to an hour and then wash and condition your hair using your normal routine.
Try this syrup to treat a cold, cough, or sore throat. The lemon juice in the serum boosts your immune system, while both honey and coconut oil contain powerful anti-viral and antimicrobial properties which together help to relieve and heal your respiratory system.
3

tbsp

lemon juice

1/4

cup

raw honey

2

tbsp

unrefined coconut oil
Combine the ingredients in a small sauce pan and heat over low until coconut oil is melted and ingredients can be easily combined. Do not heat for too long or let the ingredients get too hot, as they could lose their effectiveness. When it's ready, take the syrup by the spoonful or mix into warm water or tea.
Special:
Discover 5 more reasons you should EAT Honey every day
(#4 is cancer-fighting)
In a Super-nutritious Berry Smoothie
This healthy smoothie contains a ton of vitamins, minerals, antioxidants, and healthy fats to keep you feeling energetic and full throughout the day.
1/2

avocado

1

cup

pure coconut water

1

tsp

raw honey

1

cup

frozen mixed berries

1

tbsp

unrefined coconut oil
Blend all of the ingredients except the mixed berries until smooth. Then, add the cup of berries to the blender and continue to blend until smooth. It's important to wait to add the berries, or their coolness can lead to the coconut oil clumping—not ideal for a smoothie!
As a Nourishing Face Mask
Honey can effectively treat conditions like acne, rosacea, and eczema, while coconut oil is great for relieving dry or irritated skin, as well as for reducing wrinkles. Combining them leads to super soft, clear, hydrated skin!
1

tbsp

coconut oil

1

tbsp

raw honey
Mix coconut oil and honey in a small bowl with a spoon until it's well combined. Apply the mixture to your face and neck with your fingertips—gently—as sometimes honey can crystalize and be rough on your skin. Let it sink in for up to 20 minutes, and then rinse it off with lukewarm water. Simple, easy and effective!
Homemade Honey Cinnamon "CocoButter"
If the name of this delicious spread doesn't have you scrolling down to the ingredients already, then get this: this coconut butter is simple to make and super healthy too. Enjoy it with gluten-free breads or baked goods, as a topping on sweet potatoes or squash, in a bowl of oatmeal or granola, or mixed into a bit of Greek yogurt.
1

cup

unrefined coconut oil

1/4

cup

raw honey

2

tsp

ground cinnamon

1/2

tsp

unrefined sea salt
Place all ingredients in a food processor and process for one minute on high. Be sure not to over-whip it, as the coconut oil may liquify and separate from the honey. After 1 minute, transfer the spread to a jar for storage, and keep in the fridge.
For the best results on all of these recipes, make sure your raw honey is certified organic (or is made by local artisans who follow organic practices), and that you use organic, extra-virgin coconut oil.
Are there any other ways that you combine raw honey and coconut oil? Let us know!
Click here:
for 9 MORE reasons to use coconut oil every day
-The Alternative Daily
Sources:
https://www.thealternativedaily.com/from-the-hive-to-healing-the-power-of-raw-honey
https://www.thealternativedaily.com/coconut-oil-health-benefits-for-diet-skin-and-hair
https://www.thealternativedaily.com/use-honey-fix-damaged-hair-heres