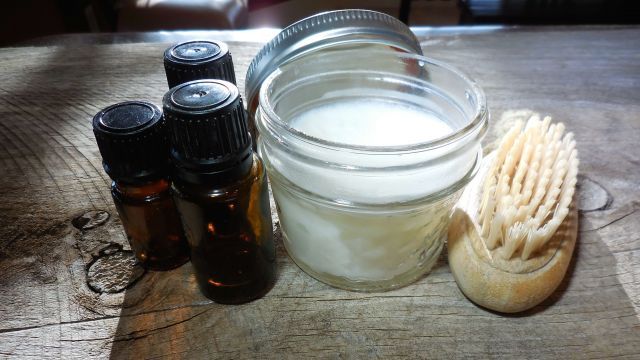 Gentlemen, is your beard getting dry and scratchy? If it's dull and lifeless looking and in need of some tender loving care — good news! There's an easy way to take better care of your beard with very little time and effort.  
The summer months are usually so busy that the care of your beard is probably at the bottom of your priority list. Are you maintaining your beard well enough to look groomed and feel soft enough for your partner to touch it? If not, then you have some work to do. 
It's a myth that growing and keeping a beard is just for the lazy. But without good care and attention, you might as well shave the whole thing off. If you are spending time and money on products for your head, then why not do the same for the hair on your face? Having a beard that is well maintained takes time and effort.
Here's a little secret: coconut oil is the absolute champion when it comes to moisturizing. After applying this topical balm recipe, you'll soon see and feel a difference in how soft and smooth your beard is.
The best time to use it
Try this balm in the morning right after your shower and towel dry your hair — the hot water will have opened up your pores, allowing easier access for the mixture to get into your skin and hair roots. If the pores are open, they'll soak up the healthy ingredients more deeply.
Use your fingertips
The amount you need will be determined by how long and thick your beard is. Start with a little on your fingertips and apply it to your beard. Work your way from top to bottom, making sure to massage it in well.
Don't forget your neck, cheeks and sideburns. You can always add more if you need to.  A little balm goes a long way — if you use too much, your beard may look a bit greasy and stringy. Knowing how much to use may be by trial and error at first, but the results you get will be worth all the effort.
Essential oils
Essential oils are renowned for all kinds of natural health benefits. The combinations are endless, but the woodsy oils are a great place to start. Find one that is pleasing to your partner because the aroma will stay in your beard for a while. Get creative mixing up essential oils or just keep it simple — it's your choice. Any mixture will work. Here's a handful that I like to use:
Rosemary
This is a refreshing, herbal scent and also a wonderful antioxidant. It helps promote healthy skin cells — a huge plus when you apply it to the face.
This is a warm and earthy scent that's great for dry skin. It can also be used for rashes and helps fight acne. This essential oil will be very useful if you ever get a breakout of temporary acne under your beard.
Melaleuca
This is a pleasant and medicinal scent. I chose melaleuca (better known as tea tree oil) because it can ward off acne and help fight infections. It is also fast acting and can be very soothing to your skin when you have a breakout.
Cedarwood
This is an earthy, woodsy scent. It helps promote hair growth and prevent hair loss.
DIY Easy and Inexpensive Homemade Beard Balm
| | | |
| --- | --- | --- |
| | | DIY Easy and Inexpensive Homemade Beard Balm |
4

tbsp

coconut oil

10

drops

rosemary oil

10

drops

sandalwood oil

6

drops

melaleuca oil

10

drops

cedarwood
Glass dish

Small glass jar with lid (for storage)
Scoop out coconut oil and place in glass dish.

Slowly microwave until melted (about 20 seconds).

Add essential oils and stir.

Carefully pour the mixture into the glass jar — you're done!

After applying the beard balm.
Before using, wait until it settles to room temperature or pop it in the refrigerator for a few minutes until it's solid. Keep it close at hand for easy access when you get out of the shower.
— Leilani Hampton