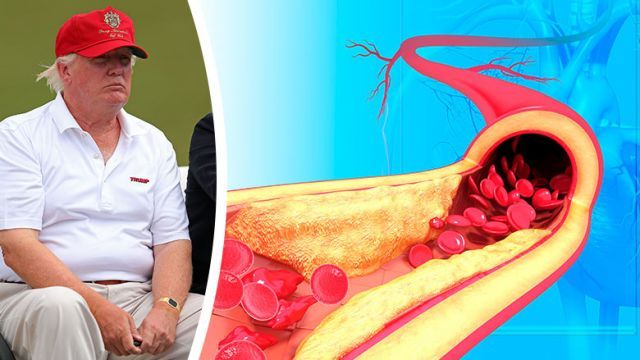 Half of all Americans are at risk of a heart attack, but is President Donald Trump one of them? This week, CNN's Chief Medical Correspondent Dr. Sanjay Gupta sparked controversy when he concluded that Trump already has heart disease "like most men of his age."
"Trump has a common form of heart disease, relatively easy to address if he increases the dose of his cholesterol-lowering medication and makes necessary lifestyle changes," Gupta said.
CNN's top health expert continued by explaining that unless Trump makes serious lifestyle changes, the president could suffer a heart attack within the next five years. Such changes could include cleaning up Trump's now-famous diet of fast food, soda and the occasional steak.
The more Diet Coke, Diet Pepsi, etc you drink, the more weight you gain?

— Donald J. Trump (@realDonaldTrump) October 15, 2012
(Fake) #BillionaireFood pic.twitter.com/Aq4nwpJ51c

— Talk Amongst Yourselves I'll Give You a Topic (@uncreditedcameo) January 10, 2018
Why might Trump have heart disease?
However, while Trump's love affair with fast food is well-documented, the state of his heart may not be so clear. The devil is in the details.
Gupta's diagnosis was based on Trump's coronary calcium score. This score is produced by a fairly simple, non-invasive scan that looks specifically at the build-up of plaque in arteries. The higher the score, generally speaking, the higher the risk of a heart attack or stroke. As for Trump's numbers, they're bad.
According to Gupta, in 2009 Trump scored 34, putting him at a mild risk. Since then, his score has surged to 133. For reference, Gupta pointed out that any score above 100 puts Trump at a moderate to serious risk of a heart attack. "After the age of 40, most men in the United States have some evidence of heart disease, and the President's score places him squarely in the mid-risk range for a man of his age," Gupta explained.
Gupta's conclusion appeared to contradict White House physician Ronny Jackson's statement on Tuesday that Trump was in "excellent health."
So who is right, Gupta or Jackson?
The answer is, probably neither. Former president of the American College of Cardiology Dr. Richard Chazal has suggested Trump's latest coronary calcium score may not be as significant as it could initially seem. It all comes down to Trump's use of statin treatment for his cholesterol levels. According to Chazal, it's normal for anyone using statin to see their coronary calcium score spike, even when their condition is improving. "This is a case where the marker goes up but the risk goes down," Chazal explained to the Huffington Post.
For patients in Trump's situation, doctors usually rely on different tests, including looking at cholesterol and keeping an eye out for any symptoms of heart problems. If Trump does have heart disease symptoms, they haven't been made public.
As for cholesterol, doctors say Trump doesn't look great. Jackson's own report showed Trump's LDL cholesterol level was at 143 — well above the ideal of 100 or less. "That's a really high LDL," Scripps Research Institute cardiologist Dr. Eric Topol told The New York Times. "We're talking about a 70-plus-year-old man who is obese and doesn't exercise. Just looking at the lab value, you would raise a big red flag," he said.
As for Jackson's conclusion that Trump is in "excellent health," Topol simply responded, "How you could take these indices and say excellent health?"
"That is completely contradicted," he said. So if doctors are anything to go by, there's little to no evidence Trump has heart disease, despite generally being in lousy health. As Jackson himself noted, Trump may not drink or smoke, but he does lead a largely sedentary lifestyle and needs to improve his eating habits.
But what do you think? Is Trump just fine, or is he heading for a health meltdown? Give us your take in the comments below.
— Ryan Mallett-Outtrim