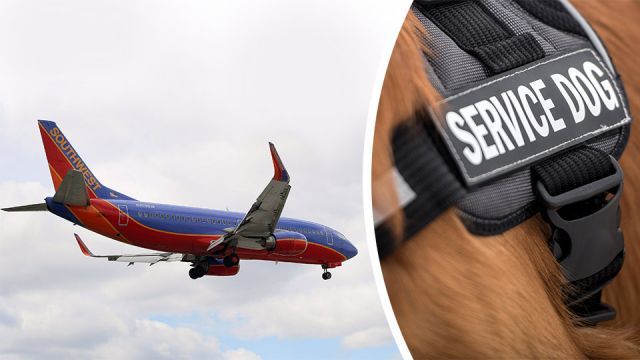 Shocking footage shows police dragging a woman off a Southwest plane after she complained about two dogs on board. The plane was headed from Baltimore to Los Angeles.
The video was released today. Take a look for yourself:
"I'm a professor, what are you doing?" the woman utters as an officer wraps his arms around her chest and forces her down the aisle of the jet. While struggling with law enforcement, the woman says, "I will walk off, don't touch me!" "Then walk!" the officer shouts back. "Walk!
As also heard in the video, the woman says, "Stop touching me. You ripped my pants. Stop grabbing me so I can zip my pants."
Before the video incident, the woman told the staff of her deadly allergy to the passengers with dogs. One of the passengers that had a dog needed it as a service dog.
Crew told the aggravated woman that she would have to disembark, primarily due to the fact that she didn't have her medical certificate proving that she could not travel safely with animals on board. "They spent a long time talking to the woman, explaining to her what the situation was, trying to work with her," Bill Dumas, who shot the video. "The pilot said they wouldn't leave until it got resolved."
Southwest claims that they tried to handle this hostile situation in the best possible way and will be making sure to work with the woman to make sure this situation doesn't escalate any further than it already has.
Southwest apologizing, saying they'll be contacting woman after she was forcibly removed from flight https://t.co/62Yr9Ju1aw pic.twitter.com/js8zy61HZZ

— WTTE FOX 28 (@fox28columbus) September 27, 2017
The plane eventually took off for Los Angeles with no other reported problems.
Incidents of hostility on airplanes have been pretty common this past year. Most notably, it brings to mind the United incident where a doctor was literally dragged off a plane simply because the airline accidentally overbooked his flight and they randomly picked him as the passenger that needed to get off.
United faced an enormous amount of backlash for this after it went viral online. That following day, their stock lost $1.4 billion worth of value.
The man, who happens to be a medical doctor, is heard saying "Just kill me." Here is the video of that incident. Please be warned that viewer discretion is advised:
Also, back in may, a New Jersey family was forced off a JetBlue flight because they had a birthday cake which couldn't be fit in an overhead compartment. The airline said that the family  was agitated and posed a security risk.
However, this video seems to paint a different picture:
Jersey City family kicked off flight over a cake. @JetBlue says passenger was agitated/security risk. Video appears to tell different story. pic.twitter.com/q0zQzNbHoa

— CeFaan Kim (@CeFaanKim) May 14, 2017
For many, flying is already pretty stressful, but it seems as if it is becoming even more of a hassle with these videos being released every couple of months.
What do you think of the woman being taken off the plane? Was Southwest right to do this? Let us know in the comments!
— Peter Amirata