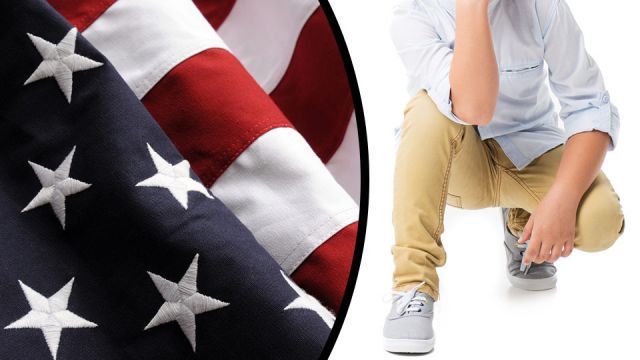 In Pasco County, Florida, a first-grade boy chose to take a knee during the Pledge of Allegiance. Presumably, his actions were sparked by the rise of national anthem protests, which have garnered tremendous attention this past week, especially across the NFL.   
His mother is upset with how the teacher and Pasco County school district have responded. After taking a knee, his teacher immediately told the young boy to stand up and stop it, in front of all his classmates.
The rise of national anthem kneels have unquestionably sparked discussions in homes around the nation. According to the report, the main reason the mother is speaking out is due to a text message she received from the teacher.
The text read:
"I just wanted to let you know that this morning when it was time to do the Pledge of Allegiance, (your son) went down on one knee. I knew where he had seen it but I did tell him that in the classroom we are learning what it means to be a good citizen we're learning about respecting the United States of America and our country symbols and showing loyalty and patriotism and that we stand for the Pledge of Allegiance. I know its a sensitive issue but I wanted to make you aware. Thanks."
Outraged, the mother said she doesn't think that the school district really understands what diversity and inclusion mean. The mother said she just wanted to start a conversation and wants others to have an open mind.
Users on Twitter have been talking about the Pledge of Allegiance and its meaning:
A 1943 Supreme Court ruling makes it unconstitutional to force someone to stand for the anthem or pledge of allegiance! #TakeAKnee pic.twitter.com/BNwS0gjXFG

— Sinister Minister (@RevSinister769) September 25, 2017
It seems as if some think that standing isn't all that important, especially when it comes to having the freedom to choose. Others believe that it is unpatriotic to not stand for the allegiance.
"What [the text message] said to me was that him taking a knee was the exact opposite — [That] He was disrespectful of the county, he was being disrespectful of the flag… And we don't teach that," said the boy's mother. She also said it was not the school's right to tell her son what to do when it comes to the Pledge of Allegiance.
School district representative Linda Cobbe says everyone followed state law in the situation. "It would have been better if the teacher would have pulled the student aside and talked about it without the other students witnessing it," says Cobbe. "State law says that the only way that a student can be exempted from reciting the Pledge of Allegiance is if they have a written request from their parent and even then the law says that they still have to stand," Cobbe said.
— Peter Amirata