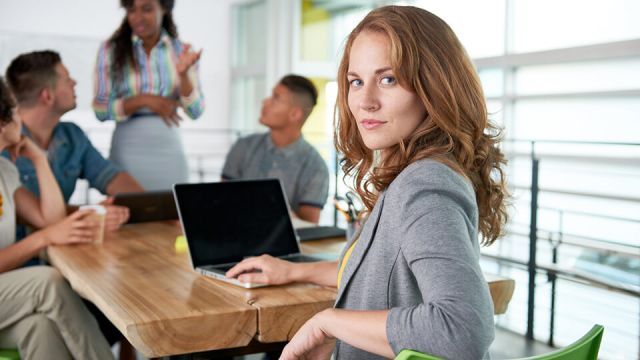 Successful female entrepreneurs embody certain characteristics that naturally drive them to succeed. In fact, ask the world's most powerful female business leaders and they'll tell you that without these traits, it's almost impossible to succeed. Here's how some of the most successful female entrepreneurs roll.
She's brave and bold
Entrepreneur and billionaire, Sara Blakely, founder of Spanx, spent seven years selling fax machines and was rejected almost daily before making it big. Blakely, whose business gave birth to a billion-dollar segment of the undergarment industry, tells Business Insider that she failed a lot. Potential customers would hang up on her cold calls and rip up her business card in front of her face.
Still, the rejection proved useful, when after cutting the feet off her pantyhose, she realized she had stumbled upon a slimming, seamless undergarment that no one would know you were wearing. So, after selling fax machines all day, she would go home to work on her Spanx prototype during nights and weekends. From there she knocked on factory doors, only to have them slammed in her face. But she didn't give up. Eventually, someone "took pity" on her — after initially rejecting her. Blakely's motto: Trust your gut. "Stand out… Be brave, be bold."
She knows how to overcome adversity
J.K. Rowling has turned the art of the written word into a billion-dollar fortune. The idea of Harry Potter was conceived one unforgettable day in 1990, while onboard a train going from Manchester to London. Although this was the beginning of her successful career, not everything was going according to plan. Yet, she succeeded and surpassed her goal. December of the same year, Rowling faced the greatest adversity of her life when her mother died due to multiple sclerosis.
Still grieving over her mother's death, it didn't stop her from continuing to write her first novel — "Harry Potter and the Philosopher's Stone" — and even inspired the death of Harry Potter's mother. Soon thereafter, her marriage crumbled, and she found herself struggling to support her daughter on state benefits. The next phase was the hardest. Rowling's work was rejected twelve times. But she persevered and never gave up on her dream of being an author.
It's for this reason that she likely chose the topic of failure in her 2008 commencement address to Harvard's graduating class. In her address, Rowling discussed why she chose to talk about the "fringe benefits" of failure: "Because failure meant a stripping away of the inessential. I stopped pretending to myself that I was anything other than what I was, and began to direct all my energy into finishing the only work that mattered to me."
So, whether you're writing the next best seller or building your business from the ground, take a page out of Rowling's book and don't let adversity hold you back from living your dream.
She's focused and fully-present
Oprah Winfrey, Founder of Harpo Productions Inc., Chairman and CEO of OWN, and Founder and Publisher of "O" The Oprah Magazine is living proof that the American dream includes strong female entrepreneurs. According to Entrepreneur magazine, the illegitimate daughter of a Mississippi sharecropper, overcame poverty, parental neglect, sexual abuse and racism. Further, she went on to become one of the richest and most influential people in the world.
At 19 years old, Winfrey was offered a co-news anchor position at Nashville's CBS affiliate, WTVF-TV. Not only was she Nashville's first female co-anchor but also the first black person to co-anchor as well. But Winfrey's biggest break came in 1985, when producer Quincy Jones offered her a role in the screen adaptation of Alice Walker's, "The Color Purple." Soon thereafter, Winfrey made her national debut on "The Oprah Winfrey Show." Within five months it became the third-highest rated show in syndication and the number one talk show, reaching upwards of 10 million people daily in 192 cities. After forming Harpo Productions Inc. and purchasing a production studio in Chicago, Winfrey took ownership and production of "The Oprah Winfrey Show."
In an interview with Fast Company, Winfrey spoke about one of her big productivity secrets: being focused and fully present. "I have learned that your full-on attention for any activity you choose to experience comes with a level of intensity and truth," she said. "It's about living a present life, moment to moment — not worrying about what's going to happen at 3 o'clock and what's going to happen at 7 o'clock." Multitasking, says Winfrey, is a joke. "When I try to do that, I don't do anything well."
She may not be so concerned with work/life balance
Work/life balance seems to be the buzzword for entrepreneurs these day, and even more so for women who want it all. But truth be told, a commonality seems to exist for many thriving female entrepreneurs, and that is giving up on the idea of work/life balance.
Entrepreneur Grace Bonney spoke to So Money about interviewing over 100 female entrepreneurs, while writing her new book, "In The Company of Women." She told host Farnoosh Torabi that she was surprised to find a commonality among the women she spoke with. It seems, almost all of them had "given up" the pursuit of work/life balance.
The concept of work/life balance is not "rooted in reality," says Bonney. "I think that life and work are constantly in flux, and the market in which we're all working is constantly in flux." Instead, Bonney suggests women should focus on owning their power, their success and their wealth. "You really just need to do it and not look back, because you're better off for it."
Do you have what it takes?
If you consider the biographies of most successful female entrepreneurs, you'll see that most have achieved their business success by embodying all of the above traits — in one way or another. But even beyond being brave and bold, knowing how to overcome adversity, staying focused and perhaps letting go of the idea that you must have it all, successful female entrepreneurs also possess:
A strong will

An ability to set goals and work towards them

A thick skin

A positive outlook

An ability to push beyond her comfort zone
That may seem like a tall order, but it's certainly achievable. Now ask yourself: do you have what it takes to be a successful entrepreneur?
— Katherine Marko