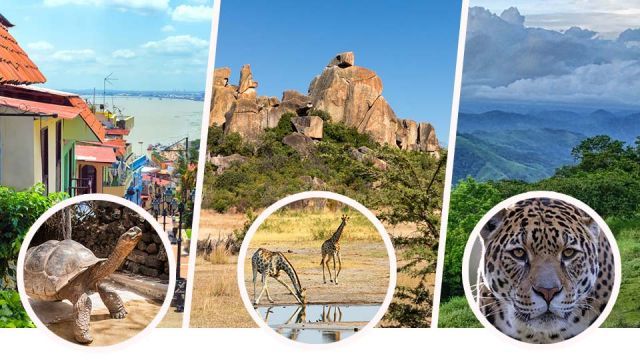 Nature is glorious, and it's impossible to beat the experience of getting up close and personal with some of the animals we share the planet with. Here, we're going to look at some of the best spots in the world to have a close wildlife encounter. These six destinations have been chosen not just because of their natural beauty, but also based on the wildlife on display, and how close you can get to the animals themselves.
1. Galapagos Islands, Ecuador
Easily one of the world's top wildlife destinations, Ecuador's Galapagos Islands are nothing short of a natural wonder. Created over millions of years by volcanic activity, the islands were almost totally cut off from the outside world until a few hundred years ago. Today, the islands remain a world of their own, with unique animals you won't find anywhere else. Some of the star attractions here include the omnipresent marine iguanas, the rare blue-footed boobies, ageless Galapagos giant tortoises and Darwin's famed finches.
The best thing of all is how close you can get to the wildlife. Due to Ecuador's tight regulation of the islands, including hunting bans, most of these animals have no fear of humans. Don't be surprised if you trip over an iguana or two in the street, and remember the sea lions have free reign on the beaches. The animals are pretty much in charge here, and you'll be getting up close and personal with the wildlife — whether you like it or not. If that doesn't convince you, how about the fact you can a fresh caught, family-sized lobster dinner for just $15? That's what I call up close and personal.
2. Gansbaai, South Africa
Galapagos might be the perfect place to get up close to the friendliest animals on the planet, but Gansbaai is the place to be if you want to test your mettle against nature's most merciless predators. A fishing village within stone's throw of Capetown, South Africa's Gansbaai is often referred to as the shark world capital. Indeed, the area draws a steady stream of sharks thanks to its massive seal population. This means from a shark's perspective, Gansbaai is basically a permanent, all-you-can-eat buffet.
You too can eat your heart out with an up close and personal experience with the sharks. Local tour operators offer cage diving, and will often use meat to lure sharks within just a few feet of the cage. There's nothing quite like being just a few meters away from Jaws, though there's more to Gansbaai than just sharks. The region also boasts an impressive whale watching season and has one of South Africa's best penguin sanctuaries.
3. Victoria Falls and surrounding areas, Zimbabwe and Zambia
Staying in Africa, the wildlife reserves around Victoria Falls are a Mecca for animal lovers. Split between Zambia and Zimbabwe, the wilderness reserves around Victoria Falls are some of the best places to catch a glimpse of Africa's big game. You'll see all of Africa's iconic animals here, including elephants, lions, buffalo and leopards. There's also a plethora of other safari animals, such as giraffes, zebras, antelope, kudu and impala.
Both the Zambian and Zimbabwean sides are equally impressive, with everything from single day safari tours to long-term volunteering opportunities available. On the Zambian side, the main reserve is the sprawling Mosi-oa-Tunya National Park, while the Zimbabwean side is split between the Zambezi National Park and smaller Victoria Falls National Park.
4. Maasai Mara National Reserve, Kenya and Tanzania
A third destination in Africa, the Greater Mara Ecosystem, is the quintessential safari experience. Like Victoria Falls, the ecosystem is split between two neighboring countries, Kenya and Tanzania. On the Kenyan side, the Maasai Mara National Reserve is iconic for its Masai lions, African leopards and Kenyan cheetahs. It's best visited between July and October, when the Great Migration takes place. This epic of nature sees thundering herds of zebra, wildebeest and Thomson's gazelle pound their way across the Savannah.
Similar sights can be seen across the border in Tanzania, in the Serengeti National Park. Travelers fiercely dispute which side is better, though both the Kenyan and Tanzanian parks have their own unique characteristics. The Tanzanian park is undoubtedly the larger, though the Kenyan side is typically considered to have larger concentrations of big game, especially lions. The Tanzanian side also has more seasonal variation, and is also considered a better option for anyone eager to see the Nile crocodile. However, both sides are incredible, and either way you'll see plenty of big animals.
5. Great Barrier Reef, Australia
No list of wildlife destinations would be complete without mentioning the world's largest structure made by living organisms. Human ingenuity has nothing on the billions of coral polyps that built the world's biggest reef, stretching over 344,400 square kilometers (133,000 square miles). Move over Great Wall, because you really can see the Great Barrier Reef from space. Of course, the best way to experience the reef isn't from orbit, but on a diving trip or glass-bottomed boat tour. The reefs are home to 134 species of sharks and rays, more than 1,500 species of fish, and one-third of the world's soft corals.
However, the best reason to visit the Great Barrier Reef now is, unfortunately, a sad one: it won't be around much longer. Since the 1980s, the Great Barrier Reef has lost more than half of its coral species, and some marine scientists suspect the coral could be almost totally destroyed by 2030. Some of the biggest threats include climate change, invasive species, coral disease, over-fishing and pollution. So, catch this one before the Great Barrier Reef is consigned to the history books.
6. Costa Rica
Costa Rica has a well-earned reputation as an eco-tourism paradise, with dozens of parks and reserves offering an astounding degree of diversity for such a small country. It's hard to pick a single destination as the best in Costa Rica — in fact, the entire country can be considered a wildlife destination in itself.
Arguably Costa Rica's best known national park is Tortuguero. As the name suggests, Tortuguero's star attractions are the turtles, which gather here between July and October to lay eggs. For a really unforgettable experience, visit between November and December, when you might be lucky enough to witness the hatchlings emerge and make their valiant sprint to the sea.
Nonetheless, Costa Rica has more to offer than just beaches and turtles. The Monteverde reserve offers amazing cloud forests and is one of best places to see the spectacular Quetzal — a colorful bird considered sacred by the Maya. Or, head deeper into the highlands to Guanacaste, which boasts pristine volcanic landscapes. Alternatively, to get totally off the grid, try the remote Peninsula de Osa, which is home to Costa Rica's six different species of wildcat. Wherever you go in Costa Rica, there are animals — and lots of them!
— Ryan Mallett-Outtrim