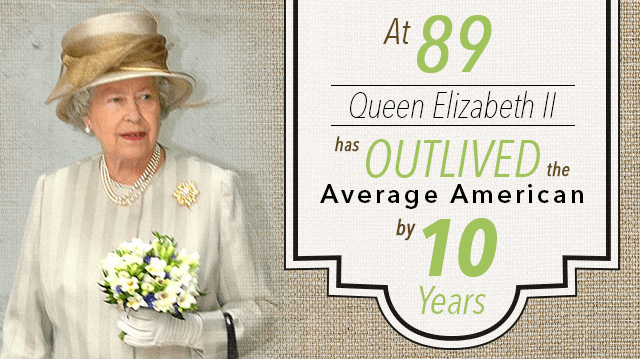 Queen Elizabeth II has reigned for 23,226 days as of September 9, 2015, breaking Queen Victoria's record, her great-great grandmother.
In true Queen Elizabeth II fashion, she addressed her loyal subjects and fans, dressed in a classic blue and turquoise dress accented by pearls and a diamond brooch. Oh, and let's not forget those signature hats of hers, always fashionable and always matching her outfits.
Queen Elizabeth II was all smiles — with a touch of monarch seriousness — as she addressed onlookers in the Scottish Borders, one of her more casual summer retreats. She mentioned in her address that her new record was, "not one to which I have ever aspired." She later thanked all of the U.K. and added, "Inevitably a long life can pass by many milestones — my own is no exception — but I thank you all and the many others at home and overseas for your touching messages of great kindness."
In her lengthy rule, she has seen 12 U.K. prime ministers, 12 U.S. presidents and 7 popes come and go. She was also shot at while on horseback in 1981, at the age of 55. However, her resilience may not be down to genetics or a monarch lifestyle filled with personal chefs and trainers. I can't imagine Queen Elizabeth II waking early for morning pilates! But her diet and eating habits may have played an essential part in her graceful aging and nearly 64-year rule as Queen of England.
In 2012, Darren McGrady, once a royal chef to Queen Elizabeth II, shared a few notable foods the Queen enjoyed. McGrady noted that she ate four meals a day, and those meals were often quite modest. Some of her notable favorites include, eggs, apricots, prunes, strawberries, macadamia nuts, spinach, cucumbers, smoked salmon, pheasant, and of course afternoon tea. McGrady also mentioned that the Queen ate small portions, her meals almost always on a schedule, and often finished the day with a gin and Dubonnet.
Sounds like Queen Elizabeth II eats pretty healthily across the board. Some of you may be thinking, "big deal," but her golden age of 89 years young is just as impressive, if not more so than her current record as the longest reigning monarch. The average life expectancy for Americans is 78.8 years old, according to the Centers for Disease Control and Prevention (CDC). Queen Elizabeth II has surpassed that by 10 years.
Hmm. . . maybe there is something to be learned here. As an alternative to the normal Western diet of fast food, poor shopping choices and scattered meal times, is it possible to make better, healthier choices? Of course it is, and here are a few tips taken from the Queen's diet.
Queen Elizabeth II eats a lot of fish, fruit, nuts and eggs, according to reports. Fish is high in omega-3 fatty acids, which are essential polyunsaturated fats. A mere four ounces of salmon contains 55 percent of your daily value (DV) of omega-3 fatty acid. According to a 1991 study published in The American Journal of Nutrition, omega-3 decreases your risk for cardiovascular disease, cancer, hypertension, diabetes, Alzheimer's, and the list goes on.

The Queen also enjoys eating fruit and vegetables, which have been shown to decrease your risk for heart disease, cancer, and inflammatory disease, and also help to battle obesity, among other things. Research published in International Journal for Vitamin and Nutrition Research (2003) states, "There is strong evidence that the intake of vegetables and fruits reduces the risk of cardiovascular disease (CVD) and is inversely associated with several forms of cancer."
Another key factor, which may contribute to the resilient health of Queen Elizabeth II, is her meal patterns. Research published in Circulation (2013) has shown that eating at irregular times and also skipping breakfast may increase your chances for, "excess body weight, hypertension, insulin resistance, and elevated fasting lipid concentrations." The research also found that eating a nutritious breakfast daily will significantly decrease your risk for cardiovascular disease.
Is 78 years enough time for you? Living a longer, healthier life will allow you to enjoy your family more, and you may surpass a few milestones of your own. Putting nutritious food on your table at regular times every day, including breakfast, is essential to your health and wellness. Add a bit of exercise in there and you have yourself a plan that will take you beyond 78 by decades.
–Stephen Seifert
Stephen Seifert is a writer, professor, adventurer and a health & fitness guru. His flare for travel and outdoor adventure allows him to enjoy culture and traditions different than his own. A healthy diet, routine fitness and constant mental development is the cornerstone to Stephen's life.
Sources:
http://www.cdc.gov/nchs/fastats/life-expectancy.htm
http://ajcn.nutrition.org/content/54/3/438.full.pdf+html
http://econtent.hogrefe.com/doi/abs/10.1024/0300-9831.73.2.63
http://circ.ahajournals.org/content/128/4/337.short