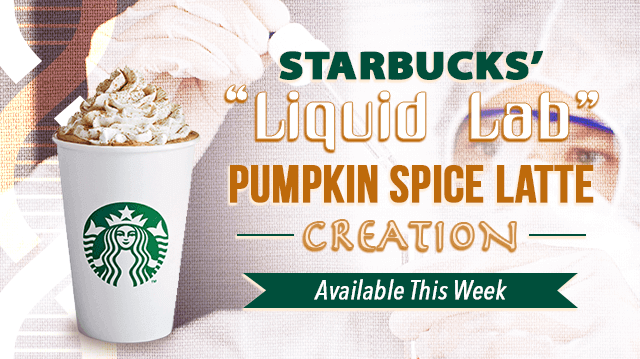 September 8, 2015, marked a day in Starbucks history as the coffee house giant released their autumn hallmark drink, the Pumpkin Spice Latte with real pumpkin.
Starbucks has been under much scrutiny over their original Pumpkin Spice Latte, since the drink did not contain any actual pumpkin. However, the new and improved #PSL — as it is tweeted 3,000 times on an average fall day — now contains pumpkin puree.
Hallmark drinks from the "Liquid Lab"
Does this make everything better? Does the addition of real pumpkin make the new Pumpkin Spice Latte an acceptable, healthy choice? The verdict is not easy to establish, since the ingredients listed for the Pumpkin Spice Latte are indeed still questionable. In 2003, the Pumpkin Spice Latte was developed in the "Liquid Lab," according to their website. The lab was described as, "A cross between a chef's kitchen and a scientist's playground — with industrial refrigerators, espresso equipment, and an eclectic mix of potential ingredients and flavors." Eclectic mix?
Starbucks' "Director of Espresso," Peter Dukes issued a public statement regarding the new and improved Pumpkin Spice Latte, which read, "So, with that great taste you know and love, the PSL returns this fall, and this time it will be made with real pumpkin and without caramel coloring."
In an effort to quell the PSL mutiny, Starbucks ditched the caramel coloring, which contained 4-Mel. 4-Mel is a chemical found to cause lung cancer in mice, according to a 2007 report published by the National Toxicology Program (NTP) and Public Health Service (PHS), associated with the Department of Health and Human Services (HHS).
Another "Liquid Lab" creation was the S'mores Frappuccino released on April 28 of this year. I love s'mores and I love coffee. Mixing the two sounds absolutely amazing, but it can't be healthy. A quick search for the actual ingredients brought up no data.
Hmm! If I don't know what's really in something, then I generally won't drink it, sorry Starbucks. Starbucks have often been criticized for their vague ingredient lists in the past.
The marketing revolving door
Starbucks is getting very crafty with their marketing techniques, and it is no surprise that many of their new drinks have been geared toward customers with a sweet tooth, especially children. The ice-cream like images of frappuccinos dance in their heads as they pass store windows and other advertisements.
A 2006 study published in Media Psychology discusses the marketing ploys aimed at young adults and children. It even addressed the issue of cell phone use stating, "For example, an individual walking the streets of New York City will receive Starbuck advertising instantly on his or her cell phone when passing by a Starbucks storefront."
Among adults, the exclusivity of Starbucks may play a part in its appeal. Starbucks is not a cheap source of coffee. The company uses contemporary, sleek design and marketing to appeal to the middle classes, who are prepared to pay the high prices for a cup of coffee that represents a certain level of status.
How does Starbucks coffee stack up in terms of health?
Starbucks has about 28 flavors, pumps, powders and sauces available for your coffee, which are also available for purchase on their website. Many of these flavors contain petroleum and the preservatives and sulfites may cause allergic reactions. The milk comes from GMO-fed cows; the coffee beans are non-organic and may contain harmful pesticides, which are not washed off during processing; and there is over 50 grams of sugar in most "grande" sized cups.
Although many of the S'mores Frappuccino ingredients remain a mystery, the sugar content and calories can still be found. A 16-ounce "grande" contains 500 calories, 20 grams total fat, and 68 grams of sugar. To put that into perspective, a 20-ounce bottle of Coke contains 65 grams of sugar.
The Pumpkin Spice Latte contains 380 calories, 14 grams total fat, and 50 grams of sugar per 16-ounce "grande" cup. That is the same amount of sugar in a 16-ounce Coke. Even substituting nonfat milk doesn't make much difference.
Skip Starbucks and make these drinks at home
There are always more healthy alternatives, especially when it comes to the food you eat or drink. Brewing organic coffee at home — which you know is healthy, pesticide-free and fair-trade — is a great way to start your morning. You may even know where your beans come from, and that is optimal! Before grabbing that Pumpkin Spice Latte at Starbucks, think about what you are really putting into your body.
This Halloween you can stoke the fireplace and create your own Pumpkin Spice Latte without the need for a "Liquid Lab" or any artificial, unknown preservatives and flavor pumps. All you need are a few excellent, healthy ingredients, including a can of organic pumpkin and pumpkin pie spice.

Here's what you'll need to make your Halloween PSL a delicious success:
1/2 teaspoon of pumpkin pie spice
2 1/2 tablespoons of canned organic pumpkin (or fresh if you can swing it)
2 tablespoons pure vanilla extract
2 1/4 cup of your milk of choice
2 shots of espresso (make it organic)
1/4 cup heavy whipping cream
Instructions:
1. Heat the pumpkin and spice together in a small pan and mix until it becomes syrupy.
2. Heat the milk and vanilla extract in a small pan.
3. Blend the hot milk until that coffee-shop style froth builds up. (Or, if you have a steamer and espresso machine, well, you know what to do.)
4. Whip your heavy cream until it becomes creamy.
5. Combine the coffee, milk froth, and pumpkin syrup together. Mix and then top with whipped cream. Add a sprinkle of pumpkin spice powder for that coffee-shop flare!
-Stephen Seifert
Stephen Seifert is a writer, professor, adventurer and a health & fitness guru. His flare for travel and outdoor adventure allows him to enjoy culture and traditions different than his own. A healthy diet, routine fitness and constant mental development is the cornerstone to Stephen's life.
Sources:
https://news.starbucks.com/news/starbucks-first-pumpkin-spice-latte
http://www.starbucks.com/menu/catalog/nutrition?drink=all#drink=all&page=3
http://ntp.niehs.nih.gov/ntp/htdocs/lt_rpts/tr535.pdf
http://www.tandfonline.com/doi/abs/10.1207/s1532785xmep0802_6#.VfB1ZumRNSU
https://books.google.com.ar/books?
http://store.starbucks.com/more/syrups-and-sauces/?DeptNo=8100
http://www.starbucks.com/menu/drinks/frappuccino-blended-beverages/s-mores-frappuccino
http://www.starbucks.com/menu/drinks/espresso/pumpkin-spice-latte?foodZone=9999#size=183887&milk=61&whip=125