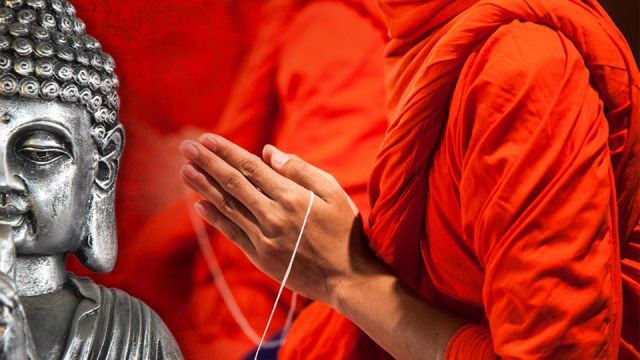 After 18 days trapped in a cave in northern Thailand, all 12 Thai soccer players and their soccer coach have successfully been rescued.

"We are not sure if this is a miracle, a science or what. All the 13 Wild Boars are now out of the cave," the Thai Navy SEALs posted on their Facebook page.
A once-tragic story filled with agony and grief has quickly turned into a heroic and inspirational feat that is now being heard all across the globe. To put this in perspective, the group was found trapped 2.5 miles from the cave's mouth.
In this exclusive footage, two of the Thai football team rescued from a cave are transported into a helicopter, following the heroic rescue mission that brought their 18-day ordeal to an end.

Watch the full report now on ITV Evening News.

More: https://t.co/j5jS12wx5q pic.twitter.com/igITfpAakp

— ITV News (@itvnews) July 10, 2018
However, what you might not have heard is that the boys used meditation as a way to stay calm while they waited to be rescued.
Thai boys used meditation to remain calm while trapped
Paul Auerbach of the Department of Emergency Medicine at Stanford University's Medical School told the Washington Post, "It's very likely that while the boys were in the cave but not yet discovered by rescuers that they experienced various degrees of anxiety, fear, confusion, vulnerability and dependency, and perhaps hopelessness."
Yet, after the mission to get all of the boys out of the cave was complete, one of the mothers said, "Look at how calm they were sitting there waiting. No one was crying or anything. It was astonishing."
That's thanks in large part to their coach, Ekapol Chanthawong. Prior to his tenure as a soccer coach, Ekapol was a highly-trained Buddhist monk for a decade. According to multiple news sources, he taught the 11 to 16-year-old boys how to meditate in the cave to keep them calm during the two weeks. "He could meditate up to an hour," Ekapol's aunt, Tham Chanthawong, told the AP. "It has definitely helped him and probably helps the boys to stay calm."
This is amazing and beautiful. Stillness working to calm the most terrifying situation | How Buddhist meditation kept the Thai boys calm in the cave https://t.co/XLY4YNIkoK via @voxdotcom

— Joseph Matas (@jjmatas) July 10, 2018
Ekapol is pictured below with some of the players:
Ekapol Chanthawong, you're nothing but a hero and if anyone says otherwise is dead wrong.#ThaiCaveRescue pic.twitter.com/sbA5relKnB

— ⛅️ (@dninabila) July 9, 2018
People on Twitter marveled at how much meditation seemed to help the boys.
So happy to hear this!! Can't wait to hear the stories of how meditation helped them survive. ⚡️ "All 12 boys and coach rescued from Thai cave"https://t.co/7kvewthHhK

— AGShortee (@AGShortee) July 10, 2018
Ekapol, who is without question a hero, lived in a Buddhist monastery for ten years where he mastered his meditation practice. It was this practice that helped him keep the boys on his soccer team calm and collected throughout the ordeal. But for those who know Ekapol, it's not a surprise that he cared for the team in the best way he knows how.
"He loved them more than himself," said Joy Khampai, a longtime friend of Ekapol's who works at a coffee stand in the Mae Sai monastery. "He doesn't drink, he doesn't smoke. He was the kind of person who looked after himself and who taught the kids to do the same." He eventually left the monastery to take care of a sick grandmother.
Buddhist meditation for extreme anxiety
Buddhist meditation has been around for nearly 2,600 years and has been a great tool for achieving clarity and peace of mind. Studies have shown that Thai Buddhism meditation practice can reduce anxiety, depression and even pain.
A 2014 meta-analysis by Johns Hopkins researchers for the Agency for Healthcare Research and Quality found that meditation can have a major role in treating depression, anxiety and pain in adults, with effective rates comparable to medication in some instances. When possible, meditation is the preferred technique for treating such conditions, as it has none of the bad side effects that medications, unfortunately, can include.
Despite disaster, trapped soccer players are in good health
The extent to which the boys were helped by meditation in the cave is unknown, but clearly, it played a major role. According to news reports, they are all doing well, with only two of them under care for possible lung infections. "The kids are footballers so they have high immune systems," a spokesperson said. "Everyone is in high spirits and are happy to get out. But we will have a psychiatrist to evaluate them."
— PJ Amirata