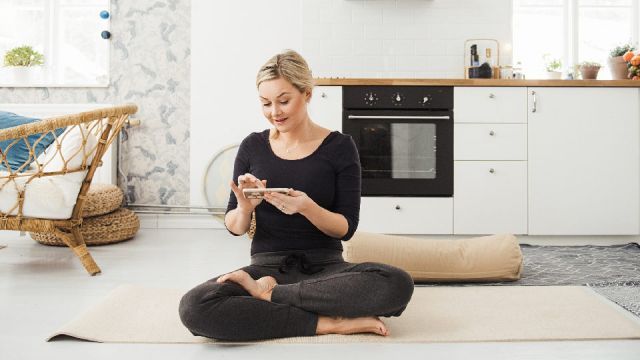 We're all different and we get our motivation and energy from a variety of sources. For many people, meditation is a wonderful, convenient and completely free way to improve one's state of mind.
The benefits of meditation
Meditation can be amazing for starting the day refreshed, for increasing one's productivity and focus, for countering negativity, finding your inner spontaneity, improving your relationships, and even getting some relief from depression or anxiety. Harvard scientists have even found that meditation can quite literally rebuild your brains gray matter in a few months — especially affecting your ability to learn and remember things.
There are a ton of meditation apps out there that can guide you through meditation, and even include meditation schedules and goals, so scouring through them all to find the one that matches your needs can take some time. We break it down here for you, listing some of the most recommended and downloaded meditation apps. All of these are free, though in some case you get more features for a fee.
Calm was Apple's 2017 App of the Year. The app includes a range of programs, with meditation sessions lasting from three to 25 minutes. You can choose sessions that focus on specific issues like relationships, concentration or anxiety, and there are stories and sounds to help you get to sleep.
The free trial includes a "7 Days Of Calm" program, a "Best Of Daily Calm" program, two sleep programs and relaxation techniques. In case you're interested, the $60 per year fee includes many more programs on top of those.
Chosen by Time as a top 50 app in 2016, this is a great app for when you need to customize the length of your meditation session, the bells that start and end it, or the intervals. It comes with thousands of music tracks and guided meditation teachers to choose from. It also includes a community discussion element, for extra motivation and learning. Insight Timer is available on Google Play or from the Apple Store for free. The premium version includes offline listening and an advanced player.
My personal favorite, this is a great app for those of you who like to keep track of your progress. It won the 2017 Webby People's Voice Award for Best Health App. The concept here is that you check in with your emotions, and based on that, the app selects meditation sessions of different lengths and goals for you to choose from. Then, the app tracks your daily streaks, total meditation time and top emotions. Unlike Insight Timer, this app can be used on your phone or on the web. Like most of these apps, there is a free and premium version, but in this case, 10 percent of the company's net revenue goes to the non-profit Tools for Peace.
This app is aimed at children and adults. Completely free, there are sessions tailored to different age groups, making it a great tool for parents or teachers. Choose from programs for children, early teens, late teens, adults, the classroom and the workplace. The app includes progress tracking, and was designed by psychologists and educators. Teachers can access Evidence Based Guidelines for a review of the science and research behind meditation and an outline of education best practices. The company behind the app is totally non-profit, with a mission to make "mindfulness accessible to all."
The advantage of Aura is that your meditation is organized for you. You're given a new three to ten-minute meditation each day, with reminders, set by you, to complete it. There are 30-second mindful breathers, some gamification with levels based on daily streaks, nature sounds, mood tracking and a gratitude journal as well. Like the others, this app has free and premium versions.
Sattva's goal is to "inspire you to meditate every day." Unlike other apps, along with guided meditations, it also includes mantras, chants and the option to create playlists. You have the ability to share these playlists with friends, and the app collects your meditation stats and progress. Free through the Apple store, if you are an Android user, subscriptions for this app are now $50 per year.
7. Breethe
This is a nice app that combines regular tips for dealing with stress, feeling love and living intentionally with meditations of various lengths. You can set your favorites, and choose from recommended or popular meditations — a bit like YouTube, but with a more stylish and calming format. Then the app keeps track of your number of sessions and your longest streak. There's an easy-to-use web version, or the totally free app can be downloaded to your phone.
Have you tried any of these apps? How did they go for you? Let us know if you have any recommendations in the comments below.
— Tamara Pearson