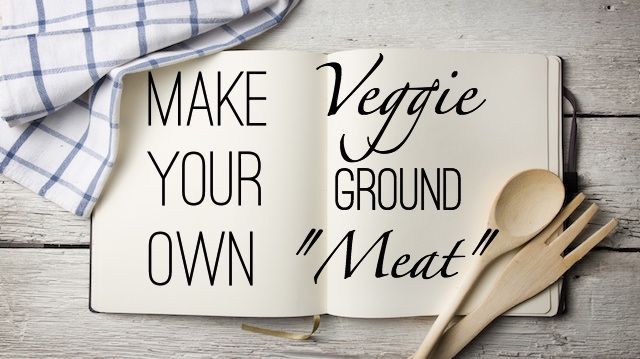 This faux "ground meat" recipe is a tasty alternative to store-bought processed soy-based "ground beef." Both cauliflower and mushrooms absorb flavors and provide a meat-like texture, perfect for your favorite recipes.
Why not just use store bought?
More and more people are adopting a vegetarian or vegan diet because of health, the environment or ethics. While the processed-food industry is quick to adapt to trends, many products, although marketed as "all natural," are heavily processed. Unfortunately, meat alternatives often fall into the "all natural" but heavily processed category. So in the search for tasty, unprocessed foods, sometimes going back to the basics is best. 
If vegan is what you want, check the label
We've included the option to add Worcestershire sauce — which is not vegetarian or vegan friendly because it contains anchovies — in this recipe, but you can certainly leave it out. Despite the "original" Worcestershire recipe being hugely guarded, the manufacturer claims it does not contain soy or gluten. However, there are other soy-free, gluten-free and even vegan Worcestershire sauces available on the market. Just make sure to always check the label or contact the manufacturer, necessary.
Homemade Veggie Ground Meat
Use this faux "ground meat" in your gluten-free lasagna or pasta recipe. Once the "meat" is prepared (as per the instructions below), no need to further cook it except to warm through on pizza or in chili, stuffed peppers, sloppy joes, ragouts or in your favorite wraps.
1

head

of organic cauliflower, leaves trimmed and florets broken into pieces

2

cups

of raw walnut halves

2

cups

of organic button, cremini or portabella mushrooms, washed and stems trimmed

1

medium

organic onion, chopped

2

cloves

of organic garlic, minced

1

tsp

dried basil

1

tsp

dried oregano

1/2

tsp

smoked paprika

2

tbsp

of organic tomato paste

1

tbsp

gluten-free/soy-free vegan Worcestershire sauce (or original if you choose)

(optional)

2

tbsp

extra virgin olive oil
In a food processor, pulse the cauliflower, walnuts and mushrooms until the consistency resembles ground meat. Depending on how grainy you prefer the texture, pulse until coarse or fine.

Transfer the cauliflower/mushroom mixture to a large bowl. Add the chopped onion, minced garlic, dried basil and oregano, smoked paprika, tomato paste and Worcestershire sauce (optional).

Mix well to combine all ingredients.

Heat the olive oil in a large skillet over medium heat. Add the faux "ground meat" to the skillet and cook until the mixture is brown and resembles ground beef — stirring often. Continue to cook until the "meat" develops some crispy bits, similar to cooked ground beef.
Once the faux "ground meat" is cooked, you can use it immediately. Alternatively, allow it to cool and divide it into portions. Store it in the freezer in a covered, airtight container for later use. This homemade veggie ground meat will also store in the refrigerator for up to three days. 
Becoming vegetarian or vegan is admirable, but some of us have a hard time letting go of what we've enjoyed our entire lives — enter veggie ground "meat." Making your own gluten-free, soy-free and cruelty-free "meat" substitute definitely makes the transition from meat eater to vegetarian/vegan much easier. Enjoy!
—Katherine Marko
Katherine Marko is a freelance writer, author and blog creator. Her areas of expertise include food, health, style, beauty, business and nutrition. Marko holds a Bachelor of Arts in English, a diploma in photography, graphic design and marketing, and certification in esthetics.