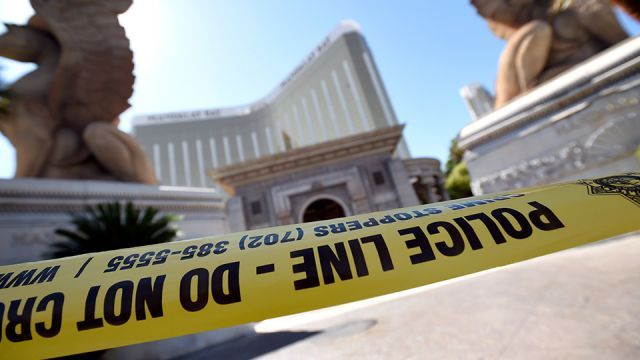 At first, the timeline of the Las Vegas shooting seemed clear-cut. The shooter fired from his hotel room at the crowd of nearly 20,000 people attending the Route 91 music festival country concert.
As each day passes, that theory and timeline of events become even more unclear. MGM, the company that owns Mandalay Bay, has even intensely questioned the authorities' version of events, which is still very unclear.
With that being said, it can now be confirmed that Mandalay Bay security guard Jesus Campos is missing. As discovered last week, he was the actually the first shooting victim because the gunman first sprayed his bullets down the hotel hallway, striking Campos in the leg, before he unleashed into music festival crowd. Apparently, he was on the same floor as the shooter due to a nearby door alarm going off.
Here is a recent picture of Campos:
Las Vegas guard Jesus Campos vanished after visiting urgent-care clinic, union leader says – https://t.co/sLtfS3dwu1 pic.twitter.com/11XFPZSqC7

— Hagmann Report (@HagmannReport) October 17, 2017
He is credited with helping direct law enforcement to the shooter's room and even helped evacuate hotel guests. After the shooting, Campos was seen a week later talking with David Hickey, a union leader that helped Campos set up multiple scheduled media events with CNN, CBS, ABC and NBC. After all the scheduling, Campos was last seen in the company of an MGM guard, but left after everyone thought he was visiting an urgent-care center to further treat his wound.
A UMC Quick Care spokesperson, which has eight locations throughout Las Vegas, reported that they "heard nothing" about Jesus Campos being in for treatment. Last Thursday, Sean Hannity reported that Campos canceled after many speculated why the program had not aired.
He cancelled. https://t.co/fWCb4X8cNQ

— Sean Hannity (@seanhannity) October 13, 2017
Campos' disappearance is especially troublesome considering the unknown and changing timeline of events of the United States' deadliest shooting in modern history. "Right now I'm just concerned where my member is, and what his condition is. It's highly unusual," Hickey told Fox News on Friday. "I'm hoping everything is okay with him and I'm sure MGM or the union will let (media) know when we hear something."
Alternative theories about what happened during the Las Vegas shooting are still floating around, and even more so after this new news with Campos.
This picture was taken last Wednesday. As seen below, Campos hired a security team to guard his house from media.
Since Monday home of  @MandalayBay security guard, Jesus Campos, guarded by private security– today armed.   #LasVegasShooting pic.twitter.com/6GZgGHB1eM

— Craig Fiegener (@CraigNews3LV) October 11, 2017
According to witnesses, the security guard is no longer on Campos' property and hasn't been seen in several days.
Around the internet, some conspiracy theorists are claiming Campos could have been an accomplice to the shooter, so his departure is extremely troublesome. However, Campos might have just needed some time away from the circus surrounding the situation. Clearly, he was shot and went through an extremely difficult time of his life, no matter what ends up being the case.
Friends and co-workers describe Campos to be a private person, but even his neighbors are stunned by his disappearance. "He is a hero," neighbor Jaime Ruano said. "Nobody knows where he is."
What are your thoughts on this news? Are things adding up about the Las Vegas Shooting based on the evidence you have seen? Let us know!
— PJ Amirata