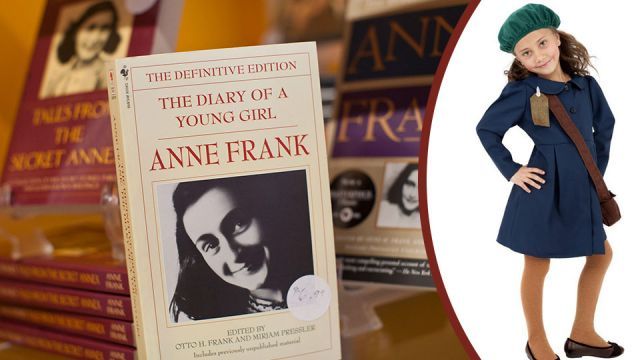 People on social media have accused some online retailers of "trivializing" the Holocaust, after sharing images of a Halloween costume designed to look like Anne Frank.
Totally speechless. Just been shown this ad for an Anne Frank costume for Halloween. @AnneFrankCenter you might want to have a word pic.twitter.com/mu0t4lvY62

— Jude Habib (@JudeHabib) October 15, 2017
The costume was on sale on U.S. and European websites until the backlash went viral online, RT reported. HalloweenCostumes.com stopped selling the costume on Sunday, with the company spokesperson, Ross Walker Smith, making an apology yesterday.
Despite the name of the website, Walker Smith said his company sells costumes "for many uses outside of the Halloween seasons, such as school projects and plays. We offer several types of historically accurate costumes — from prominent figures to political figures, to television characters."
Walmart also removed the costume from its site yesterday, while other companies are continuing to sell the costume, such as Cheeky Nights, via Amazon.
Anne Frank was a German-born Jewish victim of the Holocaust, whose diary, written while she was a teenager in hiding, has sold over 35 million copies, globally. She died aged 15 in the Bergen-Belsen concentration camp.
One website described the costume as a way for "your child (to) play the role of a World War II hero."
While most reactions on social media saw the costume as another example of politically-insensitive dress-up, other commenters disagreed. What do you think?
There r better ways 2 commemorate Anne Frank. This is not one. We should not trivialize her memory as a costume.

— carlosgeADL (@carlosgeADL) October 16, 2017
Retail has the audacity to sell Anne Frank halloween costumes like her entire life wasn't a tragedy and struggle. Wow, the world today…

— woptober🕷 (@friesxo) October 17, 2017
Jfc, imagine this needs to be said.
Rules for UNACCEPTABLE #Halloween costumes

-Kids murdered by Nazis/KKK/ISIS/Taliban #AnneFrank #Resist pic.twitter.com/fLtVX9YmlT

— Nicki (@nickiknowsnada) October 17, 2017
(1) Understandable push back…but isn't an #AnneFrank #Haloween #costume a positive reinforcement for young women? https://t.co/ftyRLruAS2

— John Greiner (@NeptuneArt76) October 17, 2017
— Tamara Pearson