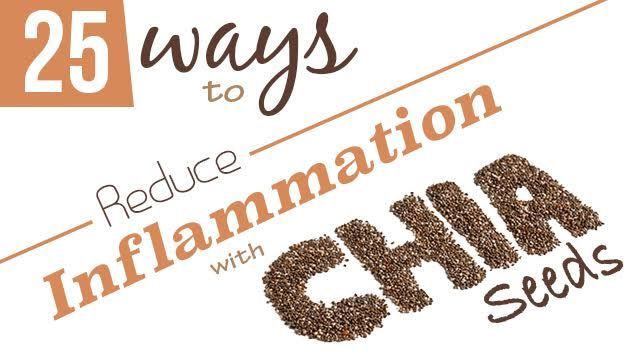 Chia seeds are superfoods rich in omega-3 fatty acids, packed with nutrition and low in calories. They can be added to almost anything, and are safe for paleo, vegetarian, vegan and low-glycemic diets.
Although inflammation can literally be a pain, you can actually fight it by eating more of these little seeds. New studies have shown that the omega-3 fatty acids in chia seeds can actually help reduce the symptoms of inflammation, digestive disorders and autoimmune diseases. Here are 25 ways you can incorporate more chia seeds into your diet so you can start to heal your body from within today.
Health benefits of chia seeds
The reason chia seeds are so healthy is because they are packed with essential vitamins and minerals. Just one ounce of chia seeds contains 11 grams of fiber, 5 grams of omega-3 fatty acids and 4 grams of protein. They also have 30 percent of your daily requirement of manganese and magnesium, 27 percent of your recommended daily intake of phosphorus, and 18 percent of your recommended calcium intake!
Chia seeds are abundant in other nutrients too, such as niacin, thiamine, vitamin B2, antioxidants, potassium and zinc. Chia seeds are rich in omega-3 fatty acids without the cholesterol commonly associated with omega-3 foods, such as tuna and sardines. They are safe for people on low-carb, low-glycemic, plant-based and raw diets and can be added to just about anything! Here are some ideas to get you started.
Want some healthy fats with your high-quality proteins? Try adding chia seeds to a gluten-free crust before baking or sautéeing your meats. The taste goes well with any meat and will add a satisfying crunch to your crust.
Chia seeds can be enjoyed raw on top of pies, frozen yogurt, smoothies, juices, anything!
Seed crackers are some of the healthiest crackers you could ever put in your mouth. Let your chia and/or flax seeds soak for 15 minutes to plump, season the seeds however you want, spread them out on a baking sheet and pop them in the oven at 350°F for an hour or two, or until hard. If you have a dehydrator, leave them in there overnight.
Make raw, baked, or dehydrated granola or granola bars according to your preferred recipe. Just add some chia seeds for extra nutrition and energy. They work well in both crunchy and chewy granola varieties.
Turn your oven to its lowest setting or preheat your dehydrator. Mix flax seeds and chia seeds and let them soak in water for 15 minutes or until they are gooey. Then spread the mixture out and heat for 5 or 6 hours. Take it out earlier if you want your bread to be more gooey or chewy. 
Instead of using artificial powders, try blending in some chia seeds! They will add vitamins and minerals and make your smoothies thicker and creamier.
Cover your chia seeds with water and let them sit for 15 minutes. Leave them whole for texture or grind them up to make the mixture smooth. Either way, you can use this simple concoction to replace eggs in any recipe. The healthy fat from chia seeds is full of vitamins and minerals and contains no cholesterol.
Use the same technique for making chia eggs, except instead of water, combine the seeds with almond milk, juice, or coconut milk. Add cocoa powder to make chocolate pudding, non-alcoholic vanilla extract for vanilla, or mint extract for mint pudding. Top the pudding with fresh berries, mint leaves, chocolate shavings or a scrape of vanilla bean.
Can't eat meat but want a healthy protein alternative? Try using chia seeds — leave the chia seeds whole and add mashed beans, gluten-free flour and seasoning. Stir together in a sauté pan over a medium-low heat until the mixture begins to clump into a healthy, gluten-free, preservative- and additive-free meatless ground beef.
Soak dates overnight. The next morning, add them to a blender and pulse until smooth. Add in your favorite fruits and blend some more. Stir in the chia seeds and let the mixture sit for 15 minutes in the refrigerator. Ta-da, you've got healthy, naturally-sweet jam!
Add chia seeds to your quinoa after they have cooked to add extra texture and health benefits to your meal. Chia seeds are delicious on both sweet and savory quinoa dishes.
Grind chia seeds and place them in your oatmeal before cooking the oats. This will make it thicker and more creamy. If you want some texture, leave them whole.
Add chia seeds to your favorite juice. Give them time to plump — it's like enjoying a fruit drink with tiny tapioca pearls at the bottom, except these little balls aren't full of empty calories. They are also refreshing in iced mint tea and lemonade.
Making mousse from chia seeds is actually really easy. Follow the directions to make chia pudding, but grind the chia seeds. Mix with coconut cream and add some coconut powder. This mousse is full of healthy fats and antioxidants.
Add these to your gluten-free muffin recipes for a crunch in every bite. It's a great way to get extra energy, protein and fiber in the morning.
Thickening agent
Most thickening agents are either highly refined, genetically modified or full of empty calories. Grind chia seeds and add them to a broth or sauce of your choosing to thicken it.
Textured gluten-free breads
In gluten-free breads that have texture already, such as corn bread or poppy seed bread, add some chia seeds for extra texture. You can also top your bread with these seeds instead of using sesame seeds on a bun or poppy seeds on a roll.
Asian food is renown for having rice dishes with seeds. Even sushi has sesame seeds in the rice mixture. You can replace these seeds with chia seeds or have both! It'll add a pop of color to your sushi or fried rice.
Another Asian dish that sometimes has nuts and seeds is pad Thai. Instead of rice, rice noodles are used. Beautify your pad Thai with chia seeds or a seed blend for a variety of textures, colors and flavors.
Sometimes casserole crusts come out soggy. Prevent that by adding some chia seeds on top. For a fool-proof recipe, stir some chai seeds in with the crust and finish by adding some more on top so that the crust will be sure to have a crunch. It works for sweet potato casserole, corn casserole, green bean casserole and even mac-and-cheese (gluten-free of course!).
A quick and delicious way to ensure a variety of nutrients in the most important meal of the day is to make a breakfast bowl. Just blend some frozen bananas and fruit for the base and add fresh and dried fruit, nuts and seeds as toppings. Arrange them in a beautiful design or eat it as is. Incorporating chia seeds to your morning breakfast bowl will give you an extra boost with few calories.
Earlier we mentioned blending chia seeds into your smoothie to make it thicker. You can also use chia seeds as a crunchy topping. Layer coconut or cashew cream on top of your smoothie and use the chia seeds as sprinkles.
You can make a myriad of parfaits with chia seeds. You can layer chia pudding and chia jam, and top it all off with some chia seeds.
Chop up your favorite fruit and add it to coconut water or regular water. Add fresh mint or rosemary too if you think they will mesh well with your flavor choices. Then add your chia seeds and let it chill for a few hours (or overnight) in the refrigerator. The longer it sits, the more the flavor is enhanced. Drink it for breakfast and eat the fruit, or have it as a refreshment after a workout.
Glaze is often very unhealthy and made from high-calorie, high-fat, and very sugary substances. Blend chia seeds with almond milk or coconut milk. Stir in vanilla extract or vanilla bean and natural sweeteners to taste. Let it sit until it thickens and pour it on top of a gluten-free cake or doughnut.
It's amazing how such a tiny seed can pack such a nutritional punch! What's even more surprising is how easy it is to incorporate chia seeds into your daily diet! How do you eat your chia seeds? Share with us some of your favorite recipes below.
— Nicole Manuel
Nicole Manuel, CPC is a certified life coach with a degree in economics and over five years of professional writing experience. Her goal is to help others discover ways to incorporate sustainable solutions that can improve their health and well-being on a budget.
Sources:
http://authoritynutrition.com/11-proven-health-benefits-of-chia-seeds
http://healthyeating.sfgate.com/top-10-health-benefits-chia-seeds-6962.html
http://www.bonappetit.com/test-kitchen/ingredients/article/chia-seeds
http://wellnessmama.com/4981/uses-for-chia-seeds
http://articles.mercola.com/sites/articles/archive/2015/07/06/chia-seeds-benefits.aspx
http://www.health.com/health/gallery/0,,20930078,00.html
http://dailyburn.com/life/recipes/chia-seed-recipes