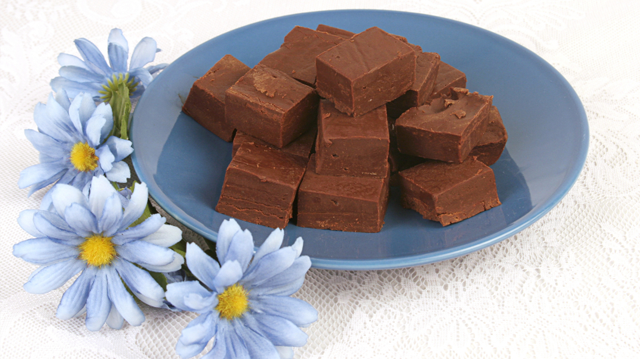 When first switching to a healthier way of eating, it's common to feel restricted with food choices. This is especially true for those with food intolerances. We still want to enjoy desserts and treats now and then without undoing all of our hard-earned healthy progress.
The good news is there are so many innovative health-conscious recipes being shared nowadays. There is no need to feel deprived, no matter what diet regimen you or your loved ones are following.
We've put together some real food recipes for homemade sweet treats that anyone can enjoy, even if you're healing from chronic illness or serving a guest who has special dietary needs.
Apple Crisp
This lovely apple crisp is made up of entirely clean, safe ingredients. It complies with the Paleo diet and GAPS-diet, meaning there are very few people, if any, who can't enjoy this classic dessert.
Ingredients
8-10 medium organic apples
3 Tbsp lemon juice
1 ½ cups almond flour
¼ tsp pink Himalayan or sea salt
2 Tbsp honey or maple syrup
5 Tbsp grass fed butter (cold)—cut into chunks
1 Tbsp cinnamon
Instructions
Preheat oven to 350oF.
Wash and slice the apples very thin, discarding the cores and seeds.
Tightly layer the apples in a baking dish and drizzle with lemon juice.
Pulse or mix together almond flour, salt, cinnamon, maple syrup/honey, and cold butter.
Spread the crumble topping evenly over the apples.
Bake for 60 minutes, or until the top gets golden and a little crispy.
Lemon Bars
These luscious lemon bars use coconut flour, sunflower seeds and honey in lieu of white flour and sugar for a healthier, lower-glycemic version. The result is a beautiful layered dessert that is indulgent yet light.
Ingredients
Crust:
½ cup finely ground raw sunflower seeds
⅔ cup coconut flour
½ tsp baking soda
2 Tbsp unsalted butter or coconut oil, plus more for greasing dish
2 Tbsp honey
2 eggs
1 tsp vanilla extract
1½ tsp fresh lemon juice
Filling:
3 large eggs plus 1 yolk, lightly beaten
½ cup honey
¾ cup fresh lemon juice
3 Tbsp coconut flour
1 tsp finely grated lemon zest
Instructions
Preheat oven to 350oF.
Combine all of the crust ingredients in a food processor. Process for 15 seconds to combine. Scrape down sides if necessary and pulse once or twice more until a dough forms.
Lightly grease a 9×9 square baking dish with butter. Press the dough into the bottom and slightly up the sides of the dish.
Prick the dough a few times all over with a fork then bake for 10 minutes. Remove from the oven and cool on a wire rack while you prepare the filling.
Whisk together all of the filling ingredients. Allow the coconut flour to absorb for 10 minutes, then whisk again until the filling is smooth. If there are any lumps of coconut flour, pass it through a mesh strainer.
Pour the filling on top of the baked crust, and bake again for 15-20 minutes or until the center is set but slightly jiggly.
Cool on a wire rack for 20 minutes then refrigerate until chilled.
Strawberry Banana Muffins
Try these fruity gluten, grain, dairy and nut-free muffins to satisfy those with sensitive tummies. Coconut flour and banana provide healthy fiber, while coconut oil adds good fats. These muffins make a great healthy snack to pack along, or even a special sweet treat for breakfast.
Ingredients
5 Tbsp coconut flour
¼ tsp baking soda
¼ tsp pink Himalayan or sea salt
3 pastured eggs
1 mashed ripe banana
¼ cup real maple syrup or raw honey
¼ cup coconut oil or ghee, melted
1 tsp vanilla extract
1 cup fresh organic strawberries, chopped into ½ inch pieces
Instructions
Preheat oven to 350oF and line muffin pan with 9 silicon muffin cups.
Sift together coconut flour, baking soda, and sea salt in a small bowl. Set aside.
In another medium bowl, whisk eggs until foamy. Add mashed banana, sweetener of choice, fat of choice, and vanilla. Mix until thoroughly combined.
Add dry ingredients and mix to combine. Fold in strawberries.
Fill muffin cups about 2/3 full. Bake for 20-22 minutes, until the muffins are firm in the center and lightly golden.
Toasted Coconut Butter Cups
Commercial candies contain many questionable ingredients, such as hydrogenated oils, artificial flavors and processed sweeteners. It's easy to make your own from scratch instead, so you know exactly what you're eating! You might even find these are tastier and more satisfying than the junk food version!
Ingredients
7 cups unsweetened coconut flakes
Raw honey, to taste (optional)
Almond butter, chopped nuts or dark chocolate for filling (optional)
Instructions
Preheat oven to 350oF.
Spread the coconut flakes onto two rimmed baking sheets.
Bake for 5-8 minutes or until golden brown, stirring and flipping the coconut flakes every few minutes so they do not burn (keep an eye on them).
Allow to cool slightly and pour the toasted coconut flakes into the bowl of a food processor or high speed blender.
Process until smooth.
Add honey to taste and process to combine.
Line a mini muffin pan with 24 liners or use a candy mold.
Pour 1 tsp of toasted coconut butter into the mini muffin cups, (optional) add about 3/4 tsp of filling (almond butter, chopped nuts, or dark chocolate) and top with an additional 1 tsp of toasted coconut butter.
Place in the refrigerator and allow to harden for about 1-2 hours before serving.
Chocolate Hazelnut Fudge
Most fudge recipes contain gluten and sugar, amounting to an allergenic, inflammatory blood sugar rollercoaster. Here is a healthier recipe that is just as tasty, so everyone can enjoy a treat and no one will notice anything missing!
Ingredients
3½ cups (16 ounces) chocolate chunks
1 cup coconut milk
2 Tbsp honey
1 tsp hazelnut extract
1 cup raw hazelnuts
Instructions
Preheat the oven to 350oF and toast the hazelnuts on a large cookie sheet for 10 minutes.
Let the hazelnuts cool, then chop them up and set aside.
In a medium saucepan, melt chocolate and coconut milk together over very low heat.
Stir in honey and hazelnut extract, then stir in hazelnuts.
Transfer mixture to an 8 x 8 inch baking dish.
Refrigerate for 1 hour before serving. Makes 16 squares.
Salted Almond No-churn Ice-cream
Here is a dairy-free ice-cream that is suitable for both Paleo and Vegan diets. No ice-cream maker required! You can even switch up the almonds for another type of nut or seed that you enjoy. Bananas provide natural sweetness with no other sweeteners added, so this is truly a health-conscious treat.
Ingredients
Ice-cream:
2 peeled, frozen bananas
2 Tbsp unsalted creamy almond butter (or other nut or seed butter)
¼ tsp pink Himalayan or sea salt
Crunchy topping (optional):
½ cup raw almonds
pinch or two of salt (up to 1/8 teaspoon)
1 tsp honey or maple syrup
Instructions
Ice-cream:
Place the frozen bananas in a food processor, or blender on a low to medium speed, and blend a little.
At this point you can add either all or half of the almond butter and the salt. You can also save half the almond butter to swirl it into the ice-cream with a spatula at the end.
Finish processing the ice-cream until creamy and smooth. Store sealed in the freezer for a few weeks.
Crunchy topping (optional):
Preheat your oven to 325°F and line a baking sheet with parchment paper or a nonstick baking mat.
Blend all the ingredients together and pour the almonds onto the baking sheet and bake for 10 minutes.
Cool and break into pieces to serve. You can wrap the almonds in a kitchen towel and smash them a bit with a hammer.
Enjoy these delicious homemade treats guilt- and symptom-free!
-The Alternative Daily
Sources:
http://www.mygutsy.com/gaps-apple-crisp
http://againstallgrain.com/2013/05/10/luscious-lemon-bars-nut-free
http://www.deliciousobsessions.com/2014/06/strawberry-banana-muffins
http://thecoconutmama.com/2013/09/toasted-coconut-butter-cups
http://elanaspantry.com/hazelnut-fudge
http://comfybelly.com/2014/02/salted-almond-ice-cream-no-churn/#more-16878