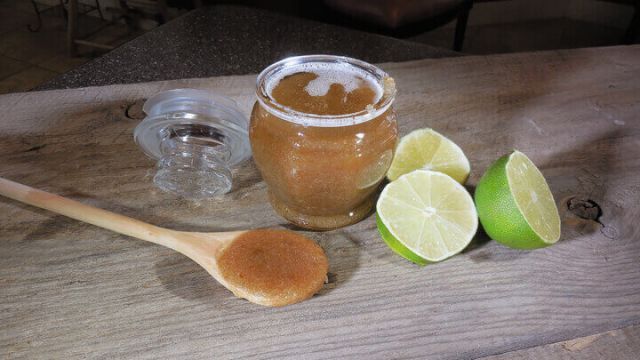 If you are are the hunt for a natural exfoliator that will leave your skin feeling spa fresh, I have a treat for you. This scrub is loaded with natural ingredients that will nourish and cleanse your face while leaving it soft and moisturized.
Coconut oil
Coconut oil makes your skin look and feel healthy and beautiful
. It is an excellent topical treatment for dry skin. If you are like me, I fight dry skin on a daily basis. Coconut oil has become one of my favorite oils to use in several of my homemade recipes when I need a good moisturizer.
This oil is easily absorbed into your skin and does not clog your pores like a petroleum lotion does. Plus, it doesn't have parabens in it that like other moisturizing lotions that have been found to cause cancer. As a bonus, it has a pleasant, tropical scent.
Pregnant mothers often rub coconut oil on their stomachs to prevent stretch marks. Using it topically can also kill the fungi that cause acne, as it fights and kills bacteria and fungus. It can also help reduce wrinkles and signs of aging.
Almond oil
Almond oil helps heal many skin issues including cracked and dry skin, acne, eczema and psoriasis. It can even help clear up dandruff! All it takes is a small amount of almond oil combined with a few drops of essential oil.
Almond oil if great for protecting your skin from sun damage, and it helps to reduce the signs of aging. You can also use almond oil as a facial cleanser for an easy way to get rid of dirt and makeup without your skin drying out.
Ginger
Ginger is great for skin that is sensitive. It also can be used as an anti-inflammatory and helps eliminate redness. It can energize and tighten your skin to give it a more youthful appearance.
Ginger can also be helpful in reducing inflammation. When massaged into painful joints and muscles it also can help to lessen your pain. It can be as effective as taking ibuprofen or betamethasone when used for rheumatoid arthritis.
Lime
Limes have been known to promote healthy skin. When limes are included in your diet, they help your skin to look fresh, ward off infections and help get rid of blemishes. You can even use lime juice to exfoliate your skin. Lime juice can also be added to your bath to help get rid of dandruff, bruises and rashes.
Lime oil has so many benefits. It is known for its ability to lift your mood and it has a very refreshing scent as well. This amazing citrus oil is added to many of cleaners, soaps, detergents, beauty products, fragrances and even our food and beverages.
Here's a neat trick: When you mix a couple of drops of lime oil with jojoba oil and apply it to your skin, the mixture helps to get rid of impurities and encourages new skin cell growth.
Easy DIY Brown Sugar Scrub with Ginger and Lime Essential Oils
Ingredients
1/4 cup coconut oil

1/4 cup almond oil

1/2 cup brown sugar

1/2 cup turbinado sugar (just a refined light brown cane sugar with large crystals)

10 drops ginger essential oil

10 drops lime essential oil
Equipment
Glass bowl to melt coconut oil

Glass jar or container with a lid
Instructions
Measure the coconut oil and put in glass bowl.

Place in the microwave and slowly heat up until it melts.

Mix in the almond oil and stir well. Allow your mix to come to room temperature.
Add your sugars and stir again until mixed.

Add your essential oils and stir well.

Pack the scrub into your container. Tip: I love using canning jars or anything else that decorative and looks pretty.
To use this scrub, just massage it into your dampened skin and allow it to sit for two to four minutes. Use a washcloth soaked in warm water and place it over your face to steam it or stand in a steamy shower for a minute. Wipe the excess from your skin using your wet washcloth. Rinse and repeat until the oil is washed away.
This recipe makes approximately eight ounces of sugar body scrub.
— Leilani Hampton