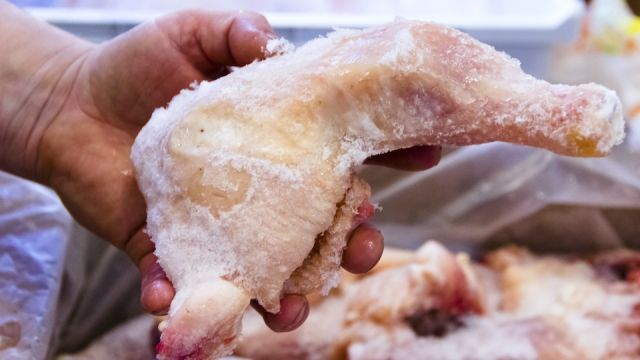 We are living in uncertain times ushered in by a new and unique virus of which little is known. One thing that may have crossed your mind is whether or not the new virus that has sent the world into a spiral of chaos can end up on the food that we eat. Now, sadly, it has happened. COVID-19 has been found on surface samples of food imported into China. But what, if anything, does this mean for us? How safe and secure is our food supply in America?
A surface sample of frozen chicken wings imported from Brazil has tested positive for novel coronavirus in the Chinese city of Shenzhen. The virus was discovered on the wings during a screening of imported frozen food according to the municipal government statement. No brand has been named.
The World Health Organization (WHO) and the US Centers for Disease Control and Prevention (CDC), have noted that the possibility of catching the novel coronavirus through food is low. However, it is essential to remember that the novel nature of this virus makes it hard to determine precisely what is and isn't possible.
Health authorities in Shenzhen immediately traced and tested any people who may have come in contact with the products, and all tests have been reported back negative thus far. 
Similar products from the same brand that have already been sold are being traced, and the area where the contaminated chicken wings were being stored has been thoroughly cleaned and disinfected.
This chicken wing news came just a day after a package of frozen shrimp imported from Ecuador was found contaminated by the novel virus. According to a report from CNN, 
"Coronavirus has been detected on the packaging of imported seafood products across several cities in China."
Residents in China have been urged to use caution when buying imported frozen food.
Where does our food come from?
The United States imports about 15 percent of its total food supply. Most of our meat and dairy are produced domestically, and we import about 32 percent of our vegetables, 55 percent of our fresh fruit, and 94 percent of the seafood that is consumed annually in our country is imported. Our top countries of import include Canada, Mexico, France, Italy, and China. Almost half of our total fruits and vegetable imports come from Mexico, and 19 percent of our total meat and fish imports are from Canada.
Are there food risks with COVID in America?
According to the CDC, there is no concrete evidence to show that handling or consuming food is connected with COVID-19. Coronaviruses, like the once responsible for COVID-19, are thought to spread mostly person to person through respiratory droplets when someone coughs, sneezes, or talks. However, is possible to contract the virus by touching a surface or object, including food or food packaging that may have the virus on it and then touching your mouth, nose, or even eyes. This is not thought to be the main transmission route. 
The risk of getting COVID-19 from the food you cook yourself or from handling and consuming food from restaurants and takeout or drive-thru meals is also thought to be very low. To date, no COVID-19 infections have occurred by touching food, food packages, or shopping bags.  Some people who work in food production and processing facilities have contracted COVID-19, but there is no evidence that they contracted the virus from the food packaging in the facilities.
Takeaway. Although the findings coming out of China are somewhat disturbing, it is important to keep in mind that the virus that causes COVID-19 cannot grow on food as bacteria can. It has also not been found in drinking water. It requires a host such as a person or animal to multiply. However, it is always best to practice excellent food handling and preparation.
Always wash your hands with soap and warm water for at least 20 seconds after shopping, handling food packages, or before preparing and eating food. Keep your preparing, cooking, and storing surfaces clean.
Continue to follow recommendations from health officials to prevent the spread of COVID-19 and stay safe!
-Susan Patterson