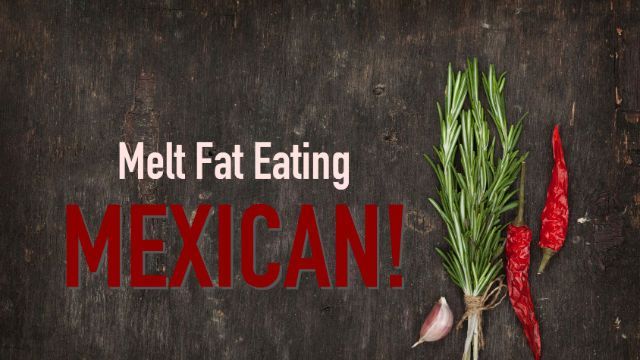 While there is no "quick fix," or one perfect food, for weight loss, a combination of certain healthy foods, on top of an already-nutritious diet, can supercharge your efforts. One great culinary tradition that boasts many of these foods is Mexican cuisine.
Now, you may be confused to hear this, as Mexican food in the US has become synonymous with deep fried, flour-wrapped foods jam-packed with way too much cheese. However, this reputation has more to do with our modern fast food culture than the origins of this great cuisine.
Simply put, Mexican fast food is not healthy, but authentic Mexican food, if you are enjoying dishes made with love and fresh ingredients, can be as good as gold.
The following are eight common ingredients found in Mexican food, which if incorporated into recipes wisely can go far to helping you achieve a slimmer waistline.
Tomatoes
You'll find tomatoes in many fresh, Mexican sauces, such as salsas and picante sauces, and also chopped up fresh into many salads and (gluten-free) wraps. The wealth of vitamins, minerals and antioxidants found in tomatoes has been linked to supporting cardiovascular health, lowering levels of LDL "bad" cholesterol, and protecting bone health.
Good News: A diet rich in tomatoes has also been linked to a lowered risk of obesity.
Chile peppers
Chile peppers, from the tolerable jalapeno to the virtually inedible ghost pepper, are often used to add heat and flavor to Mexican dishes. They are also often roasted whole, or sauteed with onions to make rajas.
When eating Mexican, don't skimp on the chile: it is a famous metabolism-booster. Also, capsaicin, a compound found in chile peppers, has been linked to curbing cravings throughout the day when consumed with breakfast.
Black beans
Black beans are ubiquitous in Mexican cuisine, and can often be found served on it's own with some spices, or paired with rice in a hearty bowl that usually also contains fresh veggies. How do they help your waistline?
Beans contain high amounts of fiber, which helps to support great digestion, can prevent spikes in blood sugar, and leaves you satiated for hours, keeping cravings away.
Avocados
Avocados add a refreshing, "green" flavor to many Mexican dishes, including the world-famous guacamole. Eating avocados regularly has been linked to a strong, efficient metabolism, and also to reducing daily cravings. The monounsaturated fats that they contain have been linked to raising HDL "good cholesterol."
These fruits are also chock-full of vitamins and minerals, which you will need a lot of if you're working out.
Limes
The acid element for many a traditional Mexican dish (ceviche, for one), lime can be used to add a burst of freshness to almost anything. Along with being high in immune-boosting vitamin C, limes are great for detoxification. When melting fat, detox is key, as you need to get the accumulated toxins out of there before you can slim down.
Additionally, the essential oils found in limes have been found to be very high in antioxidants, and these fruits are being investigated for their potential to lower LDL "bad" cholesterol.
Jicama
Also known as the Mexican yam, jicama is often peeled and chopped raw into salads. Its mild flavor makes it suitable for sweeter, and more savory, salads and appetizers.
Along with being high in fiber and vitamin C, jicama contains inulin, a prebiotic which helps to support healthy gut bacteria. A healthy gut environment is not only important for digestion and the immune system, it is also key to a successful weight loss plan.
Cinnamon
Cinnamon is an ancient spice that has been long embraced by Mexican culture. It can be found in mole sauces and the traditional horchata beverage, to name only a couple of its roles. Cinnamon is a wonderful spice to help burn fat, because it has been linked to slowing the rate of stomach emptying, which may help to improve insulin sensitivity.
It has also been found by research to improve blood pressure and blood sugar levels, and lower LDL "bad" cholesterol. Plus, it just makes everything delicious!
Raw cacao
Ah, cacao. We're not talking about sugary, processed chocolate, but the real thing. Raw cacao is a traditional ingredient in Mexican hot chocolate, which often has a bit of chile pepper added, as well as in mole sauces.
Raw cacao is rich in healthy fats, which help you to feel satiated and full of energy. It has also been found to contain mood-boosting compounds. What better way to motivate you for your workout?
Anyone geared up for a trip south anytime soon?
-The Alternative Daily
Sources:
http://mexicanfood.about.com/od/flavorsofmexico/a/Mexicanflavors.htm
http://www.cnn.com/2010/HEALTH/08/25/healthiest.ethnic.cuisines
http://www.whfoods.com/genpage.php?tname=foodspice&dbid=2
http://www.whfoods.com/genpage.php?tname=foodspice&dbid=44
http://www.whfoods.com/genpage.php?tname=foodspice&dbid=29
http://www.superfoodsrx.com/superfoods/avocado/avocados-are-nutrient-rich.html
http://www.whfoods.com/genpage.php?tname=foodspice&dbid=27
http://www.nutrition-and-you.com/jicama.html
https://www.thealternativedaily.com/5-ways-get-cinnamon-everyday