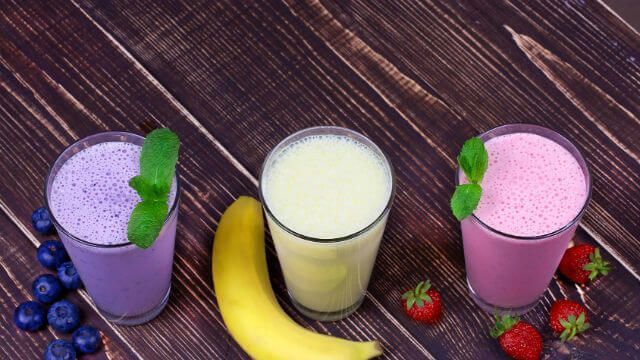 It is important to eat healthy and get the essential nutrients we need from our foods. A smoothie is a great way to get them all, because you can take virtually any ingredient and whip it up in a yummy tasting drink.
These smoothies are filled with ingredients to help boost your brain power. Combining them, in particular, may give you an edge with mental clarity, and memory, and may also work to improve your mood and keep your mind sharp.
Coconut is low in natural sugars, and high in fiber, manganese, and medium-chain triglycerides, which are healthy fats that are easily used by the body for energy (and not stored as fat!) This smoothie provides instant and sustainable energy, as well as fuel for your brain.
1

cup

milk

(hemp, almond, organic rice, or organic cow's milk)

1

frozen banana

slightly thawed

1

scoop

hemp powder

1

Tbsp

unsweetened coconut
Combine all ingredients in a blender, and blend well.
Brain Booster Smoothie Recipe
This smoothie has so many benefits for your brain. It is high in antioxidants, as well as essential omega-3 fatty acids, which are linked to boosting your brain power by improving memory and learning ability.
1

cup

apple juice

(preferably organic, fresh-pressed or juiced)

1/2

cup

frozen blueberries

1/2

fresh or frozen medium banana

2

Tbsp

goji berries

2

Tbsp

hemp seeds

1

tsp

coconut oil
1/2

cup

frozen raspberries

1/2

Tbsp

pure acai powder

1

Tbsp

chia seeds
Place all the ingredients into your high-speed blender and blend for approximately 30-45 seconds.
Dopamine Delight Smoothie
Dopamine is a neurotransmitter involved in motivation, emotion, and pleasure, and it's easily boosted by a healthy serving of protein. Chia seeds offer a good dose of protein, and fiber to keep your blood sugar steady. The small amount of espresso in this smoothie will help keep you focused, and provide antioxidants. This is a good smoothie for the days you need to get stuff done.
1/2

cup

small banana, peeled and frozen

1

Tbsp

chia seeds

1/2

tsp

ground cinnamon

3/4

cup

organic coconut milk

1

double shot

organic espresso

(approximately ½ cup)
Combine all the ingredients and blend on high speed until smooth.
Pomegranate-Strawberry Smoothie
Both the pomegranate and strawberries in this smoothie provide important antioxidants, the flax seeds provide the essential omega-3s, and the yogurt gives you important probiotic benefits. This smoothie is also full of fiber, which helps to keep your blood sugar regulated, and your energy levels stable.
1/3

cup

organic pomegranate juice

2

tsp

raw honey

3/4

cup

frozen strawberries

2

Tbsp

plain Greek yogurt

1

Tbsp

ground flax seeds

4

ice cubes
Whisk the pomegranate juice and honey in a small cup to dissolve the honey completely. Combine the strawberries, yogurt, flax seeds, ice cubes, and pomegranate mixture in a blender. Blend until smooth.
Antioxidant Wake-Up Smoothie
Cherries contain anthocyanins, which are linked to improving memory, and the green tea powder contains L-Theanine, a rare amino acid that is associated with promoting a state of well-being, alertness, and relaxation.
1/2

frozen banana

1/2

cup

frozen cherries

1/4

cup

blueberries

3/4

tsp

matcha green tea powder

3/4

cup

organic almond milk
Combine all the ingredients and blend until smooth.
Enjoy!
-The Alternative Daily
Sources:
http://www.healthysmoothiehq.com/brain-booster-smoothie-recipe
http://www.prevention.com/health/brain-games/11-brain-boosting-smoothies?s=2