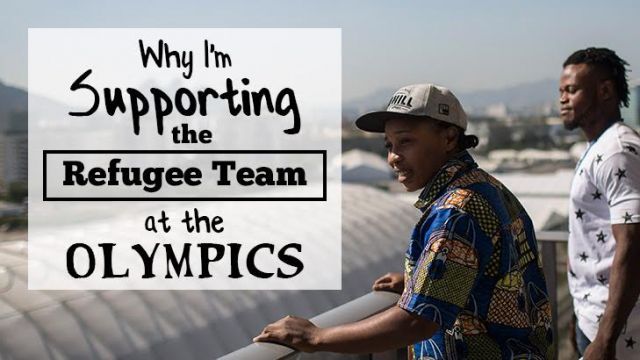 A team without a country will be competing in the Olympics in August this year. The first ever refugee team will enter the opening ceremony in the Maracana Stadium before hosts Brazil and will be participating under the Olympic flag.
The move represents recognition of refugees' contribution to the world. It acknowledges that not everyone lives in a country with equal rights; giving such people a name and face. There are 10 million stateless people, and 65 million forcibly displaced people worldwide, according to the UNHCR.
"These refugees have no home, no team, no flag, no national anthem. We will offer them a home in the Olympic Village together with all the athletes of the world," International Olympic Committee (IOC) President Thomas Bach said.
Refugees fleeing their homes for their lives, facing racism, attacks, year-long waits and detention when they seek asylum in Europe, the US and Australia, represent real strength and determination.
The Olympics, when not booting out homeless people near the venue, or exploiting migrants at low wages to build stadiums, is meant to represent what humanity is capable of when we put our minds to something, as well as incredible physical endurance and strength. That said, in broader society, the strength of refugees is rarely recognized or understood.
Meet the team
Rami Anis, 25

, Syria, 100-meter butterfly: Anis began formal training at the age of 14, but when the war broke out in Syria he fled to Turkey. Lacking citizenship there, Anis couldn't compete. He eventually made his way to Greece, then Belgium.
Yolande Mabika, 28

, Democratic Republic of the Congo, middleweight.
Popole Misenga, 24

, Democratic Republic of the Congo, middleweight: Mabika and Misenga fled their hometown during the Congolese civil war when they were children. At a center for displaced children,they learned judo. But after representing Congo and being tortured, they sought asylum in Brazil.
Yusra Mardini, 18

, Syria, 200-meter freestyle: Mardina represented Syria in an international swimming competition, but then was forced to flee last year and risked her life trying to get from Turkey to Greece in an inflatable boat. It began taking in water, and Mardini and her sister helped push it ashore, as most of the other 20 passengers couldn't swim.
Yonas Kinde, 36

, Ethiopia, marathon: Now a taxi driver in Luxembourg, he left Ethiopia after it became very dangerous for him.
These five runners had been living in a refugee camp in Kenya when they were selected as potential Olympic competitors:
Paulo Amotun Lokoro, 24

, South Sudan, 1,500 meters: Lokoro is a former cattle herder.
Anjelina Nadai Lohalith, 21

, South Sudan, 1,500 meters: At six years old, Lohalith was forced to flee her home and hasn't seen or spoken to her parents since.
James Nyang Chiengjiek, 28

, South Sudan, 800 meters: Fearing kidnapping, Chiengjiek fled as a child and was forced to become a child soldier.
Rose Nathike Lokonyen, 23

, South Sudan, 800 meters: Lokonyen fled South Sudan with her family and arrived in Kenya in 2002.
Yiech Pur Biel, 21

, South Sudan, 800 meters: Biel grew up on his own in a refugee camp.
On this #WorldRefugeeDay, let this team of Olympians inspire you. #WithRefugees @Refugees #RoadtoRiohttps://t.co/M1Ot0PMahS

— Olympics (@Olympics) June 20, 2016
Living in Kenya, and studying at a school known for its runners, Chiengjiek initially didn't have any running shoes, and had to borrow from others.
"All of us got a lot of injuries because of the wrong shoes we had," he said. "Then we were sharing. If maybe you have two pairs of shoes, then you help the one that has none."
In Rio, Chiengjiek isn't just competing for himself. "By running well, I am doing something good to help others, especially refugees," he added. "Maybe among them are athletes with talent, but who did not yet get any opportunities."
Throughout the games, the refugees will be treated as any other team, but will have expenses paid by the IOC.
"Refugee athletes will show the world that despite the unimaginable tragedies that they have faced, anyone can contribute to society through their talent, skills and strength of the human spirit," said Bach.
Some 33,972 people every day are forced to flee their homes because of conflict and persecution, the UNHCR states.
Over half the world's refugees are under 18 years of age. Fifty-four percent of refugees come from Somalia, Afghanistan and Syria. The top countries hosting refugees are Turkey, with 2.5 million, Pakistan with 1.6 million and Lebanon with 1.1 million.
In total, 11,000 athletes from 206 countries will be competing at the Olympics.
Are refugees people to look up to? Will you be watching the Olympics, and if so, who will you be cheering on?
-Tamara Pearson