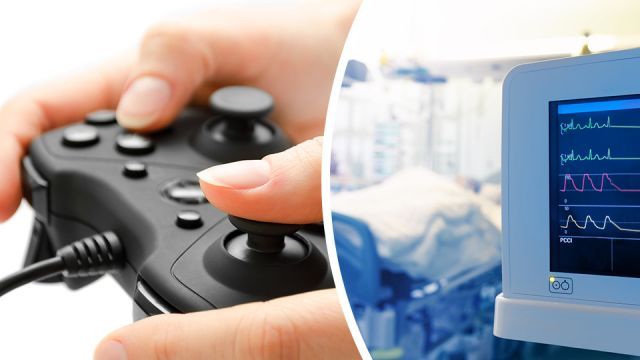 It is not supposed to be this way. A veteran who serves their country deserves decent medical care. Sadly, in a case that's sparking outrage across the country, that's not what Vietnam vet Bill Nutter got when he was found dead at the Boston VA Medical Center.
A nurse's aide plays video games while a patient dies
According to reports, a nurse's aide was playing video games when she should have been checking in on Nutter. It appears to be just one egregious error in a pattern of abuses that have been occurring at the facility. Here's what we know.
The Boston Globe is reporting that the inspector general at the Department of Veteran Affairs has launched a criminal investigation into the circumstances surrounding Nutter's death. The U.S. Attorney's office and the FBI are reportedly involved too.
The hospital admitted its care for Bill Nutter was not "up to our standards," but the reality was uglier. https://t.co/hbbXTEPVq4 pic.twitter.com/1TNu48w9PW

— The Boston Globe (@BostonGlobe) October 18, 2017
Investigators are focusing on Patricia Waible (a nurse's aide), who allegedly failed to check-in on Nutter during her shift. According to the hospital, Waible initially lied on a report documenting Nutter's death when she claimed to have looked in on him. However, she later admitted the truth — that she was playing video games on her computer — after hospital confronted her with surveillance footage that showed that she never visited Nutter.
Waible has been temporarily reassigned to a cafeteria job, but officials from the Veteran Affairs office say that steps are being taken to have her employment terminated. Also, a nurse who discovered Nutter after he died reportedly made an inappropriate "slit-throat" gesture to indicate that the vet had passed away. She has since been dismissed.
A veteran's sad ending
Bill Nutter was a husband, father and a retired police detective. During the Vietnam War, he served as an aerial door gunner, a job that exposed him to the toxic chemical Agent Orange. Doctors believe the exfoliant contributed to his numerous health problems. He later developed diabetes, a heart condition and had both of his legs amputated.
Nutter was in very poor health, but his family is incensed at the lack of proper care that he received. In addition, they are furious that they were not informed about the details surrounding his death, which they learned about through a reporter.
Brigitte Darton, Nutter's daughter, issued a statement by text that said, "As a Government employee and someone that has deployed for the U.S. it's very sad that our Vets are treated this way and that we only found out about this by a journalist and not the VA."
The Bedford VA Medical Center is now the focus of increasing scrutiny. Numerous whistleblowers and the families of vets are coming forward with horror stories that include:
Vets going downhill quickly once they arrive at the facility

Long-term care patients who are left soiled for hours

Buildings contaminated with asbestos
A spokesperson for the VA has promised to investigate and that the "VA will hold employees accountable when the facts demonstrate that they have failed to live up to the high standards taxpayers expect from us." In June, President Trump signed a law intended to clean up problems at VA hospitals.
Politicians react to news on social media
As you might expect, as news of this story broke, politicians have been reacting on social media. Here's a sampling of what they are saying:
This is a disgrace. Our veterans deserve better. I'll be demanding answers and accountability from @DeptVetAffairs. https://t.co/GJkP639N08

— Elizabeth Warren (@SenWarren) October 17, 2017
This is unbelievable…and yet not entirely so unbelievable given some of the things I've seen myself at the VA. https://t.co/iC1DzCZ1oT

— Seth Moulton (@sethmoulton) October 17, 2017
— Scott O'Reilly