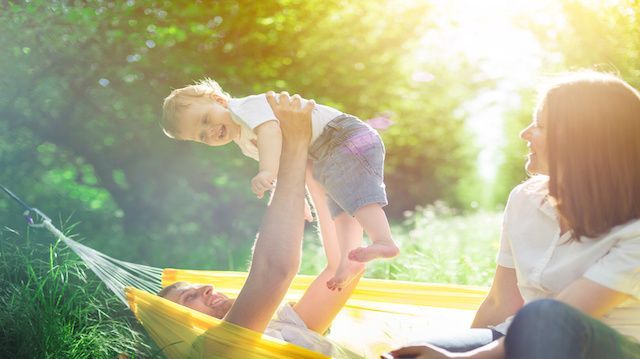 The best places in the US to raise a healthy family have several factors in common. They all have excellent public school systems, little crime, clean water and air, lots of parks, recreational space, and activities to keep children healthy in body and spirit. For practical purposes, they must offer ample opportunities for parents to make a living without horrendous commutes.
Arlington County, Virginia
Located across the Potomac River from Washington, D.C., Arlington is a virtually recession-proof county. It spends more per student in public school than any county in Northern Virginia. More than one-third of the county's residents hold graduate degrees, and close to three-quarters have bachelor's degrees. Crime rates are low, and there are fewer "vice" businesses than the state average. Although the median family income is quite high, there are plenty of housing options available, from single family homes to townhouses and apartments. Arlington County includes 159 parks, many of them featuring historic sites.
Cedar Rapids, Iowa
According to SmartAsset, a personal finance technology company, Cedar Rapids — Iowa's second largest city — is the best city in America for kids. The city's public schools have high graduation rates and top proficiency in math and language arts testing. The city has 74 parks totaling more than 3,300 acres of open and recreational space. There's a 24-mile trail system for walking, biking and hiking. It's the hub for arts and culture in the eastern part of the state with various museums and performing arts centers. Its 1920s-era Paramount Theater hosts Orchestra Iowa, among other events.
Chandler, Arizona
More than 40 percent of this Phoenix suburb's population consists of families with kids under 18. Chandler provides its young people with numerous recreational, fitness and cultural opportunities through its community services department. 
Its Playtopia playground was specifically designed for imaginative play, and the city has several aquatic centers. Chandler's parks have won many state and national awards. To date, it has received designation as one of the America's Promise Alliance "100 Best Communities for Young People" five times. The award honors communities providing "healthy, safe and caring environments" for youth.
Fort Collins, Colorado
There are few healthier places in the country than Fort Collins, Colorado, located in the foothills of the Rocky Mountains. About 81 percent of adults boast a healthy weight — amazing in an increasingly obese America. Only 15 percent of adults smoke, and 87 percent pursue an active lifestyle. It's also home to Colorado State University. Farmers' markets offering fresh fruits and vegetables abound.
Children growing up in this healthy city not only have strong role models for healthy living, but plenty of opportunities to hike on the many nature trails surrounding the city. There are also several arts groups in the city geared towards kids. These include:
Fort Collins Children's Theater

Youth Orchestra of the Rockies

Educational programs at the Fort Collins Museum of Discovery
Naperville, Illinois
In 2006, Money magazine named this Chicago suburb the second-best place to live in the US. A decade later, it remains a first-rate — albeit pricey — place for families. Its public library has long been ranked number one in the nation by Hennen's American Public Library ratings. Its park district encompasses more than 2,400 acres, and includes Centennial Beach, an aquatic park. Besides the usual baseball and soccer fields, there are parks in the city dedicated to the following sports and activities: 
In-line skating

Skateboarding

Cricket

Mountain biking

Golf

 
Bring your kids along to enjoy the beauty of the city's Riverwalk, a 1.75-mile promenade featuring sculptures, bridges, lush landscaping and fountains.
Overland Park, Kansas
Overland Park, Kansas, was Livability.com's top pick for the best city for families in 2015. It not only has first-rate schools, but plenty of recreational activities for kids. Little crime, a flourishing economy and reasonable housing prices make this Kansas City suburb a fine choice for young families. The area also has several excellent hospitals, along with other top-notch health-care facilities. The city has 72 parks, and the Deanna Rose Children's Farmstead attracts visitors from all over the region. Downtown Overland Park features a farmers' market. If your kids love soccer, Overland Park is the home of Scheels Overland Park Soccer Complex. The 96-acre facility contains 12 regulation-sized fields, and is considered the best in the country. 
—Jane Meggitt
Jane Meggitt graduated from New York University and worked as a staff writer for a major New Jersey newspaper chain. Her work on pets, equines and health have appeared in dozens of publications, including The Daily Puppy, The Nest Pets, Horse News, Hoof Beats and Horseback magazines.
Sources:
http://www.livability.com/top-10/families/10-best-cities-families/2015
http://www.realtor.org/field-guides/field-guide-to-the-best-places-to-live
http://www.livability.com/top-10/health/top-10-healthiest-cities/2015
http://www.livability.com/top-10/families/10-best-cities-families/2015/il/naperville
http://www.naperville.il.us/riverwalk.aspx
http://www.livability.com/co/fort-collins/health/healthy-lifestyle
http://wtop.com/real-estate/2015/04/where-should-you-raise-your-kids-in-washington-d-c
http://parks.arlingtonva.us/find-a-park
http://www.livability.com/top-10/families/10-best-cities-families/2015/az/chandler
https://smartasset.com/mortgage/the-best-cities-for-children