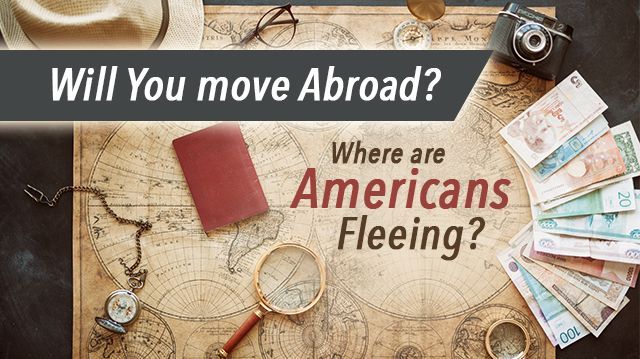 Americans have long made their homes in other countries. But now that's happening more than ever before. According to the US Treasury Department, 3,415 Americans renounced their citizenship and moved to another country, a 14 percent increase from 2013. Renouncing your passport is not the same as simply living abroad. It means you cease to be an American.
Why quit your own country's citizenship? Some, such as Facebook co-founder Eduardo Saverin, left the United States for purely financial reasons. In Saverin's case, he moved to Singapore to avoid paying hundreds of millions in taxes after Facebook's IPO (initial public offering). Tech titans aside, a survey from Transferwise found that of the 35 percent of Americans considering moving abroad, more than a third (36 percent) cited a "better quality of life."
Whatever the reason is, if you're one of the many Americans looking for a new home overseas, there are some options that are more appealing than others. Here are five countries that have the most American expats and the best quality of life:
New Zealand
The Hobbit and Lord of the Rings films certainly have had a big impact on the number of people looking to visit this country. The country saw a 21.4 percent increase in tourism from January to November 2013, around the time of the first Hobbit movie's release. According to the country's 2013 census, 21,462 New Zealanders identified themselves as being American born. It probably doesn't hurt that you wouldn't have to learn a new language — the majority of the country speaks English — but it's largest city, Auckland, ranked third on staffing firm Mercer's 2016 rankings of the cities by best quality of life. Couple that with beautiful scenery and you've got a spot where you could make a nice life for yourself.
Japan
According to a 2011 census, around 88,000 Americans live in Japan. While the country is still recovering from a long period of economic stagnation, it ranks very high in quality of life when it comes to raising children, making it a great fit for American families. It also has great health-care options and a vibrant local culture. "The people here are so friendly and go out their way to help you, even if they speak limited English," one expat who lives there told Business Insider. "I feel welcome here."
United Kingdom
When it comes to finding a country where you can truly feel at home, our neighbor across the pond is a perfect fit. The country, which includes England, Scotland, Wales and Northern Ireland, has 158,000 Americans as of 2013. Like New Zealand, Americans won't have to worry about learning a new language, just a new accent. And thanks to its high-speed train, the Eurostar, you can travel anywhere in the country in no time. Add in the country's rich history and you have an exciting place to live.
Switzerland
While the country has a comparatively small number of Americans living there — 32,000 at last count — Switzerland is a great place for wealthy Americans. According to HSBC's annual expat survey, a quarter of foreigners living in the country earn more than $200,000 annually, more than twice the global average. Unsurprisingly, everything is more expensive, too, from health care to groceries. Still, there's no question people are happy in Switzerland. Zurich, the largest city in the country, ranks number two in Mercer's quality-of-life rankings. "There is plenty to do in Switzerland: mountains for winter sports and lakes for summer sports. The health care is amazing, as is the public transport," wrote one expat blogger for HSBC.
Austria
Like Switzerland, the home of the Von Trapp family has a relatively small American population — around 15,000. The lack of familiar faces, however, is made up by the high quality of living. Vienna, Austria's capital, was ranked number one on Mercer's quality-of-life rankings. Additionally, the Organisation for Economic Co-operation and Development (OECD) found that 82 percent of Austria's citizens had more positive experiences than negative ones in a single day. Feeling in the mood to explore other countries? Major European capitals such as Prague and Rome are a short hop away. 
So there you have it, the five most hospitable countries in the world for American expats. In which of these countries would you be most comfortable living? Or is there one not on our list worth a mention?
—Zachary Halper
Zach Halper is a writer based in Brooklyn, NY. He graduated from Goucher College in Baltimore, Md., in 2009 with a BA in English. He previously worked for The NonProfit Times and Noodle Education.
Sources:
http://www.aol.com/article/2015/08/14/more-americans-move-overseas-would-you/21221681
http://www.dailyfinance.com/2012/05/23/is-fleeing-the-country-a-smart-tax-strategy-for-you
https://transferwise.com/blog/2015-07/americans-ready-to-move-abroad
http://www.teara.govt.nz/en/north-americans/page-4
http://www.dailyfinance.com/2014/01/22/how-hobbits-became-new-zealands-best-travel-agents
http://www.businessinsider.com/the-20-best-countries-for-expats-2014-10?op=1
https://en.wikipedia.org/wiki/Emigration_from_the_United_States
http://nomadcapitalist.com/2015/02/24/5-reasons-to-live-in-austria-020