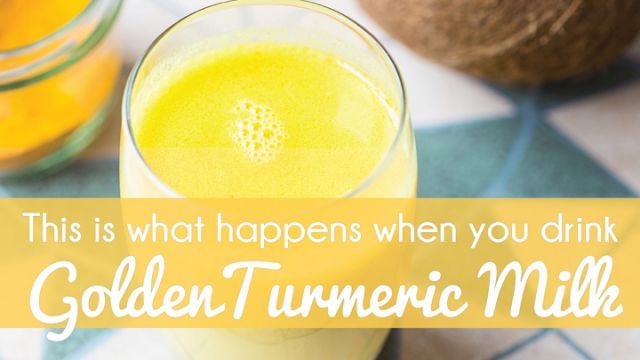 Turmeric is touted as one of the most effective nutritional supplements of our time and for good reason. But if you are struggling to include this golden spice into your daily diet, then it's time you discovered turmeric golden milk and all of it's medicinal benefits.
Turmeric for inflammation and cancer
If you have never tried turmeric, then you're missing out on a spice that is not only delicious, but also known to reduce inflammation according to clinical research by the Alternative Medicine Review. Turmeric, one of the top trending foods on Google in the Food Trends report 2016, supports brain and joint health, making it a valuable supplement for anyone suffering from osteoarthritis.
Curcumin, the main active compound that gives turmeric its golden color, is responsible for most of the therapeutic benefits. Curcumin has even been studied for its effects on chronic diseases such as diabetes, Alzheimer's and cancer. In a previous study, published in the Asian Pacific Journal of Cancer Prevention, 25 patients with malignant tumors in the pancreas were administered 8000 mg per day of curcumin for eight weeks. No chemotherapy or radiation therapy was given during the study. Even with high doses of curcumin, no toxic effects were noted, and two patients in the study experienced tumor regression. But if that's not reason enough to start consuming turmeric, how about for weight loss?
Turmeric for weight loss
Curcumin, is thought to halt the growth of fat tissue by impeding new blood vessel growth, which is necessary for building fat tissue, suggests research at Tufts University. It may also aid in the treatment and prevention of obesity-related diseases, such as diabetes, by improving hyperglycemia and insulin resistance.
Eat your daily dose of medicine
Those familiar with Asian cuisine have most likely tasted the gingery notes of turmeric in curry. But, consuming curry daily may not be realistic or everyone's preference. One of the best ways to add curcumin to your daily diet is by adding turmeric to sweet dishes that contain cinnamon and ginger, since turmeric blends well with these spices.
But, it's important to note that turmeric has low bioavailability, which means only a small fraction is absorbed by the body. A series of small studies show that the addition of black pepper greatly increases absorption. And you don't need a lot, only a small amount — 1/4 teaspoon, or as I prefer, three small peppercorns — each time you consume turmeric.  
Golden Turmeric Milk Recipe
Don't forget, by adding black pepper to golden milk, its bioavailability is greatly enhanced thanks to piperine (the compound that makes pepper hot). By mixing turmeric and black pepper together, you increase your body's absorption of the turmeric by 2000 percent! While it adds a spicy note, it's not overbearing in any way.
Ingredients
1 cup of milk or coconut milk

1/2  tsp turmeric

1/2  tsp cinnamon

1/4 tsp of black pepper

1/2 tsp ground ginger powder

1 tsp raw honey or pure maple syrup (or to taste)
Instructions
1. Add milk, turmeric, cinnamon, pepper, ginger and honey into a high-speed blender.
2. Blend on high until smooth.
3. Pour mixture into a saucepan and heat on medium for about 5-minutes until hot but not boiling.
4. Pour into a cup and drink immediately.
This soothing drink will also calm you at the end of the day, which contributes to a better night of sleep. Enjoy!


Free Best-Selling Turmeric Book: Limited supply of this soft-cover book that reveals the "Ancient" Secrets to Eliminate Pain & Inflammation including 31 delicious recipes that help you drop weight, get more energy and heal your body! Claim your free copy now =>
— Katherine Marko