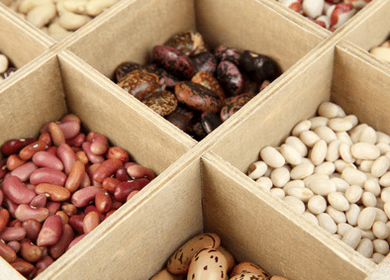 As if there weren't already loads to love about beans, these tasty and oh-so-satisfying legumes are looking even more appealing thanks to a headline-grabbing new report. Eating beans regularly knocks down high blood sugar, lowers blood pressure and cuts the risk of heart disease by a respectable 8 percent.
A healthy boost for more than 100 million North Americans who have diabetes, prediabetes or a related health risk called metabolic syndrome. (Other legumes, like peanuts and green beans, are also good for you, but they're not the beans we are talking about here.) Beans are high in protein and can help flatten your belly and reduce belly (omentum) fat – the toxin-filled flab that threatens your vital organs.
That's a stellar payday from a versatile food you can serve cold as a salad, room temp as a party dip, warm as a comfort-food side dish, baked into muffins or piping hot as a hearty main dish!
Inside your favorite bean – whether it's white, pink, red, black, pinto, lentil or garbanzo – is a squadron of powerful, health-boosting compounds. A half-cup of beans gives you 6 grams of satisfying fiber: 2 grams of blood sugar-lowering soluble fiber and 4 grams of colon-cleansing insoluble fiber. But that's just the beginning. Beans are a starchy food, but the type of starch they contain digests v-e-r-y slowly. They have a low glycemic index, which keeps blood sugar lower and steadier than faster-digesting carbohydrates like refined flour in pasta or bread. In fact, 10 percent to 20 percent of the starch in beans never gets digested at all!
Beans are a great source of the blood pressure-controlling minerals potassium and magnesium. They're also packed with chemicals called phenols that protect cells throughout your body from oxidative damage, which helps explain the mighty bean's reputation for lowering risk for some forms of cancer and reducing odds for heart disease. Getting into the bean habit also can cool off chronic, bodywide inflammation – another way they help lower your odds for diabetes, heart disease, cancer and more.
"But how many beans do I have to put on my plate … and how do I deal with the, er, side effects?"
Glad you asked. One cup of beans a day delivers their health benefits, and rinsing them thoroughly (either after you soak dried beans or when you take them out of the can) removes gas-generating sugars.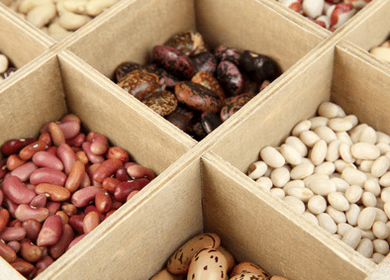 Beans at breakfast. Have beans instead of toast with your eggs. Add a little hot sauce, guacamole and fat-free sour cream for a Tex-Mex morning treat.
Take beans to the party. Mix black beans with corn kernels, chopped tomato, pepper, lime juice, olive oil and seasonings for a hearty salsa. Toss cooked white beans with olive oil and seasonings for a great dip. Create homemade hummus, a Middle Eastern spread with chickpeas, tahini and other ingredients.
Bake with beans. Trendy, gluten-free bean flour adds flavor, protein and tenderness to muffins, quick breads, even cakes. White bean and chickpea flour also work well in baking. Black-bean flour is terrific as a thickener in sauces.
Serve a new comfort food. Warm beans seasoned with your favorite spices and a dab of oil are a great replacement for mashed potatoes. Serve skinless, herbed chicken, grilled salmon, or shrimp skewers on a bed of white beans flavored with rosemary, garlic and a dash of olive oil.
Try a meatless or nearly meatless bean entree. Three-bean chili, lentil burgers, bean soups and stews – there are plenty of ways to harness the satisfaction of beans in a meatless meal. Or add a little meat, like lean pork or chicken; you don't need a lot with this versatile all-star on board.
– Dr. Michael Roizen & Dr. Mehmet Oz
© 2012 Michael Roizen, M.D. and Mehmet Oz, M.D. Distributed by King Features Syndicate, Inc.