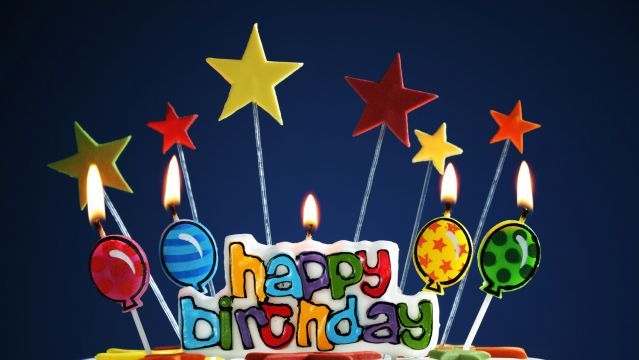 It's any parent's worst nightmare: a horde of children hyped up on sugar, sprinkles, and food coloring after feasting on a heap of junk food. This is the usual scene at an average birthday party. I invite you to engineer a better situation by offering up healthier fare at the next party you host.
A "healthy" birthday cake doesn't have to be dry, boring or flavorless. In fact, I've found that many of the paleo diet friendly cakes I've made at home have been more delicious than their conventional white flour and white sugar based counterparts.
Not only will these cakes cause minimal blood sugar or mood changes, they will actually provide some valuable nutrition and a stable source of energy. Plus, they look great!
I challenge you to step out of Betty Crocker land this summer and create a health conscious birthday cake from scratch. Using high quality ingredients, and mixing them up with love, will result in the most precious treat you could give on a special day. Show your loved ones you care, without destroying their health with junk food in the process.
Healthy birthday cake recipes — for any dietary requirement

No matter what healthy dietary approach you are following, there is a suitable gorgeous and delicious cake recipe to be found. Rather than marginalizing those who are doing their best to eat healthy at social gatherings, you can make everyone feel welcome and engaged by serving tasty food that everyone can enjoy.
Gluten-Free Fudge Birthday Cake
This is a moist and delicious gluten-free chocolate cake that you can mix up in one bowl.
3

cups

brown rice flour (preferably superfine)

2 1/4

cups

sorghum flour

2

cups

tapioca flour (also called tapioca starch)

3/4

cup

sweet rice flour (also called glutinous rice flour)

3/4

cup

potato starch (potato starch is different from potato flour — we want the starch)

1/4

cup

cornstarch
1

cup

coconut palm sugar

1 3/4

cups

gluten-free flour blend (see above)

1

teaspoon

xanthan gum

3/4

cup

good quality cocoa powder (unsweetened)

1

teaspoon

baking powder

1

teaspoon

baking soda

1

teaspoon

sea salt

3

eggs, lightly beaten (room temperature)

1

cup

whole milk (or milk substitute of your choice)

1/2

cup

olive or avocado oil

2

teaspoons

vanilla extract

1

cup

hot coffee
1/2

cup

cocoa powder

1/4

cup

coconut oil (or softened butter)

1

tablespoon

pure maple syrup (or raw honey)

1/4

teaspoon

pure vanilla extract

pinch

of sea salt
Preheat the oven to 350°F. Grease two 8-inch cake pans with coconut oil and set aside.

Combine the dry ingredients in a large mixing bowl. Whisk to combine. Add the wet ingredients and beat until smooth. Carefully whisk in the hot coffee. The batter will be runny.

Evenly distribute the cake batter between the two prepared pans and bake for 30–35 minutes, or until a toothpick inserted in the middle of the cake comes out clean. Let it cool in the pans for 5 minutes, then turn out onto a rack to finish cooling completely.

Make the frosting by mixing together all of the ingredients until the frosting is smooth and glossy and a spreadable consistency. If it seems too thick, add a little more coconut oil. If it seems too thin, add additional cocoa powder.

Frost the cooled cakes and place one on top of the other to create a gorgeous layered fudge cake. Frost the sides as well, if desired. Decorate the top with shaved chocolate curls.
Low-Sugar Harvest Cake with Creamy Icing
This is a beautiful wholesome cake that is not full of refined sugar or empty calories. Instead, it gets sweetness from zucchini, carrots and beets! Makes one 9″ layer cake.
2 1/2

cups

organic flour, or use the gluten-free blend from the recipe above

3

teaspoons

baking powder

1 1/2

teaspoons

baking soda

1/2

teaspoon

cinnamon

1/4

teaspoon

salt

1 1/3

cups

grated carrots

1

cup

grated zucchini

1

cup

finely grated beets

3/4

cup

chopped walnuts

1/2

cup

raisins

1

cup

pure maple syrup

2/3

cup

olive or avocado oil

4

eggs
15

ounces

(about 2 cups) fresh goat cheese, at room temperature

6

ounces

(about 3/4 cup) cream cheese, room temperature

1

cup

pure maple syrup
1/2

cup

finely chopped walnuts

fresh flowers
Arrange oven racks to divide oven into thirds. Preheat oven to 400°F. Grease two 9-inch cake pans, dust with a spoonful of flour and tap out. Line each with a round of parchment paper.

Sift together flour, baking powder, baking soda, cinnamon and salt into a bowl. In another bowl, stir together carrots, zucchini, beets, nuts, and raisins.

In a large mixing bowl, beat maple syrup and oil together until emulsified. Add eggs one at a time, beating until batter is smooth. Add flour mixture in three or four batches, blending gently until mixture is even. Gently stir in the vegetables. Divide between baking pans.

Place one baking pan in center of each of the racks. Bake 25–35 minutes, until a skewer or paring knife inserted into the center comes out clear and cakes are pulling away from the sides of the pans. Cool on a rack for about 5 minutes, then gently remove from pans. Cool to room temperature before frosting.
To make frosting:
Using an electric mixer, or a wooden spoon and a strong arm, beat together goat cheese and cream cheese until light and fluffy. Add powdered sugar and beat at low speed until well blended. Beat in maple syrup. Chill for about 30 minutes, until firm.
To assemble:
Spread one cake with frosting all the way to the edges. Place second layer, top down, squarely on first layer. Frost with remaining frosting. Arrange flowers around the edge of the cake. The cake can also be garnished by gently pressing handfuls of finely chopped walnuts into the frosting.
Paleo Citrus Celebration Cake
This is a simple cake with a light citrusy flavor. Decorate with a golden dusting of edible flower petals and bee pollen.
1/2

cup + 2 tablespoons

coconut flour

1/4

teaspoon

salt

1/2

teaspoon

baking soda

1

tablespoon

bee pollen

5

whole

eggs (2 of them separated)

1/2

cup

red palm oil

1/3

cup

raw honey

1/4

cup

pure orange juice
1

cup

cold pressed palm shortening (Tropical Traditions or Spectrum are healthy brands to choose)

3

tablespoons

coconut butter

2

tablespoons

raw honey

2

tablespoons

pure orange juice
Edible flower petals

bee pollen
Sift dry ingredients together and set aside.

Separate 2 of the eggs, setting the whites aside.

Using a mixer, combine the 3 remaining eggs, the two egg yolks, red palm oil, honey and orange juice until they are really well combined.

Mix the dry ingredients into the wet ingredients. Continue to mix until the batter is smooth and has no lumps.

In a small bowl beat the egg whites until thick soft peaks form. Fold into the batter. Pour half the batter into a greased and parchment lined 8-inch round cake pan.

Bake at 350 degrees for approximately 30–35 minutes or until a toothpick in the center comes out clean.

Allow the cake to cool for 5–10 minutes, then carefully remove from the pan. Cool completely and then chill the cakes in the fridge before frosting.

For the frosting, use a mixer with a paddle attachment or by hand, beat together the shortening, honey and orange juice. Mix until smooth and well combined without lumps. Lay the frosting out thick and roughly on the cake. Chill in the refrigerator for 10 minutes, then smooth out (chilling helps to firm up the frosting and give it a smoother finish).

Sprinkle with the flower petals and bee pollen. Serve chilled.
Raw Vegan Cashew Raspberry Cheesecake
Here is a fruity and delectable layered cake which is suitable for those following a raw and/or vegan diet. Everyone will love it, no matter what nutritional guidelines they follow!
1/2

cup

raw almonds (pecan or walnuts will also work)

1/2

cup

soft Medjool dates

1/4

tablespoon

sea salt
1 1/2

cups

raw cashews, soaked for at least 5 hours, overnight is best

Juice of 2 lemons

The seeds of 1 whole vanilla bean (or 1 teaspoon alcohol-free vanilla extract)

1/3

cup

coconut oil, melted

1/3

cup

raw honey

1

cup

raspberries (thaw completely if using frozen)
Place nuts and dates in a food processor with sea salt and pulse to chop until they are to your desired fineness (process a finer crust longer than a chunky one). Test the crust by spooning out a small amount of mixture and rolling it in your hands. If the ingredients hold together, your crust is perfect. Scoop out crust mixture in a 7-inch spring-form pan (if you don't have a spring-form pan, use a pie plate lined with Saran wrap), and press firmly, making sure that the edges are well packed and that the base is relatively even throughout. Rinse food processor well.

Warm coconut oil and honey in a small saucepan on low heat until liquid. Whisk to combine.

In a powerful food processor/blender place all filling ingredients (except raspberries) and blend on high until very smooth (this may take a couple minutes so be patient).

Pour about 2/3 of the mixture out onto the crust and smooth with a spatula. Add the raspberries to the remaining filling and blend on high until smooth. Pour onto the first layer of filling. Place in freezer until solid.

To serve, remove from freezer 30 minutes prior to eating. Run a smooth, sharp knife under hot water and cut into slices. Serve on its own, or with fresh fruit.
As you can see from all of these gorgeous cake ideas, you don't have to feed your family and friends toxic junk in the name of a celebration. Enjoy the party and feel great afterwards with these tasty, nutritious cake recipes!
Next, why not check out some healthy soda alternatives to serve to your guests.
—The Alternative Daily
Sources:
http://greatist.com/health/healthier-cake-recipes
http://www.brit.co/healthy-birthday-cake-recipes
http://paleomagazine.com/paleo-cake-recipes
http://paleomg.com/simple-blueberry-lemon-birthday-cake
http://www.agirldefloured.com/2013/04/17/gluten-free-fudge-cake
http://ourheritageofhealth.com/chocolate-superfood-frosting
http://grokgrub.com/2013/10/14/paleo-citrus-celebration-cake
http://www.mynewroots.org/site/2011/01/raw-cashew-dreamcake-2