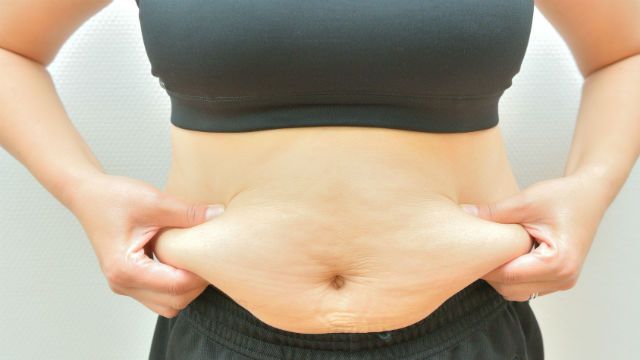 A new, large-scale observational study published in the journal BMJ has linked increases in belly fat to a higher risk of breast cancer in postmenopausal women. This study adds yet another concern to the many dangers of excess belly fat.
For the study, researchers observed the data of nearly 93,000 women in the United Kingdom, who participated in the UK Collaborative Trial of Ovarian Cancer Screening. All of the women began the study between 2005 and 2010, were over age 50, and had experienced menopause.
Among standard questions regarding BMI, family history, lifestyle factors and contraceptive use, the women were asked about their skirt size when they were in their 20s, as well as their current skirt size. Lifestyle factors were also re-assessed between three and four years into the study. During the course of the study, 1,090 women were diagnosed with breast cancer.
When the researchers adjusted for other breast cancer risk factors, such as family history and hormone replacement therapy, they found that an increase of one skirt size every ten years translated to a 33 percent higher risk of postmenopausal breast cancer. An increase of two skirt sizes in a ten-year period was associated with a 77 percent higher risk.
While the researchers caution that the study was observational, and does not determine that the skirt size was a cause of the breast cancer, they do stress the dangers of abdominal fat, and point out that other cancers, including ovarian and pancreatic cancers, have also been linked to this type of fat. Belly fat is also one of the signposts of metabolic syndrome.
If you're struggling to shed belly fat, remember that an entire reinvention of your lifestyle is at hand. If you're still eating processed foods, ditch them in favor of whole, natural, organic meals. Sugar and wheat can also contribute to belly fat, as they are both linked to inflammation and weight gain. And, as we all know, regular exercise is key to burning those extra pounds.
To further your fat loss efforts, try some of our delicious green smoothie recipes , which can boost your metabolism and keep you feeling satiated when you need a snack. Also, switching all the oils in your home to organic, extra virgin coconut oil may greatly aid in diminishing belly fat, so that you can enjoy a greater level of health.
-The Alternative Daily
Sources:
http://www.sciencedaily.com/releases/2014/09/140924212027.htm