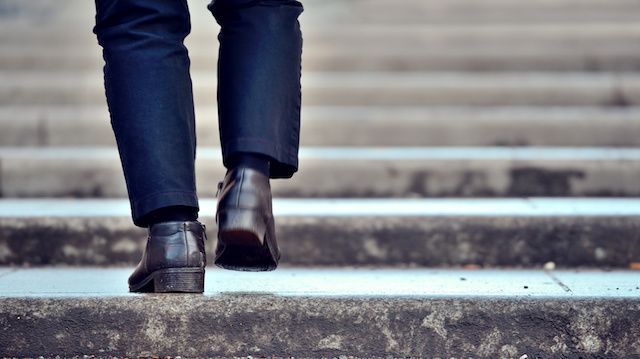 You don't have to set aside an hour every day to exercise. In fact, research suggests that short, one- to two-minute bouts of movement throughout the day can be just as beneficial as longer, more structured sweat sessions. Exercising can also be a lot more convenient when you only have to do it for a couple of minutes at a time. Here are 15 easy ways to sneak exercise into your day.
Wake up with some mattress yoga
Get your blood circulating as soon as you wake up with some morning yoga. These seven poses can be done on your mattress, before you even get out of bed.
Do 10 jumping jacks as soon as you get out of bed
You can do 10 jumping jacks (or push-ups, sit-ups, or lunges) in under thirty seconds, and it will wake you up even quicker than a cup of coffee.
Make your bed
This is not only an easy way to get your muscles working — you'll also feel happier when it's time for bed.
Squat while you brush your teeth or oil pull
Most dentists agree that you should brush your teeth for about two minutes. This is enough time for 50–60 squats. Plus, after a week of this routine, you'll have a whole new tush.  
Workout in traffic
Taking public transportation or walking or biking to work is great for both our health and the environment. But for many of us, long commutes make this difficult or impossible to do on a regular basis. Luckily, isometric exercises can be done in the car or on the bus.
When you do isometric exercises, the goal is to flex every single muscle in your body individually. Start with your toes and, muscle by muscle, move all the way up to your eyebrows. Flex each muscle for three seconds and then release.
Change up your parking space
Whenever you find yourself arriving to work a few minutes early, try parking a bit further away from your office. We often spend so much time finding the "closest spot," that this trick may even save you a minute or two.
Take the stairs
This is another easy way to sneak in movement before you even start work. Moreover, taking the stairs throughout the day — using the bathroom on another floor, for example — is a great way to improve your circulation.
Sit on an exercise ball
Sitting on an exercise ball forces your muscles to support you all day, instead of relying on the back of a chair.
Deskercise
Exercises that can be done from the comfort of your desk include bicep curls, arm extensions, as well as these 8 yoga poses.
Go for a walk on your lunch break
Sitting destroys your health, so it's really important that we take the chance to walk when we get it! Even if it's only a 10–15 minute stroll, this little bit of movement can do wonders for your body and mind.
Do housework
Housework is another great way to incorporate some movement into a mostly sedentary life, and it's more of a workout than you might think! The average person burns about 170 calories per hour doing light housework tasks such as putting away groceries, ironing, washing dishes and cooking. Sweeping, mopping and vacuuming will burn around 300 calories per hour.
Do the seven-minute workout
The "seven-minute workout" is a form of high-intensity circuit training. The workout requires you to do nine to 12 exercises for 30 seconds each, with short rest periods of about ten seconds between exercises. The seven-minute workout gets your heart rate way up, increases strength, doesn't require any equipment, and best of all — only takes seven minutes!
Move while you watch
If your typical evening routine consists of watching TV, try to get some exercise in while you're watching. Here are a few examples of ways to do this. Keep an exercise mat and a few hand weights nearby so you don't have any excuses.
Use an app
There are literally hundreds of apps providing workouts that are customizable by length and fitness level. A few examples include Workout Trainer, FitStar, and Sworkit. Downloading them to your smartphone or tablet will give you the flexibility to workout wherever, whenever.
Stretch before bed
Finish your day with a few bedtime stretches. These will help to calm your body and mind, and maybe even lull you into a deeper sleep.
How do you make sure you get some movement in throughout the day?
—Teresa Manring
Teresa is a freelance writer and yoga instructor currently studying in Sri Lanka. She has over 600 hours of yoga teacher training in Hatha Yoga, Vinyasa Flow, and Yoga Therapy. She believes sleep, self-love, and the breath are the keys to health and joy.
Sources:
http://oregonstate.edu/ua/ncs/archives/2013/jan/study-finds-taking-stairs-raking-leaves-may-have-same-health-benefits-trip-gym
http://www.mastersofhealthcare.com/blog/2009/100-tips-and-tricks-to-sneak-in-a-work-out-at-work