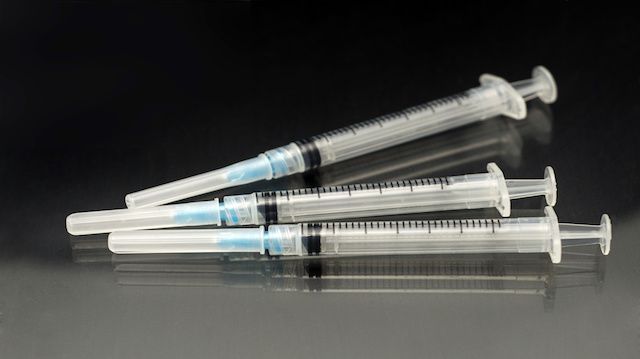 Sanofi, a research and pharmaceutical company, issued a press release on October 28, recalling hundreds of thousands of epinephrine injectors that could potentially deliver an inaccurate dose or malfunction during use. These represent possibly fatal flaws for those who suffer from severe allergic reactions or anaphylaxis. There have been 26 reported cases of injector malfunction since October 26, according to the company's press release.
The Sanofi recall includes all Auvi-Q injectors that are available in the United States. The recall covers nearly half a million packs, which contain two injectors each.
This recall comes after Auvi-Q injectors have been on the market for approximately three years. Sanofi proudly announced the Food and Drug Administration (FDA) approval of Auvi-Q back in August of 2012. Sanofi's epinephrine injector products compete with the widely used EpiPen (made by Mylan Inc.), a product that is found in emergency medical bags across the nation.
There are an estimated 200,000 people in the United States with Auvi-Q epinephrine injectors, according to Sanofi. They urge anyone with the device to see their medical practitioner for an alternate device and call the company for a refund. The 26 reported malfunctions of the device did not involve any fatalities, according to the recall press release.
Allergic reactions can be deadly, and if you are someone who carries an epinephrine injector, then you'll know exactly how important it is that they function correctly when needed. 
For those who suffer milder allergic reactions, you may find relief from several alternative, all-natural remedies. Here are a few possible alternatives to keep your allergies at bay:
Fish oil has been found to ease asthma brought on by allergies. A study published in American Review of Respiratory Disease (1989) found fish oil supplementation beneficial in bronchial asthma. Butterbur is a perennial plant, similar to a rhubarb, that has also been shown to alleviate allergies. A study published in Clinical and Experimental Allergy (2003) found that butterbur reduced allergy symptoms during grass pollen season. 
Adding more turmeric to your diet, receiving acupuncture treatments, and getting more exercise are all on the list of great alternative ways to fight allergies. While epinephrine injectors are a lifeline for those who suffer from severe allergic reactions, when it comes to milder allergies, there's less need to rely on nasal sprays and pharmaceuticals. Try taking an all-natural approach instead.
What are your allergy-fighting tools?
 -Stephen Seifert
Stephen Seifert is a writer, professor, adventurer and a health & fitness guru. His flare for travel and outdoor adventure allows him to enjoy culture and traditions different than his own. A healthy diet, routine fitness and constant mental development is the cornerstone to Stephen's life.
Sources:
http://www.news.sanofi.us/2015-10-28-Sanofi-US-Issues-Voluntary-Nationwide-Recall-of-Auvi-Q-Due-to-Potential-Inaccurate-Dosage-Delivery
http://www.multivu.com/mnr/57459-sanofi-receives-fda-approval-for-auvi-q-epinephrine-auto-injector
http://www.atsjournals.org/doi/abs/10.1164/ajrccm/139.6.1395?journalCode=arrd#.VjJZD8vY2fQ
http://onlinelibrary.wiley.com/doi/10.1046/j.1365-2222.2003.01705.x/full