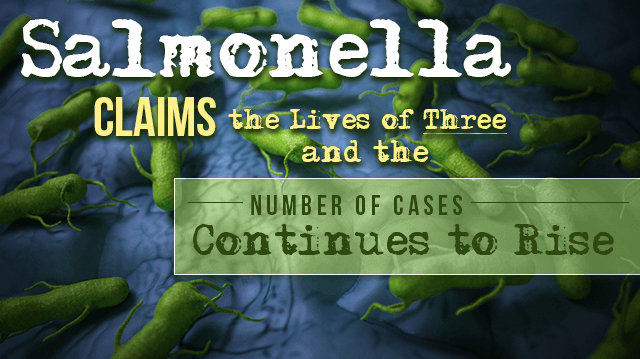 A Salmonella outbreak linked to cucumbers imported from Mexico continues to affect hundreds of people. The cucumbers were distributed by Andrew & Williamson Fresh Produce. The outbreak has now affected 33 states, with 31 of the 140 new cases reported last week coming from California. The number of Salmonella cases has now reached 558. According to the Centers for Disease Control and Prevention (CDC) 112 people have been hospitalized.
Despite efforts to recall the infected cucumbers, there are now three confirmed deaths due to the outbreak. The cucumbers labeled "Limited Edition" were imported from Mexico and sold between August 1 and September 3, according to health officials.
The three deceased were from Texas, Arizona and California, where Andrew & Williamson is headquartered. California now has the highest number of cases, surpassing Arizona, which had the most cases at the beginning stages of the outbreak. Furthermore, a rise in new cases was reported in 24 states, including one each in Missouri, Montana, South Dakota, North Dakota, and New York.
Salmonella can be deadly for infants, the elderly and anyone with a weak or compromised immune system. Tragically, of all the cases in this ongoing Salmonella outbreak, more than half are children younger than 18 years old. Salmonella symptoms include diarrhea, nausea and abdominal cramps.
Custom Produce Sales, a buyer of Andrew & Williamson produce has also issued a recall in attempts to quell the growing number of cases. Custom Produce Sales sold Andrew & Williamson produce under its own "Fat Boy" label.
Andrew & Williamson issued a statement on September 10 saying, "Our thoughts go out to the victims, their families and their loved ones." The statement confirms an ongoing investigation into the company's cucumber farming and packing operations.
This recent Salmonella outbreak has coincided with another Salmonella outbreak linked to tomatoes served in over 15 Chipotle restaurants in Minnesota. Though the two are not related, the rise in overall Salmonella outbreaks in the United States is truly cause for concern. Eating food you did not prepare yourself is a risky business these days, but to get critically ill from produce you bought at the store is even more concerning.
The cucumbers linked to the Salmonella outbreak were distributed to several restaurants, fast food chains and grocery stores, large and small. So how do you avoid Salmonella? It seems that you're taking a risk either way, whether you're eating out or preparing food at home. 
There are a few ways to ensure your produce is clean and Salmonella free, at least to some degree. Buying produce that is grown within 100 miles of your home, from a local, organic farm affords you a certain level of security against infection. Unfortunately, even this is not fail-safe, as residents of California can attest. 
Many people in California may have thought the cucumbers they purchased from Andrew & Williamson were grown right there in sunny California, close to home. In fact, this is a common misconception among produce enthusiasts. Though Andrew & Williamson has several farms in California, they also have farms in Baja, Mexico. 
There is nothing wrong with produce that comes from Mexico, and it actually constitutes over half of all vegetables sold in the U.S. In 2012, 69 percent of America's vegetables were imported from Mexico, according to the U.S. Department of Agriculture. The produce aisle would be a bit empty without Mexico's contribution.
However, in order to protect us from contaminated produce, whether it is grown locally or not, there needs to be accountability. The Food and Drug Administration continues to get the Food Safety Modernization Act (FSMA) moving in the right direction, but while they wait for government funding, you can take action to ensure every meal you and your family eat is safe.
An excellent place to start is your community farmers' market. There you can meet local farmers who often specialize in a just a few things, whether it be meat, poultry, vegetables or fruit. This gives you the opportunity to know where your food is grown. Many local farmers will allow you to visit their farms so you can check out the source of your sustenance. It's a great way to spend a Saturday afternoon! 
Why not take the farm-to-table initiative to heart and eliminate Salmonella from your kitchen by getting to know the source.
With the threat of Salmonella lurking everywhere in America, where will you get your produce now, and why?
-Stephen Seifert
Stephen Seifert is a writer, professor, adventurer and a health & fitness guru. His flare for travel and outdoor adventure allows him to enjoy culture and traditions different than his own. A healthy diet, routine fitness and constant mental development is the cornerstone to Stephen's life. 
Sources:
http://www.cdc.gov/salmonella/poona-09-15/
http://www.andrew-williamson.com/Home/Home.aspx
http://www.cdc.gov/salmonella/general/prevention.html
https://www.thealternativedaily.com/update-two-dead-and-341-cases-confirmed-in-cucumber-salmonella-outbreak/