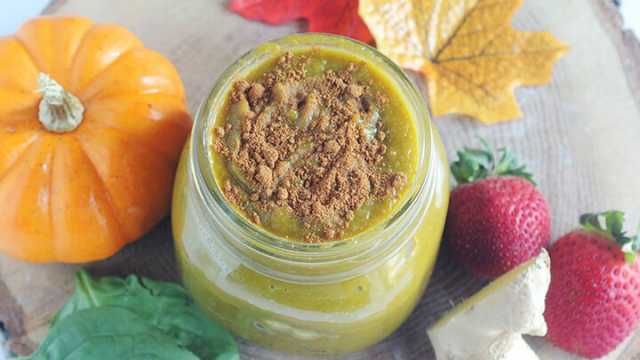 Autumn is officially here, bringing in the cool, crisp air. During the well-loved month of October, we'll begin to see pumpkins littered across decks and porches. Although you may associate pumpkin with fall, Thanksgiving and Halloween, its nutrients are available all year round.
This autumn-inspired smoothie is a great way to introduce pumpkin into your diet. Pumpkin is something which many only have once a year, covered in pie crust (sorry, a buttery, sugary pie doesn't really count). Instead, experiment with both the flesh and seeds, benefiting from this large orange delight.
Article: Pumpkin For Healthy And Radiant Skin
The benefits of pumpkin
Only recently did I start eating pumpkin. To be completely honest, I have always viewed pumpkins as an ingredient for a fun Halloween activity. As a kid, we grew our own pumpkins to carve. My mom always utilized the seeds, but we didn't do much with the flesh. These days, I generally source pure pumpkin puree. It's so easy to drop into a smoothie, soup or muffins.
For starters, pumpkin is rich in nutrients, offering nearly 200 percent of your daily recommended vitamin A, as well as vitamin C, fiber, iron, potassium and more. When you eat one cup of pumpkin, you consume less than 50 calories, yet benefit from 3 grams of fiber. This leaves you feeling fuller for longer.
For those who are aiming to lose weight, pumpkin is a great food to add to your weekly diet. Regardless of your weight or fitness goals, pumpkin most certainly offers benefits for everyone, especially in terms of heart health. Although its fiber content will improve heart function, the true treasure is found in the seeds.
You can easily toss pumpkin seeds into a smoothie, salad or granola. This will help you consume more protein, zinc, magnesium and potassium. Pumpkin seeds contain phytosterols, which are found in the cell membrane of plants. These may help to lower your cholesterol and even prevent certain types of cancer.
In a recent study published in the Journal of AOAC International, it was stated that phytosterols were shown to improve blood lipid profiles. This helps to protect against cardiovascular disease. In addition to these effects, phytosterols have also been shown to reduce the growth of cancer cells, including those of the prostate, breast, liver, stomach, ovary and lung.
If you're active, a pumpkin smoothie is also an excellent way to recover. Offering more refueling potassium than a banana, pumpkin can help you restore electrolyte balance. With the added benefit of protein, you will support muscle recovery, ensuring optimal growth, repair and overall function.
Pumpkin Smoothie Recipe
You may think the combination of pumpkin and other fresh ingredients is odd. But trust me, once they're all thrown into the blender, they marry very well. I'm not saying it tastes like a piece of pumpkin pie. But hey, you need to take care of your body throughout the year so that during Thanksgiving you can treat yourself.
Ingredients
1 cup pureed pumpkin

1/2 cup spinach

1/2 cup plain Greek yogurt

4 to 5 whole strawberries

1 thumb-sized piece of ginger

1 tbsp pumpkin seeds

1/2 tsp cinnamon

1 tsp raw honey
Equipment
Instructions
1. Blend all of the above ingredients, sprinkle with cinnamon, and enjoy!
Feel free to get creative — especially if you have ingredients you need to use up. It's not uncommon for me to throw in a few radishes, green onion, lemon, garlic or whatever else needs to be eaten. Remember, reduce waste and amp up your intake of nutrients!
— Krista Hillis