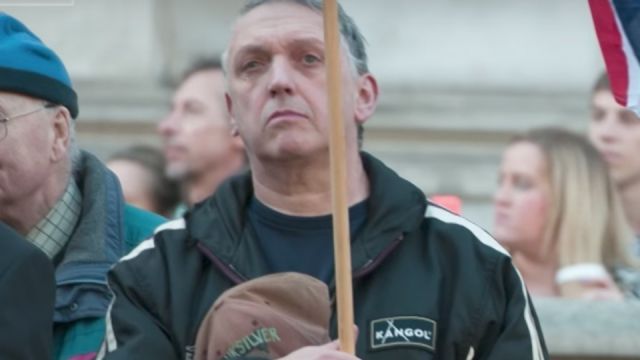 Coming out of the closet can be hard, especially when everyone you know is a Nazi and you're secretly a gay Jew. That's exactly the predicament long-time British neo-Nazi Kevin Wilshaw found himself in.
As a member of the neo-Nazi National Front, Wilshaw was a prominent figure on the U.K.'s far right in the 1980s, and until earlier this year was a key organizer of the party. He was a regular speaker at far right events, and in recent years has been a member of the fascist British National Party. As recently as early 2017, Wilshaw was scheduled to appear at far right speaking events, and according to the Evening Standard was "was arrested for spewing race hate online in March."
Now, he's left the far right, and he's still angry — just not at racial minorities. "I want to hurt them," he said of his former colleagues. During an interview with the U.K.'s Channel 4, Wilshaw said he felt "appallingly guilty," and infuriated at people who spread fascist ideology.
"I want to do some damage as well, not to ordinary people but the people who are propagating this kind of rubbish — want to hurt them, show what it's like for those who are living a lie and be on the receiving end of this type of propaganda," he said. During the interview, he admitted to acts of violence, and of vandalizing a mosque in the past.
Wilshaw's journey into neo-nazism
As for how it all started, Wilshaw traced his descent into becoming a neo-Nazi to his school years. "I didn't have many friends at school, I wanted to be a member of a group of people that had an aim, and I thought getting involved in that kind of thing would be comradeship," he explained, emphasizing how the tight-knit community gave him a sense of being part of something bigger.
"Even though you end up being a group of people that through their own extreme views are cut off from society, you do have a sense of comradeship in that you're a member of a group that's being attacked by other people," he said.
Four decades later, Wilshaw explained how he was forced to rethink everything he thought he knew, after his former fellow travelers began to suspect he was gay. "I found on one or two occasions when I was suspected of being gay I was subjected to abuse," he said.
Wilshaw continued, "It's a terribly selfish thing to say but it's true, I saw people being abused, shouted at, spat at in the street — it's not until it's directed at you that you suddenly realize that what you're doing is wrong."
Wilshaw admitted there was a contradiction being both gay and a neo-Nazi, but pointed to the fact that "you have other members leading National Front who are overtly gay."
"Nobody could see the contradiction of it that you have an overtly gay person leading a homophobic organization, makes no sense," he said. "Then you have someone like Nicky Crane, one of the hardest people who would be gay."
Nicky Crane was another well-known figure in British neo-Nazi circles in the 80s, and died of an AIDS-related illness in 1993. Prior to his death, Crane admitted he was gay. "Even when people found out, they'd rationalize it, 'He's not really gay' or 'gay and ok'," he said, while noting the same degree of tolerance wasn't extended to rank and file members.
However, Wilshaw's sexual orientation wasn't his only secret.
"She was part Jewish," he said of his mother, admitting he had kept his Jewish heritage under wraps for decades. Wilshaw himself doesn't identify as practicing the Jewish faith, but his heritage was something he kept from other neo-Nazis. As far back as his original application form to join the National Front, he wrote about his hatred of "the Jews," according to Channel 4. Now, Wilshaw believes neo-Nazis dehumanize Jews as just a "global faceless mass of people."
"You can't personalize it, not individuals. That's the generalization that leads to six million people being deliberately murdered," he explained.
Nonetheless, Wilshaw's epiphany has come with a price. Along with concern that "one or two" of his former colleagues may want "to sort me," Wilshaw indicated leaving his old life behind isn't going to be easy. "I am going to find it difficult, granted, to fill a void that has occupied my life since childhood," he said.
Far-right extremists are on the rise
While Wilshaw may represent one less neo-Nazi in Britain, extremist watch groups have warned far-right extremists are on the rise. In June, the Home Office released new figures showing a five-fold annual increase in the number of people detained in connection to allegations of suspected domestic terrorism. That rise was largely driven by an upsurge in far-right suspects, according to security officials.
"We are aware of a rise in the far right," security minister Ben Wallace said at the time. Barely six months earlier, Wallace also announced referrals for a flagship youth de-radicalization program were also on the rise, with young neo-Nazis and other far right groups beginning to outpace referrals for suspected Islamist extremists.
Since then, the U.K. has issued its first ban of a far right youth organization, National Action. The group is now considered a terrorist entity, and four of its alleged members were arrested in September 2017 on suspicion of preparing to carry out a terror attack.
Two of those arrested are set to stand trial next March.
— Ryan Mallett-Outtrim