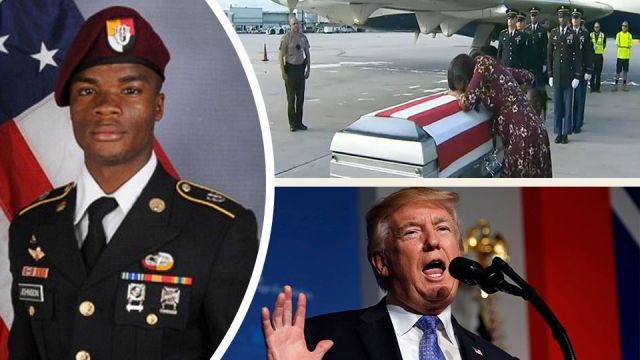 President Trump is facing backlash for his remarks to fallen U.S. Army Sgt. David Johnson's widow.
On October 4, Johnson's life was taken when he was one of four soldiers killed by ambush in Niger. Johnson was stationed in Niger to target terrorist organization Boko Haram, which works closely with ISIS in the region.
Last year, Boko Haram kidnapped 276 school girls from their boarding school in Nigeria. The Defense Department is blaming this particular attack on the Islamic State.
According to Florida Congresswoman Frederica Wilson, who knew Johnson and his family, President Trump made an insensitive remark while on a phone call with Johnson's widow, Myeshia, saying, "He knew what he signed up for."
The conversation lasted three to five minutes, which is reportedly normal for those types of phone calls. President Trump claims he calls the families of all fallen soldiers to express sympathy during the grieving process.
Rep. Wilson knew the Johnson family from a program she formed in 1993 called the Role Model of Excellence and claims that David was one member who especially exemplified the term "leader."
Rep. Wilson says she heard the comments on Myeshia's speakerphone as they were traveling together to meet his body at Miami International Airport.
President Trump says claims are fabricated
President Trump is refuting Rep. Wilson's claims, as seen in this Tweet he posted today.
Democrat Congresswoman totally fabricated what I said to the wife of a soldier who died in action (and I have proof). Sad!

— Donald J. Trump (@realDonaldTrump) October 18, 2017
Rep. Wilson doubled down in response to Trump's tweet,
I stand my account of the call with @realDonaldTrump and was not the only one who heard and was dismayed by his insensitive remarks.

— Rep Frederica Wilson (@RepWilson) October 18, 2017
President Trump then doubled down on his response to an ABC news reporter today:
Pres. Trump denies lawmaker's account of call with fallen soldier's family: "Didn't say what that congresswoman said. Didn't say it at all." pic.twitter.com/3im4BzfQdr

— ABC News Politics (@ABCPolitics) October 18, 2017
Looking past the argument, it is truly tragic when a service member passes, especially in cases like these where Johnson's wife and kids will go on without a husband and father. Even sadder, Myeshia is currently pregnant with the couple's third child.
The 5,000 Role Models of Excellence program has established a Role Model Army Sgt. La David Johnson Scholarship for his three children so they have enough money for college. A GoFundMe page has been set up for those wanting to donate.
Johnson's visitation will be on Friday at the Christ the Rock Community Church, 11000 Stirling Road, in Cooper City, Florida.
What do you think about this situation? Was Trump being insensitive or is the congresswoman trying to politicize the sympathy call? Let us know!
— PJ Amirata