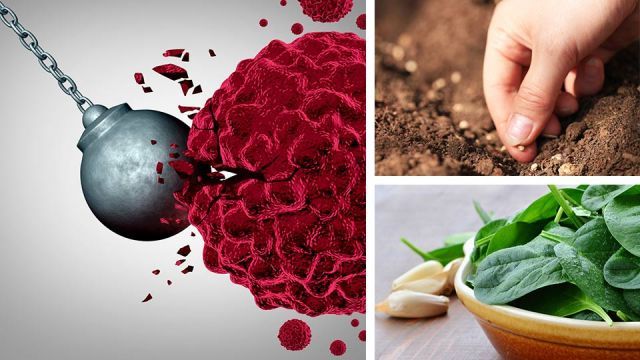 Learning how to grow some basic food crops can not only be great fun, but also important. In our post-GFC world of economic uncertainty, crops can offer a bit of security in a worst-case scenario. Below, we've picked a handful of easy crops to try your hand at. Which is your favorite?
1. Potato
The humble potato could be your savior during an economic meltdown. They're tasty, not to mention a rich source of carbs, even if they are ridiculously starchy. Most people believe potatoes can be fairly easily grown from offcuts, though this isn't entirely true in the modern age. Most store-bought potatoes are treated to prevent sprouting, making them useless for growers.
One great way to get your potato crop growing is with seeds. That's right, contrary to popular belief, potatoes do indeed have seeds. These seeds can be planted in late winter, and germinate within around two weeks.
The big advantage to using potato seeds is that they are obviously much easier to store than potatoes themselves. Plus, once you've got your first crop going, you can easily pivot to using potato offcuts for future harvests.
2. Amaranth
Popular among homesteaders, amaranth was among the most important crops cultivated by the Aztecs. The Aztecs loved the stuff for its hardiness (it's even tougher than corn) and its extremely high grow-out. The latter refers to its ability to produce a large amount of consumable crop from even a small handful of seeds. Amaranth is easy to grow, harvest and prepare. There's no need for husking, and the grain itself can be cooked just like rice. Amaranth is high in protein and carbs, making it an excellent survival food.
3. Carrot
If amaranth sounds a bit obscure to you, then what about the common old carrot? Like potatoes, carrots are popular for a reason: they're easy to grow, easy to prepare and give a fairly respectable yield. Plus, carrots store well during winter. All you need are some seeds, and some well-drained sandy soil. Carrots love cool weather, so plant them in either early spring or late fall. Harvesting carrots is as easy as pulling them from the ground, dusting them off, and chucking them in a soup with those potatoes.
4. Corn
Like amaranth, corn was a staple for the Aztecs, and for good reason. Corn is hardy and can be grown by pretty much anyone. Even if you know next to nothing about agriculture, you can still grow a respectable crop of corn.
Corn is best grown in packed blocks, ideally in light soil with a neutral pH. You'll also need your soil to be nitrogen-rich, and be prepared to heavily water the crop once or twice a week, depending on how your plants are looking. To harvest, just grab those cobs and throw them on the barbecue.
If corn sounds a little uninteresting to you, why not try experimenting with some of its fascinating varieties? Try mixing things up with some red, black or even silver corn.
5. Cabbage
Cabbages can be a bit of a pain, but the results are worth it. Extremely versatile, cabbage can be used in everything from stews to sauerkraut to kimchi. Once preserved, your cabbage can last far longer than most other produce, making it an essential crop for preppers, survivalists or anyone else who just wants a reliable vegetable in their backyard. It's also high in vitamins and quite nutritious.
On the other hand, cabbage can be fickle about climate, and needs cool temperatures to really flourish. Moreover, cabbage is a magnet for pests, meaning you'll need to be prepared for an onslaught of creepy crawlies. Once you've got the basics settled though, you'll find cabbage can be a delight. For one, there's an amazing amount of cabbage diversity, so have fun choosing your favorite!
6. Beans
The world of beans is a diverse one, with many great choices for anyone looking to grow a crop for their own survival. A good entry-level option is the broad bean, which likewise comes in many varieties of its own. Whichever you go for, know that broad beans are among the easiest survival crops to grow, and are rich in nutrients. A seed can be germinated in a damp glass jar in your own home. This is particularly good fun with kids, who love to watch the seed slowly turn into a little plant. When ready, you can then transfer the plant outside, and watch as your crop comes to life.
Have you got any suggestions for other great survival crops? Let us know in the comments below.
CLICK HERE to receive your FREE COPY of The SECRET GARDEN ==>  
— Ryan Mallett-Outtrim