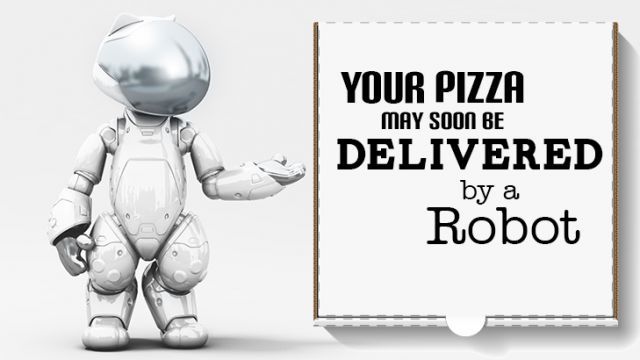 Fast food just got a little faster, or slower, depending on where you live. Starship Technologies recently announced they would deploy autonomous robots to deliver orders from a limited selection of restaurants in London this year.
Robots delivering food? 
Last year the Bank of England announced that within 10 to 20 years robots would replace 80 million U.S. and 15 million UK jobs. Now one year later, Starship Technologies has begun experimenting with autonomous robots that could soon replace human-delivered takeout food.
Starship Technologies' autonomous delivery robots are small vehicles that can carry packages over short distances. Each robot has onboard cameras to navigate its surroundings, and human operators in a command centre to take over control, if necessary. The compartment containing the food is secured by an access code. Yet, I'm still skeptical.
Tampering hazards
Don't get me wrong, I love technology, but the potential for someone tampering with your food far out ways any technological advantage. The robots have already been introduced to cities overseas and have driven 5,000 miles without any accidents or incidents, says Starship Technologies.
In May, the company's CEO Ahti Heinla told the BBC that there had been no examples of the public commandeering or tampering with his robots.
"People do not actually interfere with it on the pavement. We have driven thousands of miles with robots like this, and the vast majority of people just ignore it," said Heinla.
Autonomous robots vs. human delivery drivers
To be clear, the self-driving robots won't exactly be self-driving, at first anyway. Starship employees will drive them remotely, until the robots become more familiar with their delivery areas. Gradually, Starship hopes the robots will become more autonomous, with one employee will be able to operate 100 robots, greatly reducing the cost of delivery service.
It's an interesting idea, but most delivery people work for little to no money and generally rely on tips for income. In addition, many take-out delivery people use their own vehicles and provide their own insurance. Could autonomous robots compete with an industry that pays people a small fee to deliver each meal? Then there's maintenance and insurance costs for self-driving delivery systems?
Someday your favorite takeout could arrive to your door via a self-driving robot, but for now autonomous robot delivery service seems a novelty at best. 
—Katherine Marko