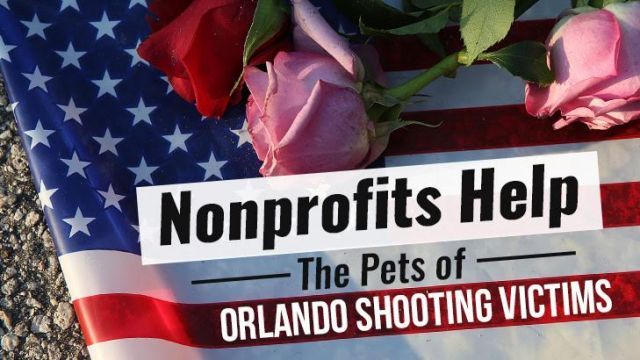 The nation mourns the victims of the terrorist attack on Orlando's Pulse nightclub, in which 49 people died and 53 were injured. Not forgotten are the pets those victims loved and left behind. Several nonprofits have offered assistance to care for the pets of the victims and their families.
Various groups have stepped up to help animals left behind. They will care for the animals of hospitalized victims until the owners can return home and resume care, as well as for the pets of family and friends affected by the tragedy.
Short-term or long-term care
The Pet Alliance of Greater Orlando has been in existence for 80 years. During that time, it has assisted the American Red Cross and domestic violence centers, and has space available for emergency purposes. It operates a shelter and adopts out approximately 7,000 animals annually. It is offering temporary or long-term care for Pulse victims' pets. A representative said that if a parent or partner can't keep the pet of a deceased loved one, the Alliance will find the animal a new, loving home. "We don't want a mom or dad to feel bad," executive director Stephen Bardy was quoted as saying by local station WESH, channel 2. "We will find a great home for your child's pet," he said.
Rescue groups are compiling lists of services, kennels and people willing to foster pets. They also request information about possible pets in need. Police can't break into homes to remove pets. It requires a family member or friend with access to the home to take out the pet if the owner isn't present. Besides dogs and cats, there are aquarium fish, birds and small pets who need assistance. 
Pet sitting
Pet sitters, who are small business people, have offered to care for the affected pets at no charge. Pets are already dealing with the absence of their people. Relocation to an unfamiliar place — no matter how nice the accommodations — is an additional source of stress. For people caring for loved ones injured in the massacre or shooting victims who may soon return home, this service is often the best option from the pets' perspective.  
Foster network
Other nonprofit organizations aren't shelters, but care for pets through a network of foster homes. Volunteers are lined up to care for the animals in a home environment.
Therapy dogs
Nonprofit organizations are also bringing in therapy dogs to help comfort those who lost loved ones, emergency workers, and Orlando residents just overwhelmed by recent events. Twelve golden retrievers from Illinois, part of a Lutheran Church Charities program called K-9 Comfort Dogs, arrived in Florida earlier this week. K-9 Comfort Dogs are no stranger to national tragedies, as they also supplied their special type of canine love and affection to those affected by the Sandy Hook, Connecticut school shooting and the Boston Marathon bombing.
In Newtown, Connecticut, the home of Sandy Hook Elementary School, one child told the dog just what he witnessed in his classroom that awful day, something he had not spoken of before. Another little girl, rendered mute since the trauma, started talking after spending time with a comfort dog. The same thing has happened in Orlando, with people able to express for the first time what they saw and experienced on that fateful Saturday night.
The dogs have visited victims of the Pulse nightclub shooting in the hospital, and attended various memorial services. Their presence and unconditional love can't bring back a loved one, but they do allow people to express their feelings and relax while with the dogs. Therapy dogs help people heal, but they also help people grieve.
Although the Pulse shooting was the most horrific in terms of numbers, it was not the only Orlando tragedy gaining national attention this week. A two-year-old boy on vacation with his parents at Disney World was killed by an alligator, and 22-year-old The Voice singer Christina Grimmie was attacked and killed by a deranged fan after an Orlando performance. The people of Orlando are in shock. Their only solace is that people nationwide share their grief and are trying to help in any way they can.
—Jane Meggitt