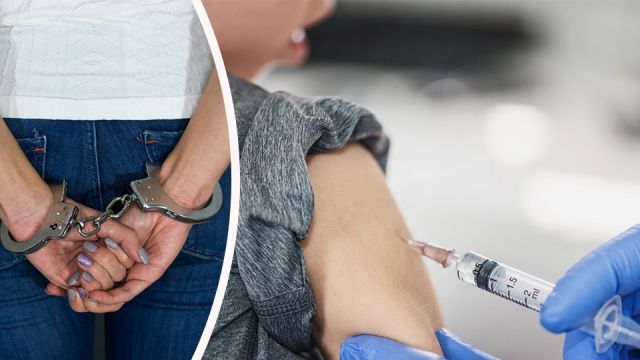 Some parents don't like the idea of using vaccinations on their children, but one Michigan mother is even willing to go to jail for it.
An Oakland County woman Rebecca Breedow has been sent to jail for seven days after not complying with an order to give her nine-year-old son a vaccination shot. In addition to going to jail, Breedow will have to see her son get vaccinated, due to a signed order from back in November of 2016, which said that the child would be vaccinated.
Judge Karen McDonald, who is ordering the sentence against Breedow, argues that there was never any kind of appeal to the order from November, and that Breedow never even asked to have the order set aside.  
Here is a picture of protestors holding signs outside of the circuit court today:
Protests outside Oakland Circuit Ct. Will a mom go to jail for failing to vaccinate her kid? @WWJ950 @FOX2News pic.twitter.com/oUp9F0g4TU

— Charlie Langton (@charlielangton) October 4, 2017
Also, here is a video posted from earlier this morning of anti-vaccination supporters chanting "Where there is risk, there must be choice."
Supporters of Rebecca Bredow outside Oakland Co. courthouse.
She's the mom facing deadline today to vaccinate her son or go to jail pic.twitter.com/Jxn776kAhS

— Brian Abel (@BrianAbelTV) October 4, 2017
Breedow reported that her ex-husband delayed immunizations on their child at birth and then spaced the frequency of them out before stopping them all in 2010. "These are combo shots that could be up to 40 vaccines at once," said Breedow. "So, I mean that's pretty serious. That's a lot of vaccines to inject into your child at once."
Historically, the American Medical Association has denounced parents refusing to give their children vaccinations due to their ability to stop diseases like measles, mumps and other infectious illnesses. However, Michigan, like 17 other states, allows exemptions from vaccines for medical, religious and philosophical views.
Instead of being an honest and legally fair decision, Breedow thinks the judge was personally in disagreement with her choice on the matter. In response to the judge, Breedow said, "Right now, from my point of view, I feel that it's the judge's personal belief. She's pro-vaccine, which is fine, we have that choice, but I am fully compliant with all of the state laws, the vaccine waivers. I've educated myself on vaccines."
Breedow and her ex-husband were originally on the same page of not wanting vaccinations for their child, but after divorcing, the father then wanted the boy to be vaccinated. Also, Breedow was awarded primary custody of her son over her ex-husband, but, as previously mentioned, the child will have to be vaccinated.
The judge's decision has sparked lots of conversation on social media, with some people being in favor, and others in opposition to the decision:
Did we tear up the Constitution and I missed it?

Woman Ordered To Jail After Refusing To Vaccinate Her Sonhttps://t.co/804XnRr0gG

— Tom Trotts (@tom_trotts) October 4, 2017
Finally, some good news . . .
Oakland County Woman Ordered To Jail After Refusing To Vaccinate Her Son https://t.co/vW9UEkfCl9

— PhilipTerzian (@PhilipTerzian) October 4, 2017
Gary, Breedow's current husband, says ,"I think it's horrific; to me it's a worst case scenario. For a mother who has done and followed all of the state exemption laws, never had her voice truly heard in this court… I think it's absolutely horrible."
Vaccination issues in the United States have historically been controversial. For example, the issue was brought up during a 2015 GOP Presidential debate, where Dr. Ben Carson and President Trump got into a debate about whether vaccinations were causing autism.
"Martin Luther King said that our lives begin to end the day that we become silent about the things that matter to us," Breedow said. "To have a court interject themselves into my personal and religious beliefs, it's not something I can stand for."
Was the court wrong to give this mother jail time? Let us know in the comments.  
— Peter Amirata