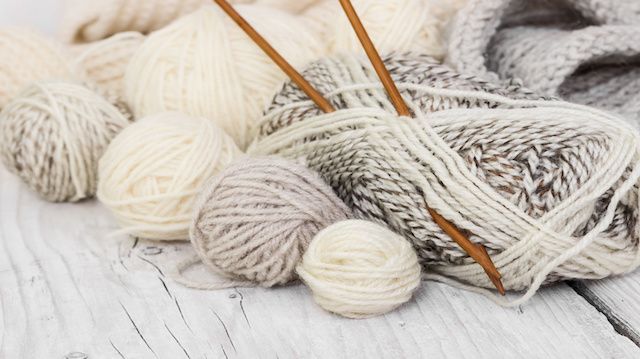 Knit one, purl two. Knitting is good for your health. Knitting is social, engaging, and it can take your mind off your problems. Because you get to make things, there's a sense of accomplishment when finishing a project. Let's just say it, knitting real things feels good.
Scientists agree, and have discovered even more health benefits related to this craft.
Studies show knitting can both activate the brain and protect the brain from some diseases as we age. Knitting can be fun and make you happy. Let's discover some new "purls" of wisdom on the benefits of knitting.
Knitting activates the brain
According to Dr. Alton Barron, an associate clinical professor of orthopedic surgery, about 60 percent of the surface area of the brain is dedicated to the use of our hands. The hands are important when knitting, in fact, you use both of them at the same time. Knitting not only engages both of your hands, it also engages both sides of your brain, too.
Dr. Barron goes on to say, "You can actually create new neural pathways," because knitting is so bi-manual. Knitting is good for the brain.
Knitting is social
Knitting presents many avenues for socializing. You can invite people to knit at your house, or join a local knitting group. Knitting gives you a chance to interact with other people. If you've never knitted before, more seasoned knitters can share some tips. If you have knitted before, you can learn new knitting techniques and visit with your close-knit group of friends.
Knitting helps brain health
Knitting can support our brain health as we age. Doing this craft can lower the chance of mild cognitive impairment (MCI). MCI is a brain disease where people can still do everyday functions, but have problems with memory loss. A study in the Journal of Neuropsychiatry and Clinical Neurosciences showed knitting and other cognitive activities reduce the odds of experiencing MCI.
This craft also has been shown to lower the risk of dementia. A study in the Journal of the American Geriatrics Society found that elderly people who knitted regularly showed a significantly reduced rate of dementia. 
Anyone can learn to knit
This craft can be done by all. Knitting projects do not have to be difficult and complex. Starting with a simple scarf is a good way to learn and develop skills, before tackling bigger projects like a sweater or blanket. Yarn doesn't have to be itchy either — you can find wools that are soft and silky for that stylish beanie. Crafting can be a good time to sit and connect with an older or younger family member and have some fun.
Knitting may distract anxiety
Knitting takes focus. It uses our visual-spatial skills. This craft requires concentration. If you are paying attention to the knitting, you can be distracted from your problems. A 2009 study performed at the University of British Columbia supports this theory. Preliminary findings from the study showed that knitting benefited a group of young girls recovering from eating disorders by "reducing their anxious preoccupations about eating, weight and shape control."
Knitters perceive themselves as happier
Knitting can be grounding. You feel happier when you do an activity that you really enjoy; you feel good while doing it and feel proud of what you've accomplished. Fellow knitters agree, a survey of over 3,500 knitters worldwide showed a correlation between knitting and feeling happy.
Let's take a leaf out of grandma's book, and try this age-old craft. If you're a novice knitter, it's easy to learn. So let's all knit one, purl two.
—Nikki Walsh
Nikki Walsh is a freelance writer and mom of two kids living in Southern California. She holds an MBA in marketing from University of California, Irvine and a bachelor's degree in Biochemistry from UCSD. She has been practicing Kelee meditation for 19 years. When she is not writing she can be found out and about having fun with her kids. 
Sources:
http://www.craftyarncouncil.com
http://www.ncbi.nlm.nih.gov/pubmed/21677242
http://onlinelibrary.wiley.com/doi/10.1111/j.1532-5415.1995.tb06093.x/abstract
http://www.ncbi.nlm.nih.gov/pubmed/19367130
http://bjo.sagepub.com/content/76/2/50.short