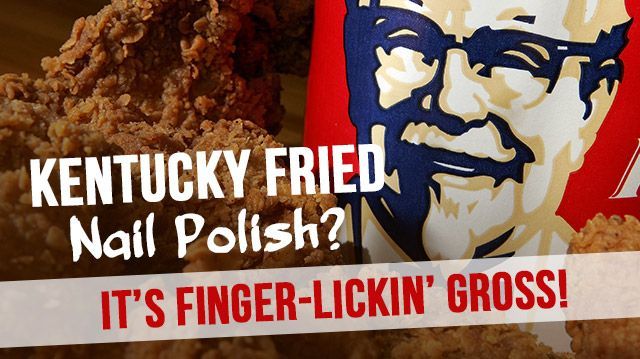 Germaphobes everywhere are heaving in disgust, thanks to the KFC applying its secret recipe to something other than its fried chicken — nail polish. Like many women, I love my nail polish. And I have lots of brands and colors: plum, pastel blue, burgundy — heck, I even have mojito green. But what I don't have, or necessarily want, is nail polish I can suck right off my fingers.   
KFC adds new meaning to "finger-lickin' good"
KFC in Hong Kong recently partnered with marketing agency Ogilvy & Mather to create two lickable nail polishes: a speckled brown color dubbed Original and a reddish hue called Hot and Spicy. The two polishes are made with edible, all-natural ingredients, so they must be licked within five minutes. In fact, each bottle has an expiration date of five days after bottling and five minutes after opening, so plan on sharing! 
You won't find any of the usual chemicals found in nail polish, but what you will find is ingredients such as the Colonel's original recipe seasoning, vegetable gum, edible color, vegetable oil and maltodextrin, a food additive made from starch.   
"The recipe for our edible nail polish is unique and was specifically designed to hold the flavor, but to also dry with a glossy coat similar to normal nail polish," said John Koay, creative director for Ogilvy & Mather to CNN Money. "This campaign is designed to be intriguing and fun to increase excitement around the KFC brand in Hong Kong."
More saucy than polish
As for the finger-licking varnish, I don't imagine you'll be seeing it on the red carpet anytime soon. Apparently, the mixture is saucier than nail polish, and when applied, it doesn't quite adhere onto the nails, The Wall Street Journal says. It does dry quickly but requires several coats to reach its full bouquet. 
The taste is strong, similar to a concentration of spices stuck to your finger, according to WSJ. And of course the nail polish comes in a designer bottle and packaging — but not "bucket size."
Turning "inedibles" into "edibles" 
This isn't the first time the fast-food chain created an edible version of something that isn't normally edible. Last year, KFC introduced edible coffee cups in some of its UK locations. The coffee cup, made of cookie, is lined in white chocolate and then wrapped in sugar paper bearing a Seattle's Best coffee logo.
China and KFC
KFC was the first major Western fast-food company to open in mainland China back in 1987. Once a "gold mine" location for KFC, it later hit a bump in the road, according to WSJ, with China's middle class opting for more-upscale dining options.
Today, KFC is clearly revamping their marketing image in hopes of drawing attention to a more fun brand, thus appealing to a younger, perhaps hipper crowd.
KFC has more than 5,000 restaurants in China. KFC (Hong Kong), a franchise managed by Birdland (Hong Kong) Ltd., has 52 outlets. This year, first quarter, KFC sales in China rose 12 percent.
While there's no plan on releasing the edible nail polish anytime soon to the public, it has manufactured 300 to 500 limited-edition bottles. The company is taking a poll on Facebook, asking fans which of the two flavors should be released commercially.
It's marketing genius 
Perhaps I'm out on a limb here, but right about now I imagine the Colonel is rolling in his grave. I'm pretty sure he never intended his slogan "finger-lickin' good" to be taken quite this literally. But hey, what do I know? Maybe this marketing ploy is pure genius. It sure has people talking about the KFC brand.
And while edible polish isn't necessarily a brand-new concept, I'm sure this will open the floodgates for nail polish manufacturers everywhere (I can just see the wheels turning now) to come up with other edible polishes equally as tasty for adults only: coffee, Roquefort … red wine, possibly?
Okay, it's fun, it's funky … I get it. But do we really need to see the guy across from us on the subway sucking his fingers? Just a thought.
—Katherine Marko
Katherine Marko is a freelance writer, author and blog creator. Her areas of expertise include food, health, style, beauty, business and nutrition. Marko holds a Bachelor of Arts in English, a diploma in photography, graphic design and marketing, and certification in esthetics.
Sources:
http://money.cnn.com/2016/05/05/news/companies/kfc-nail-polish
http://blogs.wsj.com/chinarealtime/2016/05/06/taste-test-china-real-time-tries-kfcs-edible-fried-chicken-nail-polish
http://www.marketwatch.com/story/kfcs-edible-cookie-cups-probably-wont-end-packaging-waste-2015-02-27