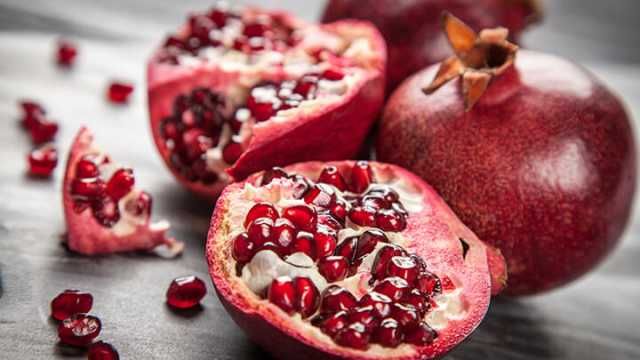 The pomegranate is one seriously weird, seriously delicious fruit. Pomegranates begin their lives on a small deciduous tree belonging to the Lythraceae family. This curious fruit originated in the region of modern-day Iran and was historically cultivated in Mediterranean countries and northern India.
Today, pomegranates are grown in the Middle East, northern and equatorial Africa, India, Central Asia, the Mediterranean and the southwestern United States. Mirroring this expansion in geographic cultivation, so too has the popularity of pomegranate grown throughout the world. You can now find pomegranates in most supermarkets or market stalls in every corner of the globe.
Pomegranates are valued for their deliciously sweet, slightly tart flavor and rich ruby color. They're used for a variety of applications, including cooking, baking, salad garnishes, juices, smoothies and cocktails. If you're like me, however, you'll like nothing better than to simply cut one in half and scoop out the fleshy arils with a spoon. The taste when you pop them in your mouth is simply out of this world!
Benefits of pomegranates
Aside from its delicious flavor and versatility of use, pomegranate is quickly becoming popular as a superfood. Pomegranates are positively overflowing with nutrients, including vitamin C, pantothenic acid (otherwise known as vitamin B5) and ellagic acid.
Pantothenic acid is said to increase the production of cortisone, which supports the adrenal glands. It also assists metabolism, alleviates depression, and supports healthy muscle and nerve function. Ellagic acid improves nutrient absorption in the body, particularly in the hair, skin and nails. Pomegranates also contain punicalagins, tannic acids which reduce oxidation and cell stress within the body.
Truly, the pomegranate is worthy of its superfood status. Not surprisingly, studies are showing that pomegranate can be used for a range of health treatments, including:
Despite the growing recognition of pomegranate as a powerful health food, however, few are aware of the fact that pomegranate can also be used for beauty applications. Those same internal benefits from the juice and oil of the pomegranate can also be applied to your hair, skin and nails, helping you to supplement your beauty routine naturally. Here are five ways you can use pomegranate to do just that.
1. Pomegranate and green tea facial treatment
Pomegranate is great for your skin, containing a wide range of antioxidants which soak into the pores and replace any lost nutrients. Green tea is a legendary superfood, containing bioactive compounds like flavonoids and catechins which fight free radical damage to both the body and skin.
Combine these two ingredients and you have yourself an amazingly refreshing, sweet smelling facial treatment. Here's a quick recipe to make a powerful DIY facial mask using only simple, natural ingredients.
Ingredients
1 tbsp fresh brewed green tea

1/2 cup fresh pomegranate arils (fleshy seeds)

1 tbsp plain yogurt

1 tbsp raw honey
Instructions
1. Place the pomegranate seeds in a blender and blend on low until a paste has formed. Move the paste into a small bowl.
2. Brew a cup of green tea by steeping a green tea bag in boiling water for ten minutes. Once the tea has cooled, add a tablespoon of green tea to the pomegranate paste and mix in.
3. Add the tablespoon of plain yogurt and raw honey and mix everything together until a uniform paste has formed.
4. Rinse your face with cool water and ensure any makeup is removed. Using your hands, gently rub the paste into the skin of your face and leave it on for 30 minutes. Afterward, rinse off with cold water.
5. Repeat once a day for best results.
2. Pomegranate acne treatment
Acne is commonly caused by digestive problems or hormonal imbalance. To address the problem, your need to clean up your diet, by removing food allergens, sugars, gluten and processed foods. It will take a while to remove all the toxins from your system, however, so in the meantime why not make a healthy, natural acne treatment at home?
Pomegranate is a rich source of vitamin C, which can regulate the production of sebum. Sebum is an oily compound produced by your skin, and when in excess can contribute to pimples and acne breakouts. Simply pop down to the store and buy some pure pomegranate juice. Then, using a cotton ball or just your fingers, dab a healthy dose of pomegranate juice onto areas of bad acne or large pimples. This will help to discourage future breakouts and prevent scar tissue from developing in particularly pimple-prone areas.
3. Pomegranate and coconut anti-aging cream
Pomegranates are ultra-high in antioxidants, which are the sworn enemies of free radicals. Free radical activity in both your body and under your skin results in cell oxidation, a process which damages those cells and either kills them or mutates them. The more free radicals are left to run rampant through your body, the faster you and your skin will age.
Due to the antioxidant-rich properties of pomegranates, they can make a great at-home anti-aging treatment. You can simply eat fresh pomegranate every day to experience it's beautifying benefits from the inside-out, or you can take direct action by applying it to your skin. It helps to combat the pro-aging effects of too much sun exposure on the skin, along with strengthening the epidermis and supporting the production of collagen and elastin. Both collagen and elastin are critical aspects of maintaining skin elasticity, so more of these means smoother, more supple skin.
One of the best ways to enjoy the anti-aging benefits of pomegranate is to make a cream by mixing it with coconut oil. Coconut oil is already well-respected for its skin-promoting abilities, and contains compounds which provide a mild SPF function, hydrate the skin, and prevent bacterial or fungal infection.
Ingredients
1 tbsp pomegranate juice or fresh-ground pomegranate seeds

5 tbsp coconut oil
Instructions
1. If you have a whole pomegranate in the house but no juice, simply scoop out the seeds from the pomegranate and place them in a blender. Blend on low until a paste forms.
2. Mix either a tablespoon of pomegranate juice or pomegranate seed paste into the coconut oil. Ensure the coconut oil is above room temperature when you do this, so it is easier to mix.
3. Combine the pomegranate and coconut oil until they're thoroughly mixed together, then leave in a glass jar and use as needed. For best results, apply the anti-aging cream to your skin after showering in the morning and again before bed.
4. Pomegranate and lemon facial treatment
By now, almost everyone knows about the amazing health properties of lemon. They rejuvenate, energize, cleanse and support the body, and can do the same for your skin. Combining these benefits with the power of pomegranate gives you a seriously powerful facial treatment, and one which can be quickly concocted any time.
Simply throw the arils of a whole pomegranate into a blender and combine into a paste. Then squeeze in half a lemon, mix together and apply generously to your face. Leave on for 15 to 20 minutes then rinse off with cool water.
Because lemon can increase your sensitivity to sunlight, it's best to do this at night.
5. Pomegranate anti-inflammatory skin treatment
Pomegranate juice and paste really hold their own against top-rated conventional anti-inflammatory ointments. Pomegranates contain polyphenols and a range of other compounds which actively lower the inflammation occurring both on and under your skin. You can enjoy these anti-inflammatory benefits simply by getting plenty of pomegranate in your diet, or by rubbing the juice of this fruit directly onto inflamed areas.

Have you tried pomegranate in your daily beauty routine? We'd love to know how it went!
— Liivi Hess