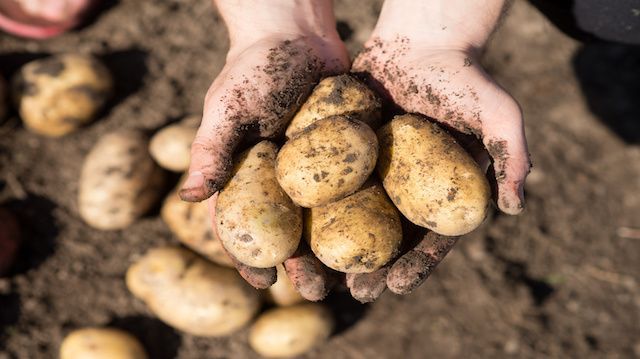 Potatoes often get a bad rap, mainly because of their high glycemic index (GI). However, research published in the Journal of the American College of Nutrition suggests that you can eat potatoes and still lose weight!
Researchers from the University of California at Davis and the Illinois Institute of Technology gave three groups of overweight men and women russets, red potatoes, and healthy recipes. They were instructed to eat five to seven servings of potatoes per week.
One group was asked to follow a reduced calorie diet, which allowed for the potatoes. Another group was asked to follow a reduced calorie diet, but to limit high-GI foods. A third group was asked not to limit their calories or high-GI foods.  
In the end, all three groups lost weight — even the control group, which hadn't reduced caloric consumption. Seemingly because of the extra potatoes in their diets, they automatically reduced their daily calories. This may have occurred due to the high fiber in potatoes. Foods rich in fiber have the benefit of keeping you fuller longer — and they're also great for your heart.
On top of that, one potato contains 620 grams of potassium and 45 percent of your daily vitamin C. Potatoes are also naturally gluten-free. However, when following a gluten-free diet, preparing potatoes yourself is the best way to assure that no gluten has been added, or contaminated the potato during prep. 
Here are two yummy and healthy potato recipes:
Roasted New Potatoes with Herbs
New potatoes are in season from April to early summer. These delicious baby potatoes have a thin, tender skin that doesn't require peeling.
16

red or white new potatoes, washed, skin remaining

1/2

cup

extra-virgin olive oil (extra for baking sheet)

1

large

shallot, peeled and roughly chopped

2

large

cloves of garlic, peeled and roughly chopped

1

tbsp

chopped fresh thyme

1

tbsp

chopped fresh sage

1

tbsp

chopped fresh oregano

1

tbsp

chopped fresh parsley

1

tsp

sea salt

1/2

tsp

freshly ground black pepper
Preheat oven to 375℉. Brush a baking sheet with olive oil, and set aside.

Combine shallot, garlic, salt, pepper, and herbs in a food processor or blender. Add olive oil and blend until the shallot and garlic are finely chopped.

Add half of the mixture to a large bowl. Add new potatoes and toss well to coat. Transfer the potatoes to the prepared baking sheet.

Bake the potatoes for approximately 45 minutes, turning occasionally for even browning. To check they are cooked through, pierce the potatoes with a sharp knife. Potatoes should be tender.

Transfer the roasted potatoes to a large bowl and drizzle with the remaining herb mixture.
Perfect Mashed Potatoes with Roasted Garlic
Mashed potatoes are the perfect comfort food. Mixing roasted garlic into your potatoes adds both flavor and a wealth of health benefits.
5

large

Yukon gold potatoes, peeled and cubed

2

large

heads of garlic, whole and unpeeled

2

tbsp

extra virgin olive oil

4

tbsp

unsalted grass-fed butter

1/2

cup

organic whole milk, plus more if needed

1/4

tsp

sea salt
Preheat the oven to 400℉. Cut a half-inch slice off the top of each garlic head, exposing the garlic clove. Place the garlic in a small baking dish, cut side up. Drizzle with olive oil.

Cover the baking dish with aluminum foil and bake for approximately 50 minutes, or until the garlic is very tender and caramelized. Uncover, and allow the garlic to cool.

Add potatoes to a large pot and cover with water. You may also steam the potatoes in a steam basket set over boiling water. Cook for approximately 15 minutes, until the potatoes are very tender when pierced with a sharp knife.

Place a strainer in the sink and strain the potatoes. Return the potatoes to the pot. In a small saucepan, gently warm the butter and milk over a medium heat.

Squeeze the garlic cloves from the base to push out the roasted garlic into a small bowl. Mash the garlic using a fork until creamy. Add the garlic, warm milk, and butter to the potatoes and mash well. Add salt and more milk if needed. Continue to mash until creamy and lump free
Enjoy!
—Katherine Marko
Katherine Marko is a freelance writer, author and blog creator. Her areas of expertise include food, health, style, beauty, business and nutrition. Marko holds a Bachelor of Arts in English, a diploma in photography, graphic design and marketing, and certification in esthetics. 
Source:
http://216.47.143.249/ifsh/resources_and_tools/pdfs/2010poster_expbio_tadapanemi_potatoes.pdf