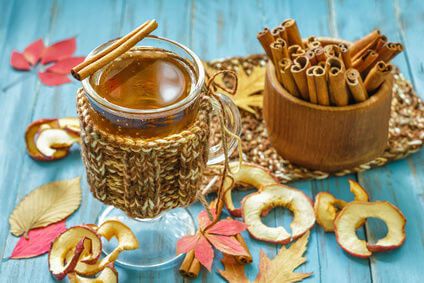 Everyone loves to indulge a little this time of year. And with the number of parties, get-togethers and family events, chances are you will be indulging a lot. And while there's nothing wrong with enjoying holiday foods, if you don't make allowances elsewhere, the pounds can quickly add up. Calorie-laden beverages are often a culprit that lead many to the gym on January 1.
This year, enjoy the flavors of the season without the guilt by trying some of these healthy holiday drinks, smoothies and juices.
For "Santa's Helpers"
Healthy Creamy Nog
Ingredients:
1 organic banana, frozen
1 organic bosc pear, stem removed
3/4 tsp. pumpkin pie spice**
3/4 cup water or organic coconut water (or half of each)
1/4 cup ice
4 pinches of cayenne or fresh ginger (optional for added spiciness!)
One shot of brandy
**if you do not have pumpkin pie spice, you can substitute with cinnamon and or ginger and nutmeg. Cinnamon is the most important spice for this though!
Directions:
Add all ingredients to blender and blend from low to high until smooth and silky.
Healthy "Hot Apple Pie"
Ingredients:
1 oz. organic apple cider
1/8 oz. organic lemon juice
1/2 oz. organic agave nectar
1 1/2 oz. spiced rum (vanilla)
1 cinnamon stick
Directions:
Heat lemon, agave and cider together on the stove. Pour in rum and grate cinnamon on top.
Healthy "Christmas Cooler"
Ingredients:
1 oz. pomegranate grenadine
4 organic blackberries
1/2 cinnamon stick
1/2 oz. organic lemon juice
1 oz. Tanqueray No. Ten gin
club soda
ice
Directions:
Stir blackberries, cinnamon stick and grenadine together. Add lemon juice and gin. Shake with 2 ice cubes and strain into a glass filled with ice. Top with club soda and enjoy.
Super Smoothies with a Holiday Twist
Sweet Apple Pie Smoothie
Ingredients:
1/2 cup frozen organic apple juice concentrate
1 cup organic vanilla yogurt
1 1/2 tsp. pumpkin pie spice
1 cup ice
garnish: organic sliced apples and cinnamon
Directions:
Blend until smooth. Pour. Garnish. Serve.
The North Pole Special Shake
2 cups organic coconut or dairy alternative ice-cream
1/4 cup organic coconut milk
2 tbsp. crushed candy canes
1 cup frozen organic strawberries
1 frozen organic banana
1-1 1/2 cups ice cubes
garnish: peppermint (candy cane) crumbles
Directions:
Blend until smooth. Pour. Garnish. Serve.
Red and Green Jolly Juices
Ho Ho Holiday Juice
Ingredients:
2 handfuls organic cherries (1-2 cups) pitted
2 organic apples (cored)
Directions:
Juice together for a rich burgundy-red juice.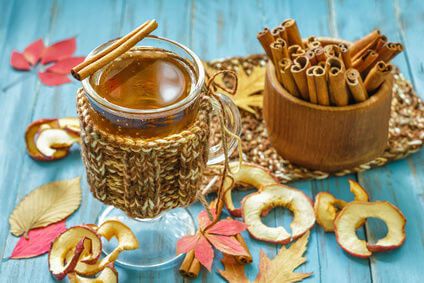 Green Christmas Juice
Ingredients:
3 organic apples (granny smith are the best)
2 organic sticks of celery
Directions:
Juice together and drink immediately. Add a stick of celery in the glass for more green and a nice decorative and festive touch.
Red Tomato Cooler
Ingredients:
5 tomatoes
1 lemon (peeled)
A few sprigs of parsley
Directions:
Juice the vegetables together and drink.
-The Alternative Daily
Sources:
http://www.all-about-juicing.com/christmas.html
http://healthtip.hacres.com/index.php/2013/11/11/pre-holiday-energy-juice/
http://kblog.lunchboxbunch.com/2010/12/5-holiday-smoothie-recipes-iphone-app.html
http://kblog.lunchboxbunch.com/2012/12/holiday-juice-recipes-from-north-pole.html