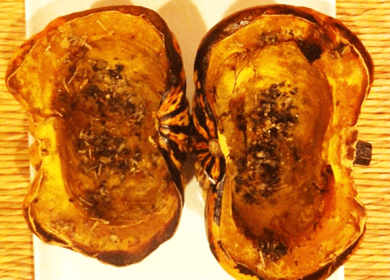 As the cool weather comes upon us, it's time to embrace the season's
produce. At the top of my list is winter squashes, such as acorn, banana, turban, butternut, hubbard, and kabocha varieties.
The hard shells of winter squash make them durable–they can last for weeks as an organic winter arrangement on your dining room table. However, these plants in the gourd family are packed with nutrients–namely carotenoids, antioxidants with powerful health benefits, such as protecting eye health and helping to prevent cardiovascular disease.
Best of all, these beauties are so simple and easy to prepare. Just slice one open, scoop out the seeds, place them–skin side down–in a baking dish filled with one-half inch of water, season them as desired, pop them in the oven and bake for about an hour until the squash is tender and golden brown.
Here's my recipe for roasted, sage-orange squash.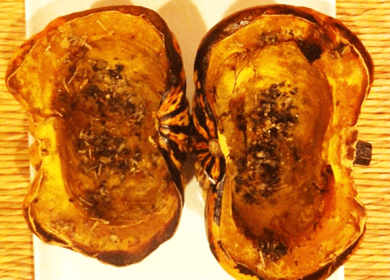 Roasted Sage-Orange Squash Recipe
1 small squash (i.e. acorn or butternut)
 1 teaspoon extra virgin olive oil
 2 Tablespoons orange juice
 1 1/2 teaspoon dried sage
 1 teaspoon grated orange peel
 Sea salt (optional)
 Black pepper, freshly ground, as desired
1. Slice squash in half, scoop out the seeds and place, skin side down, in a baking dish filled with one-half inch water.
2. Drizzle olive oil and then orange juice over both squash halves.
3. Season with sage, orange peel, sea salt, and black pepper evenly over each squash half.
4. Place in oven at 350 and bake for about 1 hour, until tender and golden.
– Sharon Palmer R.D.
As a registered dietitian with 16 years of health care experience, she focuses on writing features covering health, wellness, nutrition, cooking, wine, restaurant reviews, and entertainment. Over 750 of Sharon's features have been published in a variety of publications. Her recent book The Plant-Powered Diet: The Lifelong Eating Plan for Achieving Optimal Health, Beginning Today can be ordered here.