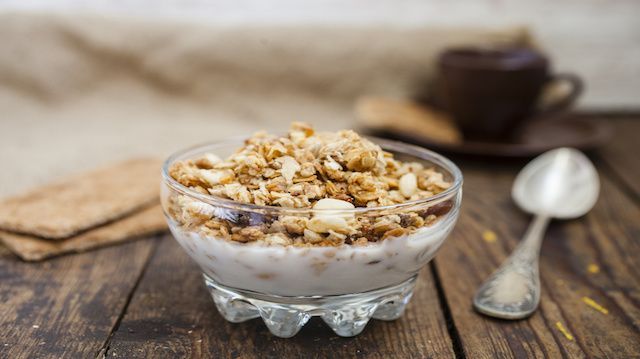 Eating well is good for your health and nourishes your body. But now and then, we all miss that little bit of comfort food in our lives. Ice cream, tater tots, chips… and even a bowl of cereal or granola in the morning.
Unfortunately, the boxes that line the grocery store shelves leave much to be desired when it comes to ingredients. Between processed grains and high fructose corn syrup, you have a recipe for breakfast disaster.
Fortunately, in the bulk section of the grocery store you can stock up on quality items to make your own granola. Both of these recipes take no longer than 30 minutes to make, and you'll have a week's worth (or more) of delicious, crunchy, healthy granola.
1

cup

raw sunflower seeds

1

cup

raw pumpkin seeds

1

cup

chia seeds

2

tablespoons

unsweetened cocoa powder

2 - 3

tablespoons

coconut palm sugar

2

tablespoons

melted coconut oil
Servings:
Large Mason Jar
In a blender or food processor, combine all the seeds and coconut palm sugar. On the "pulse" setting, press the button 4 or 5 times, until the ingredients are mixed together and the sunflower and pumpkin seeds are about half their original size.

Pour the contents into a medium-sized bowl. Add 1 tablespoon of melted coconut oil at a time and mix well with a spoon or spatula until you're sure that the oil covers all of the granola.

Taste test and add some more coconut palm sugar if desired.

Transfer into a large mason jar and seal with a lid.
1

cup

almond slivers

1

cup

raw pumpkin seeds

1

cup

chopped hazelnuts

1

cup

chopped pecans

1

cup

raisins

3

tbsp

honey

4 to 5

tbsp

unsweetened coconut flakes
Preheat oven to 350℉. In a medium-sized bowl, combine all the nuts, pumpkin seeds and raisins, and mix well.

Mix in the honey one tablespoon at a time. (Warm the honey first if it is too thick.) Stir with a spatula until the honey covers all of the granola.

Add in the coconut flakes and mix well.

Pour the granola onto a cookie sheet and bake for about 20 minutes or until the nuts are slightly browned and the raisins look thick and plump (they will shrink once they come out of the oven). Remove from the oven and let sit for no longer than 5 minutes.

Store the granola in a mason jar — allow it to cool completely before you put on the lid.
Alternatives: Add cinnamon, cardamom, nutmeg, or pumpkin spice after mixing in the coconut flakes. This will add a nice seasonal flavor to your granola.
Enjoy these granolas with milk or plain yogurt… or simply eat them by the handful!
—The Alternative Daily