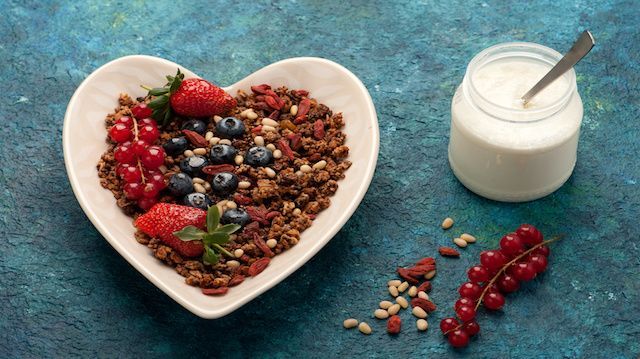 This is not your everyday, processed granola — this is raw food at its best. For a quick breakfast or lazy brunch, this Swiss-style muesli packs a punch of nutrition, is so tasty and is easy to make but sure to impress.
Bircher-Benner muesli 
In the early twentieth century, a man by the name of Maximilian Bircher-Benner (1867–1939) opened a sanatorium in Zürich to heal the sick through healthy eating. His ideas influenced nutrition for decades and gave rise to a Swiss nutritional delicacy muesli. In the beginning, raw food wasn't a favorite for many. Bircher-Benner's aim was to create a raw dish that both contained nutritional elements, yet was still attractive enough to eat — even for the toothless. 
When I was first introduced to Swiss-style muesli, I fell in love with the flavors and textures. I quickly deconstructed each mouthful so that I could recreate the wholesome concoction later in my own kitchen. The key to creating authentic Swiss-style muesli is to allow it to sit overnight — melding flavors and swelling the oats, for easier digestion.
Swiss-Style Muesli
This gluten-free muesli recipe makes 6 cups of dry muesli, which converts into 3 4-serving portions of overnight Swiss muesli.
Ensure you are using certified gluten-free oats only in your muesli. Some brands of oats that are not labeled certified gluten-free may have been cross-contaminated with wheat and grains containing gluten. Quaker Oats does not guarantee that its oatmeal is gluten-free. However, there are other growers who have dedicated gluten-free soil and processing plants.  
Ingredients
Serves: 4
Prep time: 10 minutes
Cook time: none
Dry Muesli
2 cups large-flake certified gluten-free rolled oats

1  cup dry cranberries

1/2 cup dried goji berries

1 cup almonds, slivered

1/2 cup pumpkin seeds

1/2  cup sunflower seeds

1/2  cup unsweetened coconut flakes

 
Swiss-Style Muesli
1 cup of unsweetened greek-style yogurt

1 cup of skim milk

2 tbsp raw honey

1 tsp cinnamon

1/2 tsp pure vanilla extract   

       

2 cups dry muesli

1 organic granny smith apple, cored

1 cup organic blueberries

1 cup organic raspberries
Instruction
Preparing dry muesli
In a large mixing bowl, combine the oats, dried fruit, almonds, seeds and coconut flakes. Stir until all ingredients are well combined.

Store the dry muesli at room temperature in an airtight container, mason jar or freezer bag for later use. Alternatively, you can portion out the muesli for individual uses.

 
Preparing overnight Swiss muesli
In large mixing bowl, add yogurt, skim milk, honey, cinnamon and vanilla. Whisk all ingredients together well.

Add 2 cups of prepared dry muesli to the yogurt mixture and blend well, then set aside.

With a box grater, grate the Granny Smith apple (skin on). Add the grated apple to the yogurt/muesli mixture.

Add the organic blueberries and raspberries into the mixture and blend well so that all ingredients are incorporated into the yogurt.    

Cover the bowl with plastic wrap, and refrigerate overnight for at least 8 hours. Muesli can be refrigerated for up to 3 days.
Muesli is so packed with goodness, but it doesn't stop with this recipe. You can add additional raw ingredients such as chia or hemp seeds, grape halves, walnuts and even a few tablespoons of flaxseed oil. Make it your own and enjoy!
—Katherine Marko
Katherine Marko is a freelance writer, author and blog creator. Her areas of expertise include food, health, style, beauty, business and nutrition. Marko holds a Bachelor of Arts in English, a diploma in photography, graphic design and marketing, and certification in esthetics.
Source:
http://www.zora.uzh.ch/40410/1/Wolff_Bircher-Benner.pdf