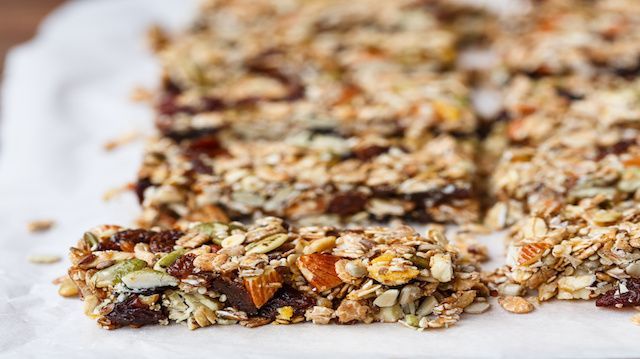 Keep your New Year's resolution going by baking up a batch of healthy granola bars — ideal for lunch boxes,  post-workouts or late-afternoon energy boosts. The great thing about granola bars is that you can add whatever ingredients you like! The recipe below includes cashew butter, seeds, coconut, honey and more!
Healthy cashew butter
Cashew butter supplies important heart-healthy fats, essential amino acids and the dietary mineral magnesium. While one tablespoon of unsalted cashew butter contains 94 calories, its protein-to-carbohydrate ratio makes cashew butter a valuable snack option for anyone following a low-carbohydrate, high-protein diet.
One tablespoon also offers 10 percent of the recommended dietary allowance (RDA) for magnesium for men over 30 years old, and 13 percent of the RDA for women over 30 years old. This in turn, may help improve bone health, maintain steady heart rhythms, normalize blood pressure and stabilize blood sugar levels.
However, if you prefer, you could substitute the cashew butter for other healthy nut butters such as peanut butter or almond butter. The honey can also be substituted with pure maple syrup or rice syrup, for a vegan alternative.   
The addition of seeds
Seeds are nutritional powerhouses wrapped in small packages. Pumpkin seeds are a rich source of magnesium, zinc and omega-3 fats. Ideal for both men and women, pumpkin seeds support ideal prostate health in men and menopausal symptoms in postmenopausal women. They may help you achieve a good night's rest due to their tryptophan content, which your body converts into serotonin. On top of it all, they provide anti-inflammatory benefits too.
Sunflower seeds are an excellent source of vitamin E, magnesium, selenium and phytosterols, which help lower cholesterol. Vitamin E is so important for the body, neutralizing free radicals that would otherwise damage cell membranes and brain cells. Vitamin E exhibits significant anti-inflammatory properties that help reduce symptoms of asthma, osteoarthritis and rheumatoid arthritis.
Chewy Cashew Butter Granola Bars
1 3/4

cup

gluten-free oats (alternatively sliced almonds)

3/4

cup

unsweetened coconut flakes

1/2

cup

raw pumpkin seeds

1/2

cup

raw sunflower seeds

1/2

cup

raisins (alternatively dried cranberries or dried blueberries)

1/4

cup

dark chocolate chips (optional)

3/4

cup

honey (alternatively maple syrup or rice syrup are vegan)

1/2

cup

cashew butter

2

tsp

virgin coconut oil

1

tsp

vanilla

1

tsp

cinnamon

1/4

tsp

pink Himalayan salt
Line a nine-inch cake pan with parchment paper, and set aside. In a large bowl, combine, oats, coconut, pumpkin seeds, sunflower seeds, raisins and chocolate, and set aside.

Place a large saucepan over medium heat. Add the honey. Bring to a boil, watching carefully so that the honey does not boil over the edge. You may need to stir constantly. Allow to boil for approximately five minutes.

Add the cashew butter, coconut oil, vanilla, cinnamon and salt to the honey. Stir well to combine. Turn the heat off and pour the honey mixture over the oat mixture. Stir well to combine and coat ingredients evenly.

Transfer the mixture to the prepared pan and press the mixture firmly. Coat the back of a spoon with a small amount of coconut oil and use it to press the mixture evenly, without sticking. Alternatively, you can cover with more parchment paper and press a heavy book on top to press flat. Cover and place in the refrigerator for one to two hours. Cut into 16 pieces and wrap individually.
Store granola bars in the refrigerator for quick snacks and lunches or for after a workout — enjoy!       
—The Alternative Daily
Sources:
https://ods.od.nih.gov/factsheets/Magnesium-Consumer
http://www.sciencedirect.com/science/article/pii/S009829970700012X
http://www.ncbi.nlm.nih.gov/pmc/articles/PMC3271790