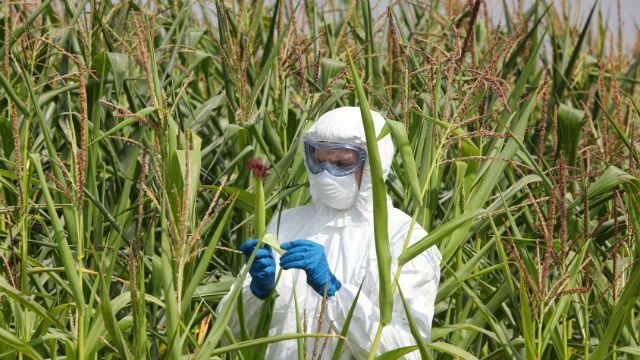 In a truly appalling move that threatens to negate Americans' right to know what is in their food, Kansas Congressman Mike Pompeo has reportedly joined forces with biotechnology and is supporting corporations by agreeing to co-sponsor a federal bill that, if passed, would prevent states from establishing mandatory GMO labeling laws.
The bill was written and is backed by the Coalition for Safe Affordable Food, comprised of the Grocery Manufacturers Association (GMA) and numerous biotechnology companies. A few of the GMA's big-name members include Monsanto, processed food kingpins Kraft, General Mills, Kellogg's, Pepsi and Coke, as well as Georgia-Pacific, a subsidiary of Koch Industries.
Pompeo's interest in pushing this legislation likely stems from his connection to Koch Industries, a multinational corporation which owns oil companies, pipelines and cattle ranches, along with Dixie cups, Northern bath tissue, Brawny paper towels and Georgia-Pacific paper. Koch Industries has provided Pompeo with significant funding over the years, including hefty donations to his 2010 run for Congress.
One crux of the legislation being proposed by Pompeo and the Coalition is federally-mandated voluntary labeling of GMOs. The bill aims to supercede states that mandate it, making it merely an option, not a requirement.
Pamela Bailey, president of the GMA, stated, "the legislation we're proposing would preclude state legislation that conflicts with the federal standards." The GMA also stated in a memo that the bill would serve to, "guard against a costly, unnecessary and inefficient state-by-state system."
This, in essence, blatantly and purposefully negates consumers' right to know what is in their food. It comes as a slap in the face to those that have fought so hard to pass GMO labeling laws in Maine and Connecticut, as well as those who are working tirelessly to move labeling legislation forward in over half of the states in the US. A poll conducted for ABC News last summer showed that 93 percent of the random national sample surveyed were in favor of labeling foods that contain GMOs.
The Organic Consumers Association (OCA) has been spreading the word about this impending legislature, and urging people to contact Pompeo in an effort to reverse his backing of this bill. They have begun circulating a petition to gather support.
Ronnie Cummins, the national director of the OCA, stated: "Consumers should be outraged that Rep. Pompeo, or any member of Congress, would sponsor a bill written by industry, for the sole purpose of protecting corporate and shareholder profits, when 90 percent of Americans oppose the proposed legislation… This proposed bill would not only keep labels off of our food, but it is a direct attack on states' constitutional right to pass laws to protect public health."
The bill will reportedly be presented to the House of Representatives before Congress takes its Easter recess. We hope that the rights and wishes of the vast majority of Americans who desire GMO transparency wins out in this matter.
-The Alternative Daily
Sources:
http://rt.com/usa/gmo-labeling-koch-monsanto-249
http://americablog.com/2011/03/a-handy-list-of-koch-industries-products.html
http://www.organicconsumers.org/articles/article_29171.cfm
http://www.organicconsumers.org/articles/article_29663.cfm
http://www.salem-news.com/articles/april032014/monsanto-pompeo.php
http://www.washingtonpost.com/blogs/govbeat/wp/2014/01/10/maine-becomes-second-state-to-require-gmo-labels