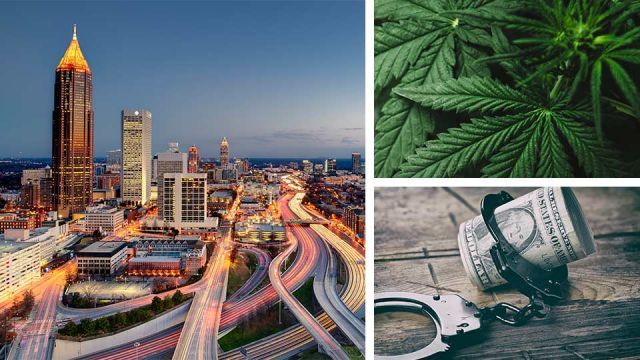 If you have less than one ounce of marijuana on you in Atlanta, you officially won't have to worry about jail time. The Atlanta City Council unanimously approved the decriminalization of the substance in the city.
Now, possession of less than one ounce of marijuana will be a ticket-only offense with a $75 fine. This legislation was stalled for months, due to the fact that the City Council declined to vote on it in April.
The City Council posted this on their Facebook account:
Today, the City Council has been tweeting announcements and updates:
We're still on a high from yesterday's vote to reduce penalty for possessing less than 1 ounce marijuana. The Mayor says he will sign off🙌

— Atlanta City Council (@ATLCouncil) October 3, 2017
So far, we know that it'll save approx. $1.1 million annually to jails, but that doesn't include cost of police officers' time or courts

— Atlanta City Council (@ATLCouncil) October 3, 2017
A major issue that originally concerned several council members was how the ordinance might conflict with Georgia state law, which has much stronger marijuana penalties. "Are we sending an irresponsible message to the people of this city about the possession of any drugs?" mayoral candidate Keisha Lance Bottoms asked.
Atlanta city councilman Kwanza Hall, who is also running for mayor of the city, tweeted this following the passage of the legislature:
We're sending a strong directive to our police department.

Marijuana possession of less than an ounce is a non-jailable offense in ATL. pic.twitter.com/DihMViOLHY

— Kwanza Hall (@kwanzahall) October 3, 2017
Hall believes the legislation is a forward step and urges the state to follow example on the issue of marijuana legalization. "It's lives being impacted daily, if not hourly, by this," said Hall.
Currently, the penalty for having marijuana on hand in the city is a fine of up to $1,000 and up to six months of imprisonment. The decriminalization of marijuana just means that possession of the drug can in no way lead to jail time. However, without full legalization, it is still an illicit substance that is illegal to buy, grow or sell.
The passage has received lots of attention on social media:
#Atlanta City Council Votes To Decriminalize Marijuana Possession. Will this help or hurt the community?https://t.co/rYy71nS0aW pic.twitter.com/7PFlvK3Ke9

— The SistahChick (@TheSistahChick) October 3, 2017
Very proud of the City Council in my hometown of Atlanta for just voting to decriminalize marijuana possession for under 1 ounce. A start.

— Shaun King (@ShaunKing) October 2, 2017
Possession of marijuana in the city of atlanta is now a non-jailable offense. @kwanzahall 🙌🏼

— Amber Schreiner (@gracefulamber) October 2, 2017
"We are seeing families torn apart. We're seeing young people lose their scholarships, we're seeing people become unemployable, all because of possession of less than an ounce," said Hall. "The neighborhoods, the zip codes, the people are people of color living in parts of our city that have been left behind, that have been neglected, and they are being penalized greater than anyone else."
Despite the excitement surrounding the new marijuana laws in the city, some are still concerned about the potential consequences. Additionally, council members are now focused to make sure the public is informed about the new law.
Bottoms said, "I've said I don't want blood on my hands. I don't want some college kid to think they are within their rights to possess marijuana in Atlanta, get arrested, resist arrest and, God forbid, the worst happens."
At the moment, only a handful of states have legalized recreational cannabis, which include Nevada, Colorado, California, Maine, Massachusetts, Oregon and Washington. That being said, many other states have created laws to decriminalize it in certain areas and cities.
Atlanta's decision follows a similar trend of other large cities decriminalizing marijuana and making it a fine, such as Pittsburgh in 2016 and Washington D.C. in 2015.
What's your opinion on the decision to decriminalize marijuana in the city? Let us know in the comments!
— Peter Amirata