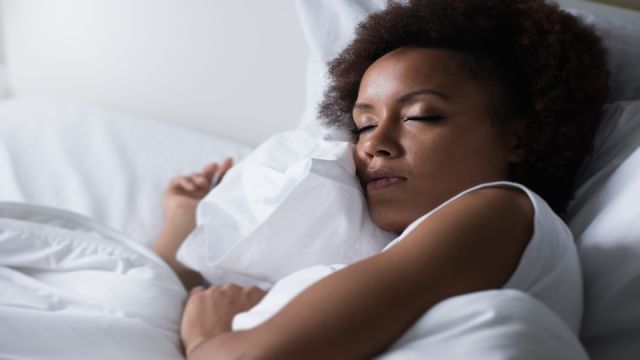 You probably have no idea if you twitch in your sleep. Just like the sleep talker that insists they weren't saying anything or the innocent snorer that is clueless about their disruptive sleep habits, you probably won't find out unless your partner tells you. If that is the case, however, and your frequent night twitching is keeping your bed partner from a full night's sleep, you most likely want to find out what is causing your twitching and how to stop it.
According to the National Institute of Neurological Disorders and Stroke, myoclonus is a symptom, not a disease and "refers to sudden, involuntary jerking of a muscle or group of muscles." It is the general clinical term for twitching or a sudden, muscle spasm. Sleep myoclonus is when this same occurrence happens when you're sleeping. It is possible to have such mild sleep myoclonus that neither you nor your partner notices it; however, the twitching can also be a big enough movement that you wake yourself and the person you are sharing your bed with.
Researchers have been unable to fully diagnose the cause of myoclonus but believe it may be an overreaction of the part of the brain that controls muscle movement, perhaps exaggerated by light, sound, or other stimuli while you are asleep.
Involuntary twitching and muscle spasms can be linked to numerous conditions, so it is often hard to determine the source of your nightly disruptions. However, these common sleep-related issues are often at the root of sleep myoclonus.
Examples of myoclonus
Restless Leg Syndrome (RLS)
Restless leg syndrome is one of the more serious neurological disorders that can cause nighttime twitching. This can cause an unpleasant crawling, prickling or tingling sensation in the legs and feet during rest, which is often only relieved by moving the legs. RLS can even affect you when you are awake and sitting down, but symptoms are more severely triggered when you are attempting to fall asleep.
Periodic Limb Movement Disorder (PLMD)
Though PLMD isn't considered a severe health problem, it could potentially indicate an underlying condition such as anemia or diabetes. This involves frequent episodes of jerking of the legs, feet, ankles, toes, and hips during sleep and is often a symptom of RLS.
Nervous system conditions
If you are experiencing twitching due to a pre-diagnosed nervous system condition you are most likely aware of the cause. However, it is still important to be aware of nervous system conditions that could cause myoclonus such as head or spinal cord injury, epilepsy, stroke, brain tumor, Alzheimer's disease, Parkinson's disease, cerebral palsy and Creutzfeldt-Jakob disease.
Hypnic jerk
Most of us have experienced that feeling right before we are about to fall asleep where we are jolted out of sleep by the sensation of falling or being struck. This phenomenon is known as a hypnic jerk or a sleep start and happens when your muscles begin to relax and then suddenly contract. It is totally harmless and usually only a little startling.
Ways to prevent sleep twitching:
Medication
If you are unable to sleep or find yourself waking up multiple times throughout the night due to RLS or PLMD, you may want to consult your doctor. They will most likely prescribe medications such as dopaminergic agents or benzodiazepines such as diazepam. These are usually only for short term use, however, and are not a cure for your sleep twitching.
Avoid caffeine
This may seem impossible, especially if your quality of sleep has been disrupted by myoclonus. But that extra cup of coffee you drank to get you through your day could be contributing to a vicious cycle and be increasing the severity and frequency of your twitching. Try cutting out caffeine for a few days and track the results.
Exercise
The idea is to get your body tired out enough that you can immediately fall asleep without any restlessness. Try talking multiple walks throughout the day or do an intense burst of exercise all at once.
Stick to a regular sleep routine
This will not only reduce your sleep myoclonus but is just a generally good habit to get into. Going to bed and getting up at the same time everyday helps your body unwind and register that it is time for sleep.
Are you a sleep twitcher? Let us know in the comments below!
-Susan Patterson